[four_fifth][one_fifth]
Update
Vol.III
Archived Postings
Originally Posted
Posted on November 29, 2011
posted in
Camp Lejeune Toxic Water
Updated
July 16
2012

The material posted is
courtesy of
Save the Water™
Water Research
Education Dept.
and is shared as
educational material only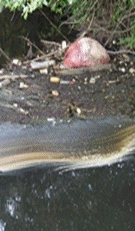 [/one_fifth][four_fifth_last]
Drinking water contamination – Camp Lejeune archives
Camp Lejeune: male breast cancer reports likely to grow.
|by:NewsInferno
Posted on November 29, 2011 by Laurie
This entry was posted in Camp Lejeune Toxic Water. Bookmark the permalink..
It is believed that cases of male breast cancer tied to contaminated drinking water at the Camp Lejeune Marine Corps base in North Carolina will rise in number. According to a report from the St. Petersburg Times, the Agency for Toxic Substances and Disease Registry (ATSDR) confirmed last week that 184 male Marine Corps veterans with a history of breast cancer have already been identified in Department of Veterans Affairs (VA) records. Now the agency is trying to determine how many of those men may have been exposed to Camp Lejeun's toxic drinking water during their career.
According to the St. Petersburg Times, some members of a panel advising ATSDR on Camp Lejeune believe as many as half of the 184 male breast cancer victims identified thus far may have served at the base. Richard Clapp, an epidemiologist and panel member, told the St. Petersburg Times that 40 percent or more was a plausible estimate as to how many of the 184 Marines with male breast cancer might have ties to Lejeune.
Only about 38 percent of the VA database has been searched thus for male beast cancer victims. As a result, the number could increase significantly by the time ATSDR completes its investigation.
From the mid-1950s to the mid-1980s, an estimated 1 million people were exposed to water that was poisoned by benzene, trichloroethylene (TCE), tetrachloroethylene (PCE) and vinyl chloride, which the Department of the Navy eventually blamed on an off base dry cleaner. As we've reported in the past, many scientists have called the drinking water contamination at Camp Lejeune the worst in the nation's history.
Recently, lawsuits involving toxic water at Camp Lejeune were consolidated in a multidistrict litigation and transferred to the U.S. District Court, Northern District of Georgia. These lawsuits allege that the U.S. government knowingly exposed hundreds of thousands of Marines, sailors, their family members, and civilian employees to highly contaminated drinking water, and at the same time actively disseminated disinformation to victims in an effort to minimize the significance of the exposure.
"How many men do you have to find with breast cancer to accept that the water poisoned us?" asked Jack Partain, a Tallahassee insurance investigator who also serves on the advisory panel, told the St. Petersburg Times. "How many bodies do you have to stack up? People should be enraged by this."
Partain, himself a breast cancer survivor, was born at Camp Lejeune and was exposed to the toxic water as a small child. He told the St. Petersburg Times that he has tracked down 73 other men – including a dozen who never served in the Marines – who were once Camp Lejeune residents who have also had breast cancer.
It should be noted that breast cancer in men is exceedingly rare, with only one in 100,000 men diagnosed with the disease.
Unfortunately, VA data does not reflect cases among civilians who lived and worked at Camp Lejeune. The ATSDR is considering launching a case control study see if these breast cancer numbers are abnormally high among this group.
Next year, a clearer picture of the health consequences associated with Camp Lejeune might emerge if, as planned, the ATSDR releases a study comparing Lejeune residents with a control group at Camp Pendelton in California. The study is comparing the mortality rates associated with a list of disease, including breast cancer, between the two groups.
This entry was posted in Camp Lejeune Toxic Water. Bookmark the permalink
via Camp Lejeune Male Breast Cancer Reports Likely to Grow | NewsInferno.
How to navigate STW ™ postings:
View monthly posting's calendar, become a subscriber or obtain RSS feed by going to the bottom index of this page.
Explanation of Index:
This Months Postings: Calendar on left displays articles and pages posted on a given day.
Current and Archived Postings: Click on the month you want to view. Most current article for the month will appear at top of screen.
RSS Links : Obtain your RSS feeds.
Subscribe: Subscribe to postings by entering your e-mail address and confirming your e-mail.
Help Save the Water™ – click here.

[one_half]
Water will never catch the public eye until it stops running out of the faucet, Bill Segal stated during interview.
Click here to see what Bill Segal and ostrich are talking about
[/one_half] [one_half_last] [/one_half_last]
Water news archives. Table of contents – 150 articles – April~July 2012
Supporting water research and the education program's growth of Save the Water™ is vital to our future generation's health, your funding is needed.
[/four_fifth_last] [/four_fifth] [one_fifth_last]
Topic Categories
Petroleum and Fracking

Water & Your Health
Fracking
Drinking Water Contamination
Drinking water contamination: Tap water disinfectants linked to birth defects.
Education Program
Archived Topics
Drinking Water Fears After Chemical Spill In North Bay

What Are The Facts About (Bisphenol-A) / BPA, Water And Health Risks?

[/one_fifth_last]