News Brief
Vol.III
Update
Aug 25
Current Water News Postings
Originally Published
London, Apr 7
NEWKERALA
2012
>

The material posted is
courtesy of
NEWKERALA
Save the Water™
Water Research
Education Dept.
and is shared as
educational material only

Water
Research
Crisis
Response
Humanitarian
Projects
Education
Daily News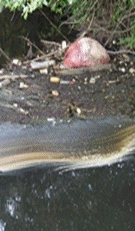 [/one_fifth][four_fifth_last] [justify]
Bill Gates funds new machine that 'could turn sewage into drinking water'
London, Apr 7 : A new invention, which is being funded by Bill Gates, aims to filter toilet waste back into "drinkable" water.
According to Manchester University's Sarah Haigh, who is an expert in nanotechnology, which is the science of manipulating atoms in matter, it could make waste water from toilets safe to drink.
The innovation could transform the lives of millions of people in the third world.
Haigh believes a new range of materials could extract energy from human waste.
Although the result may not be bottled mineral water, the researcher says the results could be the difference between life-and-death in regions without clean water.
"I get a lot of comments about the research I do. I don't mind people making jokes as long as they're clean ones," the Daily Mail quoted her as saying.
"There has been a lot of research into biofuels. There is a lot of energy already present in human waste. Nano-scale materials mean that you can harvest the hydrogen and turn it into hydrozene – which is basically rocket fuel," she said.
She believes that a scaffold device holding a mixture of bacteria and tiny metal nano-particles will react with the water to extract useful hydrogen, with the remainder filtered again to produce clean water.
Their idea for an inexpensive fuel-producing, water-cleaning device for the developing world, beat more than 2,000 other proposals.
And the group stand to receive a further 1 million dollars from the Gates next year if they can demonstrate the chemical reactions they propose can actually work.
The Microsoft founder – one of the world's richest men – has promised to sink his fortune on combating worldwide poverty.
The researchers plan to have a prototype ready to demonstrate by 2013.
"The phrase 'off to spend a penny' is used in polite society to refer to a visit to the lavatory," Haigh said.
We plan to turn this essential everyday outgoing into an investment by developing novel materials that convert natural waste into a useable resource.
"This technology will be particularly important for remote locations in developing countries and will have the added benefits of reduced pollution and lower waste disposal costs," she added. (ANI)
How to navigate STW ™ postings:
Monthly posting's calendar, become a subscriber or obtain RSS feed by going to the bottom index of this page.
Explanation of Index:
This Months Postings: Calendar on left displays articles and pages posted on a given day.
Current and Archived Postings: Click on the month you want to view. Most current article for the month will appear at top of screen.
RSS Links : Obtain your RSS feeds.
Subscribe: Subscribe to postings by entering your e-mail address and confirming your e-mail.
Help Save the Water™ – click here.
Water news archives. Table of contents – 200 articles – April~August 2012
Supporting water research and the education program's growth of Save the Water™ is vital to our future generation's health, your funding is needed.
[/four_fifth_last] [/four_fifth] [one_fifth_last]
Topic Categories
Petroleum and Fracking

Water & Your Health
Water contamination news:
Great Lakes – recovery starts on Lake Superior mystery barrels.
Alberta, Canada – Enbridge shuts large Canada-US pipeline after spill.
Pennsylvania, Allegheny County – Shenango Inc. settles air and water pollution violations with EPA.
Drinking water news:
80% of Hyderabad's sewage dumped in lakes.
Hope – India's quality drinking water supply – "bio-toilets"
Lake Huron – Impact of diesel spill on water, environment: 'Time will tell'
No plans for Carroll Creek warning signs. News comes after chemicals were found in surface water.
Water education:
Chemicals TCE – PCE – Chloroform
How does TCE affect your health? – High level of cancer-causing agent TCE in Fort Detrick drinking water supply.
Million year old groundwater in Maryland water supply.

[/one_fifth_last]