News Posting
Vol.III
No.149
Despite many successful water projects, billions of people still lack adequate water and sanitation
Save the Water™ does not represent or endorse the postings herein or reliability of any advice, opinion, statement, or other information furnished by the author.
For your surfing
pleasure here
are some links in our revamped web site
Educational All Levels
Current Sponsors
Resources
Join Our Link Exchange
Help fund STW™ laboratory by shopping on line at our store
Become A Sponsor
To Donate A Gift
Please Contact Us


The material posted is
courtesy of:
(PRWEB)
June 13, 2012
Sarah Collins
is an intern with
Energy Opportunity
Save the Water™
Education Dept.
and is shared as
educational material only
Save the Water™
1st Annual
Internet
Sponsorship
Fundraiser
Campaign
June 1st
September 1st
2012
Water
Research
Crisis
Response
Humanitarian
Projects
Education
Daily News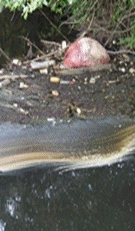 A Homeowner's Guide to Septic Systems
[PDF Format] – This 15-page booklet describes how a septic system works and what a homeowner can do to help the system treat their wastewater efficiently.
[/one_fifth][four_fifth_last]
Water contamination news
Drinking water contamination and environmental damages due to hydraulic fracking
Terry W. Roberson, a Houston oil and gasattorney, authored "Environmental Concerns of Hydraulically Fracturing a Natural Gas Well" published in Volume 32, Page 1, 67 of the Utah Environmental Law Review (2012). The article explores whether the natural gas drilling process of hydraulic fracking in shale gas formations damages the environment.
Houston, TX (PRWEB) June 13, 2012
Terry W. Roberson, a Texas energy lawyer, announces the release of the article, "Environmental Concerns of Hydraulically Fracturing a Natural Gas Well" published in Volume 32, Page 1, 67 of the Utah Environmental Law Review (2012). The article explores whether the natural gas drilling process of hydraulic fracking in shale gas formations damages the environment. The environmental concerns and the oil and gas industry's response to such concerns include: groundwater and underground drinking water contamination through migration, casing or cement issues, and surface spills; hydraulic fracking wastewater disposal; human and animal health; air quality and pollution; and disclosure of chemicals in hydraulic fracking fluids.
Natural gas production plays a critical role in the clean energy debate because it increases domestic energy supplies and reduces greenhouse gas emissions. Shale gas, in particular, began to catch the public's attention once natural gas drilling rigs were no longer silhouetted by the prairie, but instead pierced the urban skyline interlaced with homes, businesses, schools, and churches. The recent increased number of natural gas wells in populated areas is causing the public to question whether hydraulic fracking contaminates drinking water and affects human health.
"The oil and gas industry is reducing its greenhouse gas footprint by increasing efficiencies in recycling wastewater and reducing water consumption," says Mr. Roberson. In the Barnett Shale, Devon Energy Corporation has been using an environmentally friendly technology that recycles hydraulic fracking wastewater since 2005. Today it reuses roughly 80 percent of the original captured water in nearby well sites. Additionally, on May 24, 2012, The International Energy Agency announced that the increase in shale gas production in the U.S. has led to a decline in carbon dioxide emissions as generators are using cost efficient natural gas over coal. The U.S. reduction of 7.7 percent of emissions since 2006, is the largest reduction of all countries or regions. Mr. Roberson states, "Even though natural gas is a clean burning fuel source, the oil and gas industry must continue reducing its environmental footprint by minimizing waste, using nontoxic alternatives, recycling and reusing water and chemicals where possible, and treating wastewater to remove its toxicity in order to ensure viability and future production."
For a copy of "Environmental Concerns of Hydraulically Fracturing a Natural Gas Well" available on the Utah Environmental Law Review's website go to http://epubs.utah.edu/index.php/jlrel/article/view/622/451.
Terry W. Roberson has an LL.M. in International and Comparative Law from The George Washington University Law School and J.D. from South Texas College of Law. He has successfully handled oil and gas transactional and litigation matters for six years. His transactional experience focuses on representing clients in various title examinations, oil and gas leases, surface and subsurface agreements, seismic licensing, exploration agreements, purchase and sale agreements, and assisting exploration and production and service companies with their risk allocation documents, including master service agreements and insurance provisions. His litigation experience consists of representing exploration and production companies and oilfield service companies relating to disputes regarding breach of contracts, including operating agreements, gas purchase contracts, purchase and sale agreements, and well service agreements. He has also litigated disputes concerning royalty interest, division orders, and commercial and corporate matters.
Mr. Roberson has given two continuing legal education presentations and will publish five articles regarding oil and gas law in 2011 and 2012.
Getting to the Bottom of Fracking

By Sarah Collins, Tom Kenworthy | March 3, 2010
Hydraulic fracturing, also called "fracking" or "fracing," is a widely used but somewhat controversial oil and gas drilling technique that is opening up new energy possibilities in the United States. It's also starting to draw a lot of high-level attention in Washington, and this scrutiny is appropriate and overdue.
Fracking has been used in combination with improved horizontal well-drilling technology to help open vast new natural shale gas reserves from Texas to western New York state that were previously locked in deep underground shale formations. Those discoveries have stirred debate on whether natural gas can serve as a bridge fuel to a lower-carbon future by shifting electricity generation from coal-burning power plants to natural gas plants, which emit half as much carbon pollution and no mercury. These newly available natural gas sources could be global warming game changer if gas production can occur cleanly.
But the widespread use of fracking has also raised concerns about potential contamination of drinking water supplies. The fracking fluid that is pumped into wells at high pressure to fracture rock and release natural gas contains sand and vast amounts of water in addition to chemicals that can be toxic to humans. Preventing underground leaks of fracking fluid requires proper installation of well casings and careful monitoring. Surface water contamination is also a concern because once drilling is completed the used fluids are brought to the surface and often stored in ponds that can leak.
U.S. Environmental Protection Agency Administrator Lisa Jackson said on February 24 that her agency will soon begin a $1.8 million study of hydraulic fracturing, with several million more dollars to come if the EPA's new budget request is approved. "The [timing] of the study will depend on us being able to adjust our operating budget for the current fiscal year…What we've done is to try to fund the whole thing out of our budget this year and next year, but we would hope to start this year," Jackson said.
This follows up on a May 2009 comment by Jackson in which she called allegations of fracking-caused drinking water contamination "startling" and called for Congress to review the process. A consulting firm retained by EPA reviewed 12 contamination cases only to declare that they "may have a possible link to hydraulic fracturing, but to date, EPA has insufficient information on which to make a definitive decision."
The U.S. House Energy and Commerce Committee has also launched an investigation into fracking's environmental and public health effects. Committee Chairman Rep. Henry Waxman (D-CA) and Rep. Ed Markey (D-MA) sent letters to eight companies in the industry on February 18, requesting more information on the natural gas drilling process.
Reps. Waxman and Markey requested documents in six key areas:
The number and location of wells using hydraulic fracturing in each state in 2008 and 2009
The total volume of production and chemicals used in the process
Health and environmental effects of the fluids
Allegations that the process harms human health or the environment
The percentage of fluids recovered
The volume of flowback and produced water
[toggle title="continue" height="auto"]
Reps. Waxman and Markey also argued that "information is needed to assess whether the use of the chemicals [in fracking] posed a threat to drinking water supplies" in a memo to the Subcommittee on Energy and Environment that day.
They pointed out in the memo that "EPA has raised particular concerns about diesel fuel, noting that the 'use of diesel fuel in fracturing fluids poses the greatest threat' to underground sources of drinking water." They noted that aside from a 2003 EPA voluntary memorandum of agreement with three top gas and well servicing companies to cease the use of diesel fuel in fracking fluids "there is virtually no federal regulation of hydraulic fracturing."
As the EPA and Congress began a closer look at fracking, Cornell University's College of Agriculture and Life Sciences held a February 22 briefing on the potential environmental and community impacts of natural gas development using hydraulic fracturing and whether state regulation is adequate. Congress exempted fracking from federal protection standards in 2005 under the Safe Drinking Water Act, and they also exempted well site activities from the Clean Water Act's discharge permit requirements.
The exemption leaves states responsible for protecting their residents from groundwater and other sorts of contamination, and state protections vary. Colorado provides reasonable protection, while states that are new to the gas industry have few safeguards. New York has suspended production in the Marcellus Shale until it creates protection rules.
For their part, many in the natural gas production industry believe that leaving it to the states is adequate. "Regulations currently in place adequately and appropriately protect the public and the environment," argues a briefing paper prepared by the natural gas industry.
But Susan Riha, a Cornell professor who led the university's inquiry, said that proper disposal and treatment of the water containing fracking fluids after it is withdrawn from completed wells is a major concern. In addition to fracking fluids, the water can contain high levels of salt and naturally occurring radioactive materials.
Reps. Waxman and Markey also mentioned some studies of water contamination linked to fracking in their memo to the subcommittee:
"In New York, the State Department of Environmental Conservation analyzed wastewater extracted from wells and found levels of radium-226 as high as 267 times the limit safe for discharge into the environment and thousands of times the limit safe for people to drink. Others have raised concerns about water scarcity, since the drilling and hydraulic fracturing of a horizontal shale gas well may require 2 to 4 million gallons of water."
The Cornell study focuses on the Marcellus Shale, a region stretching from the eastern tip of Tennessee to central New York that contains one of the world's premier gas deposits—enough to meet 14 years or more of U.S. demand according to experts at Pennsylvania State University. Discoveries in the Marcellus Shale and other shale gas formations led the Potential Gas Committee, a group of industry experts and academics, to up its assessment of proven and potential U.S. natural gas reserves by 35 percent last year.
Cornell began its study because of industry interest in leasing some of the university's land holdings. Both Cornell and New York have put moratoriums on drilling pending further study.
Legislation has been introduced in both the House and Senate that would require drilling companies to disclose the chemicals they use in hydraulic fracturing and to remove the ban on regulation under the Safe Drinking Water Act. Reps. Diana DeGette (D-CO) and Maurice Hinchey (D-NY) are sponsoring the Fracturing Responsibility and Awareness of Chemicals Act, H.R. 2766, while Sens. Robert Casey (D-PA) and Charles Schumer (D-NY) are sponsoring S. 1215, of the same name.
Riha said passage of that legislation would help EPA determine whether fracking is causing contamination of drinking water supplies—assessments that are now difficult because companies don't disclose what chemicals they are using.
"I think they should just move ahead [with legislation] to get more information about how many times chemicals show up in drinking water … because it will help with future studies. If it's not required [to disclose chemicals used in fracturing fluids], then it will be extremely difficult to study their impact on water supplies."
Industry opponents argue that fracking has been safely done for decades and say the legislation would impose unnecessary burdens both on the oil and gas sector and EPA. Hydraulic fracturing, says the Industrial Minerals Association-North America, "already has been extensively studied" and "further study is unnecessary and would be a waste of limited agency resources."
It should be noted, however, that some companies, such as Chesapeake Energy, have been willing to cooperate with environmental concerns and have disclosed fracking fluid ingredients.
Determining the environmental effects of hydraulic fracturing and establishing new safeguards where appropriate is crucial not just for protecting public health and safety, but for the natural gas industry as well. Among the needed steps are:
A thorough and credible analysis of the impacts that a surge in natural gas production will have on our air, water, and special landscapes
Expanded industry efforts to reduce methane releases during the production and distribution of natural gas, a significant source of greenhouse gas emissions
Establishing best practices and encouraging state regulators to enforce them
Requiring public disclosure of toxic chemicals used in natural gas production
Read also:
Sarah Collins is an intern with the Energy Opportunity team and Tom Kenworthy is a Senior Fellow at the Center for American Progress.
To speak with © Center for American Progress experts on this topic, please contact:
Print: Katie Peters (economy, education, and health care)
202.741.6285 or kpeters@americanprogress.org
Print: Christina DiPasquale (foreign policy and security, energy)
202.481.8181 or cdipasquale@americanprogress.org
Print: Laura Pereyra (ethnic media, immigration)
202.741.6258 or lpereyra@americanprogress.org
Radio: Anne Shoup
202.481.7146 or ashoup@americanprogress.org
TV: Lindsay Hamilton
202.483.2675 or lhamilton@americanprogress.org
Web: Andrea Peterson
202.481.8119 or apeterson@americanprogress.org
[/toggle] [justify]
How to navigate STW ™ postings:
View monthly posting's calendar, become a subscriber or obtain RSS feed by going to the bottom index of this page.
Explanation of Index:
This Months Postings: Calendar on left displays articles and pages posted on a given day.
Current and Archived Postings: Click on the month you want to view. Most current article for the month will appear at top of screen.
RSS Links : Obtain your RSS feeds.
Subscribe: Subscribe to postings by entering your e-mail address and confirming your e-mail.
[/justify]
Supporting water research and the education program's growth of Save the Water™ is vital to our future generation's health, your funding is needed.
[three_fourth] [/three_fourth] [one_fourth_last] [/one_fourth_last] [/four_fifth_last] [/four_fifth] [one_fifth_last]
Topic Categories
Petroleum and Fracking

Water & Your Health
Hot Topics
Global Water Crisis

[/one_fifth_last]