News Posting
Vol.III
No.153
Despite many successful water projects, billions of people still lack adequate water and sanitation
Save the Water™ does not represent or endorse the postings herein or reliability of any advice, opinion, statement, or other information furnished by the author.
For your surfing
pleasure here
are some links in our revamped web site
Educational All Levels
Current Sponsors
Resources
Join Our Link Exchange
Help fund STW™ laboratory by shopping on line at our store
Become A Sponsor
To Donate A Gift
Please Contact Us


The material posted is
courtesy of:
Author
By Sara Nedley
Thermo Fisher
Scientific Inc.
Save the Water™
Water Research
Education Dept.
and is shared as
educational material only
Save the Water™
1st Annual
Internet
Sponsorship
Fundraiser
Campaign
June 1st
September 1st
2012
Water
Research
Crisis
Response
Humanitarian
Projects
Education
Daily News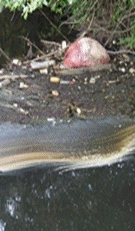 A Homeowner's Guide to Septic Systems
[/one_fifth][four_fifth_last]
Frick and Frac
By Sara Nedley
For many people in the U.S., hydraulic fracturing, or fracking, and its link to the natural gas industry has become a very important topic. Technological advancements have made access to pockets of natural gas contained in shale beds easier and therefore more profitable.
Fracking is a process used to inject fluids under high pressure into a well. By doing so, fractures are created in deep shale rock, enabling natural gas to escape. While fracking has been in use in the drilling industry since the 1940s, fracking combined with horizontal drilling has made extracting natural gas from shale easier. Horizontal drilling is a process by which wells are drilled first vertically, then horizontally for several thousand feet. On average, three to five times more natural gas is produced by horizontal drilling when compared to vertical drilling. Both the increased quantity and access equal increased revenue for the natural gas industry. The current boom in natural gas fracking can also be equated to availability of new jobs.
Despite the benefits, concerns over the environmental impact continue to cause debate. Environmental concerns include ground water contamination, decreasing air quality, potential migration of gases and fracking chemicals to the surface and mishandling of waste. There is also concern that the fracking process can cause small earth tremors. And despite natural gas being touted as a fuel that burns more cleanly, it is projected that 3.6-7.9 percent of methane produced by a well will be leaked into the atmosphere. Methane, a powerful greenhouse gas, and its leakage, means shale gas could be worse for the environment than coal or oil.
At the center of current debate in the U.S. is the Marcellus Shale, which covers approximately 90,000 square miles of West Virginia, Pennsylvania and New York. Between January and June 2011, Marcellus wells produced 432.5 billion cubic feet of natural gas.
In the fight to keep their backyards safe and clean, residents are leaning on lawmakers for their staunch support. Steps are being taken to ensure the safety and well-being of residents in this area. In Pennsylvania, gas wells cannot be drilled within 200 feet of structures, water wells or freshwater springs or within 100 feet of streams and wetlands.
Only time will tell the full story of fracking for natural gas, but in the meantime there are many facts and figures to be considered. To learn more about fracking, visit www.exploreshale.org for more information.
Classroom Discussion
How did the Marcellus Shale form?
What is a greenhouse gas and why is it bad for the environment?
What other areas of the country are dealing with the issues related to hydraulic fracturing?
History of Hydraulic Fracking / Fracturing from Wikipedia
From Wikipedia, the free encyclopedia
Hydraulic fracturing or fracking, is the process of utilizing pressurized water, chemical additives, and physical proppants to fracture rock layers and release petroleum, natural gas, or other substances so that they can be extracted. Environmental safety and health concerns about this process have emerged and are being debated at the state and national levels.[1]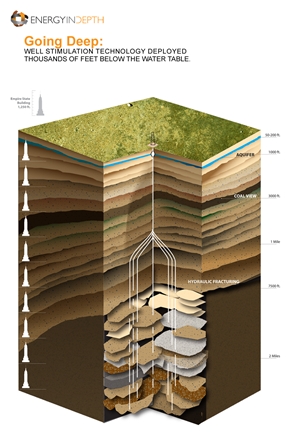 History
Hydraulic fracturing is the propagation of fractures in a rock layer caused by the presence of a pressurized fluid. Hydraulic fractures can form naturally, as in volcanic dikes, sills, and veins or dikes. Energy companies accelerate this process in order to release petroleum, natural gas, coal seam gas, or other substances for extraction, via a technique called induced hydraulic fracturing (illustration). Hydraulic fracturing incorporates principles from the disciplines of fracture mechanics, fluid mechanics, solid mechanics, and porous medium flow. Hydraulic fracturing for stimulation of oil and natural gas wells was first used in the United States in 1947.[2][3] It was first used commercially by Halliburton in 1949,[2] and because of its success in increasing production from oil wells was quickly adopted, and is now used worldwide in tens of thousands of oil and natural gas wells annually. The first industrial use of hydraulic fracturing was as early as 1903, according to T.L. Watson.[4] Before that date, hydraulic fracturing was used at Mt. Airy Quarry, near Mt Airy, North Carolina where it was (and still is) used to separate granite blocks from bedrock.
Hydraulic fracturing as it is used today is primarily a product of technological innovations made in the late 20th century.[5][6] The Morgantown Energy Research Center (MERC), a predecessor to today's National Energy Technology Laboratory, initiated the Eastern Gas Shales Project in 1976[7][8] in response to concerns from the gas industry that US domestic conventional gas deposits were losing their production potential.[9][10] MERC, the Department of Energy, several national labs, and other federal government agencies spearheaded the R&D and technology demonstration projects that led to the development of massive hydraulic fracturing (MHF), horizontal drilling, and microseismic imaging of gas deposits in shale.[11] The Department of Energy later subsidized Mitchell Energy's first successful horizontal drill in the north-Texas Barnett Shale in 1991.[12] Mitchell Energy component technologies and techniques such as horizontal drilling and microseismic imaging and techniques to achieve the first economical extraction of shale gas in 1998 via an innovative drilling process called slick-water fracturing.[13]
The practice of hydraulic fracturing is controversial. Proponents of hydraulic fracturing tout its potential to make the United States the world's largest oil producer and make it an energy leader.[14] Others say that the well productivity estimates are inflated and minimize the impact of the reduced productivity of wells after the first year or two.[15] Proponents say that hydraulic fracturing would give the United States energy independence,[16] however, United States oil and natural gas companies have recently sought to build a new pipeline through Pennsylvania and Maryland[17] to new liquid natural gas export terminals in Maryland,[18] in order to increase profits by exporting gas to Europe and Asia (e.g., China and Korea). Such a move could potentially threaten national security.[18] Globally, gas use is expected to rise by more than 50% compared to 2010 levels, and account for over 25% of world energy demand in 2035.[19] Anticipated demand and higher prices abroad have motivated non-US companies to buy shares in invest in US gas and oil companies,[20][21] and in some cases buy them, and their shale plays, outright[22] leading to greater international control of US gas resources. In addition, lower natural gas prices in the US have reduced incentives to investigate renewable sources of energy, perpetuating dependence on gas and oil.[23] In the interim, rather than pass the savings from lower natural gas prices on to US consumers, companies are reducing production to reduce supply and inflate natural gas prices in the US.[24]
There are environmental concerns, including contamination of ground water, risks to air quality, the potential migration of gases and hydraulic fracturing chemicals to the surface, the potential mishandling of waste, and the health effects of these, like cancer.[25][26] There is already evidence of environmental contamination,[27][28][29][30][31] and it has been predicted that exposure to chemicals in hydraulic fracturing fluid will increase as gas wells using this technology proliferate.[26]
[justify]
How to navigate STW ™ postings:
View monthly posting's calendar, become a subscriber or obtain RSS feed by going to the bottom index of this page.
Explanation of Index:
This Months Postings: Calendar on left displays articles and pages posted on a given day.
Current and Archived Postings: Click on the month you want to view. Most current article for the month will appear at top of screen.
RSS Links : Obtain your RSS feeds.
Subscribe: Subscribe to postings by entering your e-mail address and confirming your e-mail.
[/justify]
Supporting water research and the education program's growth of Save the Water™ is vital to our future generation's health, your funding is needed.
[three_fourth] [/three_fourth] [one_fourth_last] [/one_fourth_last] [/four_fifth_last] [/four_fifth] [one_fifth_last]
Topic Categories
Petroleum and Fracking

Water & Your Health
Hot Topics
Global Water Crisis

[/one_fifth_last]