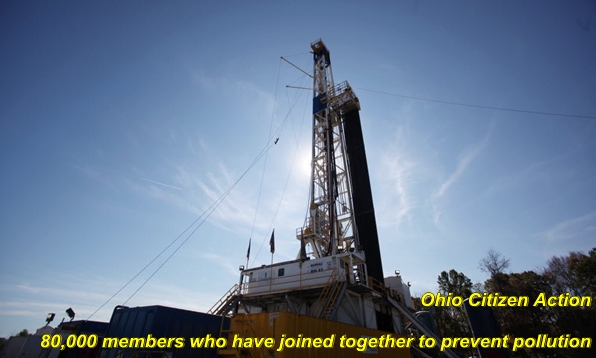 Fracking news: Michigan, Ohio should strengthen laws on fracking.
New NWF report: Stronger rules needed to protect water resources.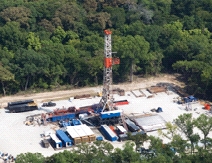 A new legal analysis by the National Wildlife Federation finds that laws in Michigan and Ohio need to be improved to protect the region's streams, rivers, lakes, and wildlife from the risks of hydraulic fracturing, or "fracking." Energy companies use this controversial technique to extract natural gas from fine-grained shale, injecting a mix of water, chemicals, and sand into a well at high pressures to crack open the rock. The natural gas then flows out into the well and is captured aboveground.
Fracking has raised significant environmental concerns, including the potential for impacts on water quality and water-dependent natural resources.
"Our analysis shows that Michigan and Ohio are doing some things right, but the states remain vulnerable to risks associated with fracking," said Sara Gosman, water resources attorney for the National Wildlife Federation's Great Lakes office and lecturer at the University of Michigan Law School. "We urge Michigan and Ohio to strengthen their laws to protect public health, wildlife and water resources now and for generations to come."
Download the full report: Hydraulic Fracturing in the Great Lakes Basin: The State of Play in Michigan and Ohio
While fracking of shallow wells has occurred in Michigan for over 30 years, energy companies are just beginning to use fracking within the Great Lakes basin to extract natural gas from deep shale formations. These deep shale wells can extend more than a mile below the surface and up to two miles horizontally. Fracking of deep wells requires more water, more chemicals, and greater pressure on the well itself than fracking of shallow wells. Thus, deep wells pose more risks for water resources in the basin.
The report reviews the legal framework governing the entire life cycle of fracking in both states. It examines three potential ways in which the water resources in the Great Lakes basin could be harmed by fracking: depletion of freshwater resources due to the large volumes of water needed to inject into deep wells; contamination from well production activities, including surface spills and underground leaks; and contamination from disposal of the well wastewater. For each of these three areas, the report then examines the laws that are intended to address the risks in Michigan and Ohio.
Unlike other industrial activities, fracking is not regulated by most federal environmental laws. The practice of fracking itself is exempt from the Safe Drinking Water Act, which governs underground injection. The primary focus of the report is therefore on state laws in Michigan and Ohio, including the recent steps taken by the states such as the passage in Ohio of SB 315.
The report, written by Gosman and University of Michigan Law School students, concludes that the laws address some of the risks of fracking, but that more needs to be done to fully protect the Great Lakes basin. The report specifically finds:
Withdrawals of water used for fracking are regulated the least stringently of all three areas discussed in the report, and Ohio's new water use law is unlikely to protect streams and rivers from the cumulative impacts of the water loss
Many aspects of oil and natural gas production wells are regulated comprehensively in both states, including well construction, but the practice of fracking itself is not
Although Ohio's new disclosure provisions are better than Michigan's, a well operator does not have to test fracturing fluid or provide information on the chemical constituents prior to injecting the fluid into a production well in either state
Wastewater from oil and gas wells is categorically exempt from the nation's hazardous waste law, even if the wastewater exhibits hazardous characteristics; and
Both states require wastewater from oil and gas wells to be placed into underground disposal wells, which are extensively regulated by the states and the EPA, but are subject to less stringent requirements than wells that accept other forms of industrial wastewater
"Because there are very few federal requirements, it is up to the states to protect streams, rivers and the entire Great Lakes ecosystem," said Gosman. "Our thorough review of the laws shows that Michigan and Ohio have taken significant steps, but they need to do more."
"Michigan has been doing an admirable job on some fronts, but in other areas the state can do better," said Grenetta Thomassey, program director, Tip of the Mitt Watershed Council. "As the Great Lakes State, Michigan has the opportunity to be a leader in protecting the states precious water resources."
"Ohio has made a strong effort to keep pace with a drilling boom in the state," said Tracy Sabetta, Ohio campaign director for the National Wildlife Federation. "But there's more work to do if we are to adequately protect the health and safety of our families and our natural areas."
The report recommends that Michigan and Ohio adopt several policy changes to protect the water resources of the Great Lakes basin, including:
The states should regulate water withdrawals for fracking under their water use laws and protect all water resources from the cumulative impacts of these withdrawals
The states should improve regulation of fracking itself, including requiring the well operator to test fracturing fluid for contaminants of concern and to submit a list of potential chemicals in the fluid prior to fracking; and
The states should treat wastewater from fracking in a similar manner to other forms of industrial wastewater, including disposing of the wastewater as hazardous waste if it has hazardous characteristics.
"Extracting natural gas safely and responsibly requires adequate safeguards," said Gosman. "The good news is that the states have taken action to address the risks of fracking—but more still is needed."
How to navigate STW ™ postings:
View monthly posting's calendar, become a subscriber or obtain RSS feed by going to the bottom index of this page.
Explanation of Index:
This Months Postings: Calendar on left displays articles and pages posted on a given day.
Current and Archived Postings: Click on the month you want to view. Most current article for the month will appear at top of screen.
RSS Links : Obtain your RSS feeds.
Subscribe: Subscribe to postings by entering your e-mail address and confirming your e-mail.
Supporting water research and the education program's growth of Save the Water™ is vital to our future generation's health, your funding is needed.