NEW DELHI Drinking water crisis:
Large parts of New Delhi were struggling with acute water shortages on Friday after a neighboring state cut its supplies at the peak of summer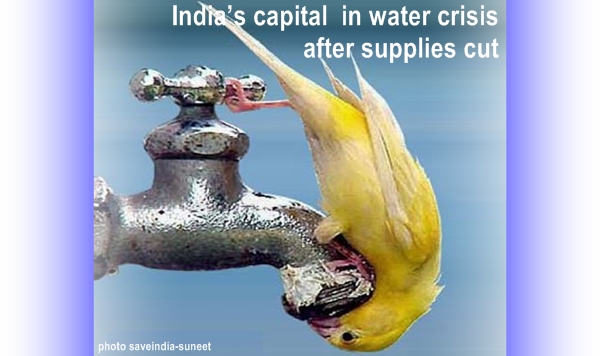 Yahoo! Inc.

The sprawling Indian capital, with a population of 16 million sweltering in 43 degree C (109.4 F) summer heat, relies on four neighbouring states for its water – Haryana, Uttar Pradesh, Punjab and Uttarakhand.
Haryana, the biggest supplier, cut its flow to the city on Thursday and about three million people have suffered shortages or been completely cut off, according to the Delhi Jal Board, a government agency responsible for water supply.
Some of the capital's smartest districts are among the affected areas, and the crisis reflects growing water stresses in the country of 1.2 billion people.
"Suddenly, Haryana is refusing to release water to Delhi," a top Delhi Jal Board official told AFP, requesting anonymity.
"We are struggling at all levels. Every minute we are registering complaints of water shortage. This crisis has left us in a mess."
Several states across India face major challenges over water supply, triggering long-running legal battles over water sharing.
Delhi Chief Minister Sheila Dikshit accused Haryana, which says it has to conserve water for its own residents, of "playing foul" with the capital.
"We are not asking for any favours. We want what is due to us," Dikshit said in a statement Thursday.
In the peak of summer, New Delhi needs 1,100 million gallons of water every day, according to the Delhi Jal Board, but public water providers are able to only supply 835 million gallons.
"There is always a supply-demand gap but this gap is just widening and worsening the crisis," said Himanshu Thakkar, an expert on water management at the South Asia Network on Dams, Rivers and People research group in New Delhi.
According to a federal government report on water consumption in 2010, usage per capita in Delhi is higher than in most European cities.
"Delhi is a privileged city, it is a spoilt child. It does not use rain water harvesting, refuses to recharge 600 water bodies (reservoirs) and just chooses to complain about shortages," said Thakkar.
A 2011 study by experts published in the Proceedings of the National Academy of Sciences, a US journal, estimated that more than one billion urban Indians will face serious water shortages by 2050.
India's six biggest cities – Mumbai, Delhi, Kolkata, Bangalore, Chennai and Hyderabad – are among those most affected by the shortages .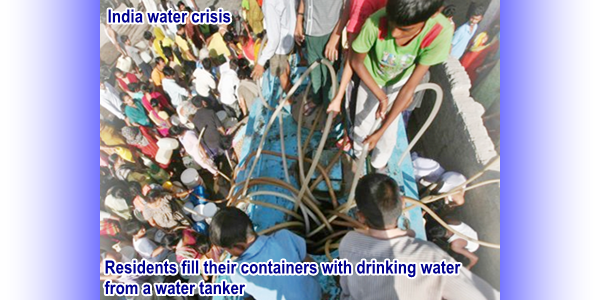 photo: Yahoo News World Events International news events
Past video article December, 2010
In India's Crowded Capital, Crisis Looms Over Limited Water
Dec 30, 2010 – PBS | Fred de Sam Lazaro reports from New Delhi, where rapid and unplanned population growth is exacerbating a shortage of water.
How long has this crisis been going on and where will it lead to?
Clean Water First: Economic Planning in India
nytimes.com
/June 2, 2009,
8:30 am
By
EDWARD L. GLAESER
Edward L. Glaeser is an economics professor at Harvard. He recently returned from India, where he was researching a book on cities.
It isn't wise to start teaching children calculus before they have mastered long division, and it is not prudent to begin long division until addition and subtraction are, more or less, under control.
So why do governments that cannot manage the basics of public hygiene think that they can micro-manage an economy?
I have a moderate, and only somewhat facetious, libertarian progressive proposal. Unless a government manages to provide clean water to its poorest citizens, it should refrain from any new barrier to international trade, complex nationalization scheme or draconian zoning laws.
The energy and entrepreneurship of India's private sector, both in the shiny office parks of Bangalore and in the dusty streets of Dharavi, only makes India's public sector problems more frustrating. I suspect that India's information technology has been so much more successful than its manufacturing because I.T. is less dependent on public infrastructure, like roads and electricity.
The just re-elected prime minister, Manmohan Singh, deserves enormous credit for dismantling much of the "license raj" that was the unfortunate legacy of Nehru and his progeny. Let's hope he takes his latest mandate as an opportunity to improve delivery of the public sector basics, like clean water, while continuing to reduce other, unnecessary interventions.
India will get rich not in its villages, but in its cities and towns, where people can connect with each other and with the global economy. The great problem with urban living, however, is that when many people crowd into small areas, there is an increased need for an effective public sector. Today, the mismanagement of India's cities not only reduces quality of life but limits urban growth and thereby slows the economic progress of the subcontinent.
The most important task of city government is to provide clean water. A cholera epidemic is a lot more dangerous than a crime wave. Today, approximately half of Mumbai's residents do not have reliable access to working toilets. A 2003 study classified 70 percent of the water samples from one ward in particular as undrinkable.
The most important achievement of America's 19th-century cities was their sewers and waterworks that saved thousands of lives. The history of clean urban water reminds us that it is a massive undertaking that requires direct public leadership.
Public-private partnerships, like the Manhattan Water Company (which became the Chase Manhattan Bank), were notably unsuccessful at solving the water problem. The successes, like the Croton Aqueduct that feeds Manhattan, required massive spending and subsidy. In 1900, America's cities were spending as much on water as the federal government spent on everything except for the military and its pensions.
Today, the average commute time in Mumbai is 47 minutes, which is 20 percent higher than that for New York and 88 percent above the United States average. This high number is all the more remarkable because so many poorer Indians live in their shops. In Mumbai, a 10-mile trip downtown can easily take 90 minutes, as an overwhelming abundance of cars, auto-rickshaws and even bullock-drawn kerosene carts slow one's commute. The train system is fast, but deadly, as thousands die each year in Mumbai alone, either run over or pushed out of moving trains.
Mumbai's transport problems require both more infrastructure and congestion charges. Unless people pay for access, roads will continue to be badly clogged. Singapore pioneered congestion charging in the 1970s, when it was a developing city-state, and its roads have remained open ever since. The best part of clearing the roads is that safer, faster buses can provide mobility for poorer Indians.
While Mumbai has failed to provide open streets or clean water, it has engaged in some of the most draconian land use planning on the planet out of a quixotic, and a mistaken, desire to limit growth and imitate the worst features of English urban planning.
Since the 1960s, the city has enforced rules that restrict building space in core downtown areas to less than 1.33 times land area. These regulations keep Mumbai artificially low, and increase congestion.
Instead of traveling vertically in elevators, people must travel horizontally on crowded roads. The taller buildings that are being built have plenty of land around them, to accommodate these land use rules, which limits the development of Mumbai as a pedestrian city. By allowing more building, the city's property tax rolls would increase, which would make it easier to finance investment in water and transportation infrastructure.
Why did America's 19th-century cities, corrupt as they were, manage growth better than many developing cities today?
One reason is that power was vested in city machines that were voted out when they screwed up too badly. With the exception of Delhi, India's cities are generally governed by states that are generally dominated by rural voters. In the words of the great Tammany sage, G.W. Plunkitt: India's cities are "pie for the hayseeds."
I suspect that the cities of India won't get the reforms they need until they are turned into independent city-states with governments that are accountable to their urban populations.
How to navigate STW ™ postings:
View monthly posting's calendar, become a subscriber or obtain RSS feed by going to the bottom index of this page.
Explanation of Index:
This Months Postings: Calendar on left displays articles and pages posted on a given day.
Current and Archived Postings: Click on the month you want to view. Most current article for the month will appear at top of screen.
RSS Links : Obtain your RSS feeds.
Subscribe: Subscribe to postings by entering your e-mail address and confirming your e-mail.
Supporting water research and the education program's growth of Save the Water™ is vital to our future generation's health, your funding is needed.