News Brief
Vol.III
No. 222
July 31


The material posted is
courtesy of
Mike Simsonson,
Minnesota Public Radio
Save the Water™
Globe and Mail
Water Research
Education Dept.
and is shared as
educational material only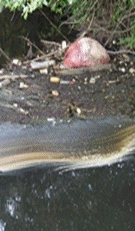 Water contamination news:
Recovery starts on Lake Superior mystery barrels.
An ambitious effort to raise 70 Department of Defense barrels dumped into Lake Superior 50 years ago got under way Monday.
By: Mike Simsonson, Minnesota Public Radio
A tug (bottom left pic) moves a barge carrying a crane and other equipment to hunt for the dumped barrels in Lake Superior on Monday, July 30, 2012. (Bob King / rking@duluthnews.com)
An ambitious effort to raise 70 Department of Defense barrels dumped into Lake Superior 50 years ago got under way Monday.
Almost 1,500 of the 55-gallon drums were unloaded in three sites a couple of miles east of Duluth from 1958 to 1962, which is about two miles from Duluth's water intake between the Lester and Knife rivers in Lake Superior.
For years there has been a debate about what's actually in the barrels. Federal officials say they contain concrete and scrap munitions parts that pose no danger to people or the environment. But environmental and American Indian activists believe the barrels might contain toxic, radioactive materials. In an April interview, project manager Jennifer Thiemann of EMR in Duluth, which is overseeing the project, said her company has two big challenges in raising the barrels. First, they're dealing with potentially explosive material.
"We'll have a team of munitions experts on the barge, and we have explosive site plans to help with the handling of that," she said. "It includes keeping all nonessential personnel off the barge when munitions are potentially present."
In addition to dealing with potentially explosive materials, recovery workers will face the challenge of raising rusted steel drums without having them disintegrate. "Before we touch any barrels, we'll be getting a visual confirmation through the remote-operated vehicle, which is like an underwater robot," Thiemann said. "That'll have a camera on it, and it'll be operated from the barge. If the barrel is showing any signs of degradation, which could be holes or rust that could compromise the integrity of the barrel, we'll have a set of tools on board that can be deployed to help gather that barrel up."
The U.S. Coast Guard established a safety zone around the tug Champion/barge Kokosing. The zone went into effect Monday and will be enforced until recovery operations are completed. While it is in effect, boaters are not to come within 700 feet of the Champion/Kokosing.
The Coast Guard established the exclusion zone for two reasons, Lt. Judson Coleman, chief of waterways management at the Coast Guard's Marine Safety Unit Duluth. "In the event they recover something that is a threat of any kind, we want to make sure there is a protected area around them," he said. "And two, so they can continue the progress of the project we don't want any curious people to get too close."
The Coast Guard occasionally will patrol the area.
In addition to publishing the order in the Federal Register, the Coast Guard is notifying boaters of the exclusion zone via announcements on marine-band radio. Boaters who do not know of the safety zone and enter it will be notified of the requirement to stay at least 700 feet away, Coleman said.
"If they were to continue to enter (the zone) they could be subject to penalties," Coleman said. "If anything, you might have a few curious people out there and once they were notified of what is happening they will clear out of there." According to the Federal Register, the Campion/Kokosing will operate approximately between Stoney Point and Brighton Beach. "They are looking to operate for 15 days, but it is weather dependent" and could take longer, Coleman said.
In 2006, Red Cliff went through U.S. Army Corps of Engineers and Honeywell Munitions records and said chemicals ranging from PCBs to mercury, lead or even uranium could be in the barrels. Government efforts to find and open several barrels in the 1990s found parts from grenade-like cluster bombs, scrap metal, ash, concrete and garbage. Water inside some of the eight barrels that were recovered contained levels of several hazardous substances such as PCBs that officials said probably leached off the metals and ash.
Red Cliff tribal officials say they won't comment on the barrel recovery project until it's finished, which is expected in about two weeks, depending on the weather. The Department of Defense is paying the Red Cliff Band of Lake Superior Chippewa about $2.2 million to recover the barrels as part of a federal program to clean up dump sites near or on reservation lands.News Tribune staff writer Steve Kuchera contributed to this report.
A mystery lies scattered on the silty bottom of Lake Superior a few miles from Duluth Harbor. On seven occasions between 1959 and 1962, U.S. Army contractors dumped more than 1,400 steel barrels of classified material from Honeywell operations at the Twin Cities Army Ammunition Plant (TCAAP) in Arden Hills into the cold waters Lake Superior. The dumping solved two problems for the Army — how to dispose of the waste economically and how to keep the contents secret.
The rationale seems fatally flawed today, and with many of the barrels within a few miles of drinking water intakes, many people would like to see the mystery solved.
The Lake Superior Classified Barrel Disposal Site has been a decades-long concern for local community leaders and environmentalists. The Army has stated that the barrels officially contain "classified" parts from grenades and waste associated with munitions manufacturing. But suspicions persist to this day that the barrels contained radioactive materials and poisonous chemicals, and there's an oft-told story of tug operators having seen purple liquid seeping from barrels after they were unloaded.
A recently released "Health Consultation" from the Minnesota Department of Health (MDH) seeks to put those concerns to rest. The report compiles information from several prior investigations into the mysterious barrels, including two instances where nine of the 55-gallon drums were recovered in the early 1990s. Their contents contained what was expected from the anecdotal accounts of Honeywell employees and witnesses to the dump, previously recorded by the Army Corps of Engineers in 1977: munitions waste, scrap metal, pieces of timing mechanisms and assemblies for the BLU-3 "pineapple" cluster bomb.
The Health Department's final "Public Health Action Plan" (.pdf) states that the agency "plans no additional action related to this site" and that it "will review new information on this site if there is additional investigations." The report's author, Health Department toxicologist Carl Herbrandson, told the Duluth News Tribune, "We've moved on,'' but not everyone is willing to follow. For many, nine barrels out of the more than 1,400 is not a thorough enough sample to declare that the entire contents of the dump site pose no risk.
The incentive for the Army and the state of Minnesota to keep the mystery alive may be financial.
In 1995, when the issue last drew widespread attention, city officials in nearby Superior, Wis., made a push to force the Minnesota Pollution Control Authority (MPCA) to have the the barrels removed from the dump site, technically in Minnesota waters. While the city was unable to force the MPCA's hand, the nearby Red Cliff Nation soon took up the charge. The Bayfield, Wis., tribe contracted Duluth-based environmental consultants EMR, Inc., to investigate the health threat posed by the barrels and whether remediation is warranted and feasible.
Any large-scale environmental cleanup is an expensive proposition, but an underwater cleanup of potentially hazardous materials and explosives is a daunting task. The difficult setting is not the only challenge. To date just 20 to 25 percent of the barrels have been located, and the rest may be buried under layers of muddy sediment. Previous attempts at retrieving barrels cost millions of dollars and yielded few.
There will be no immediate resolution to this issue, but as long as the steel barrels are slowly corroding on the bottom of Lake Superior, the state of Minnesota and the Health Department are unlikely to attract many followers in their effort to move on.
How to navigate STW ™ postings:
Monthly posting's calendar, become a subscriber or obtain RSS feed by going to the bottom index of this page.
Explanation of Index:
This Months Postings: Calendar on left displays articles and pages posted on a given day.
Current and Archived Postings: Click on the month you want to view. Most current article for the month will appear at top of screen.
RSS Links : Obtain your RSS feeds.
Subscribe: Subscribe to postings by entering your e-mail address and confirming your e-mail.
Help Save the Water™ – click here.
Water news archives. Table of contents – 150 articles – April~July 2012
Supporting water research and the education program's growth of Save the Water™ is vital to our future generation's health, your funding is needed.