News Posting
Vol.III
No.175
July 5
2012
Despite many successful water projects, billions of people still lack adequate water and sanitation

Save the Water™ does not represent or endorse the postings herein or reliability of any advice, opinion, statement, or other information furnished by the author.

For your surfing
pleasure here
are some links in our revamped web site
Educational All Levels
Current Sponsors
Resources
Join Our Link Exchange
Help fund STW™ laboratory by shopping on line at our store
Become A Sponsor
To Donate A Gift
Please Contact Us



The material posted is
courtesy of
rt.com
Save the Water™
Water Research
Education Dept.
and is shared as
educational material only

Save the Water™
1st Annual
Internet
Sponsorship
Fundraiser
Campaign
June 1st
September 1st
2012
Water
Research
Crisis
Response
Humanitarian
Projects
Education
Daily News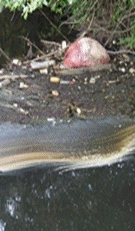 free brochure A Homeowner's Guide to Septic Systems:
[/one_fifth][four_fifth_last]
Fracking rumbles California

California is one of the largest oil and gas producing states in the US. As the Golden State cashes in on the boom, the oil and gas industry is increasingly using fracking.
Last year about a quarter of all the oil and gas wells drilled in California were fracked and with no regulation in place, companies are rushing to dig some more. California is prone to droughts and earthquakes, leaving residents worried about how fracking could affect their water supply and the potential for an earth shaking disaster.
Southern California is known for its pristine coastline, but just a few miles away from the ocean lays a one-thousand acre oil field, right in the middle of Los Angeles.
"I didn't buy here thinking this was going to happen in my backyard. I would have had second thoughts about living here," said Gary Gless, a Los Angeles resident who lives just a few miles from the Inglewood Oil Field.
Gless and his neighbors are seeing their dream homes crack before their eyes and they blame the increased production at the oil fields next door.
When homeowners moved in, they say they were assured the wells were dry. Following recent methane leaks, however, residents found out that drilling picked up, and that the exploration company, PXP, is actually using fracking to extract oil.
"Fracking is happening completely unregulated in the state of California," said Brenna Norton, an organizer with Food and Water Watch. "Oil and gas companies don't have to say where they frack or what chemicals they are injecting into water, possibly close to your drinking water," Norton added.
Fracking, or hydraulic fracturing, is the process of pumping high-pressure water, chemicals and solids into the ground to fracture the rock, and extract fuel that would otherwise be unavailable.
PXP, which operates the largest urban oil field in America, is conducting its own study as to what sort of effects fracking will have on this neighborhoodBut neighbors here are worried they will never have true answers about what is really happening underneath their homes.
"Wastewater injection from fracking is linked to earthquakes and property damage. The US geological survey linked wastewater wells from fracking to earthquakes," said Norton.
The concern over seismic activity is especially high in the Los Angeles area because of the oil field's proximity to the Newport-Inglewood fault, which according to the Federal Emergency Management Agency, has the potential of a 7.4 magnitude earthquake.
"In many places where you have large amounts of water injected in broken rock, it tends to move either on the surface or in depth," said Dr. Tom Williams, a retired geologist and oil industry insider.
That movement, experts say, could pose a danger to an area all too familiar with disaster.
In 1963, the Baldwin Hills Reservoir collapsed, killing five people and destroying 60 homes. Geologists concluded that decades of extraction in the neighboring oil field led to the rupture in the dam.
Today, cracked foundations and buckling roadways have neighbors worried about losing their homes.
"The foundation, I don't know what is going on under my house. If we do get an earthquake, I'm sure that with all these cracks it will probably rip it all open," said Los Angeles resident Rosa Tatum.
"The state couldn't afford any type of damage, not just from the earthquakes but the millions of gallons of contaminated water that they'll be pumping into the ground," said Gless.
The oil and gas industry has launched a public relations campaign claiming fracking is safe since it has been happening for decades.
"1.2 million times that fracking has occurred in this country there has not been a single incident of reported of water contamination," said Dave Quast, from Energy in Depth, an advocacy group for the oil and gas industry.
Quast's claims come after US Environmental Protection Agency report in Wyoming, in which federal regulators said fracking was the probable cause of tainted water supplies.
The industry has also launched an offensive to confront regulation and criticism.
"These fossil fuel giants influence policy enormously. They spent $747 million lobbying Congress to get this Safe Water Drinking Act exemption. That is a contamination of our democracy," said Josh Fox, director of the Oscar nominated documentary, "Gasland"
The efforts of big oil and gas have only emboldened the anti-fracking movement on the west coast of the US, as activists and community members attempt to ban the controversial drilling technique in California.
It took years, but opponents of fracking, the controversial process of hydraulic fracturing for the extraction of natural gas, are finally getting their point across. President Barack Obama, however, still isn't convinced of the cons.
Ohio lawmakers have put a temporary ban on fracking after experts say it is certain that recent fracking in the Buckeye State caused an outbreak of earthquakes.
Author and activist Naomi Wolf has been added to the list now hundreds of names long of protesters arrested during the ongoing Occupy Wall Street demonstrations.
Experts are looking for a reason behind Tuesday afternoon's unlikely 5.8 magnitude earthquake that shook people up and down the East Coast, and some are saying that a recent rise in fracking could be the culprit.
How to navigate STW ™ postings:
View monthly posting's calendar, become a subscriber or obtain RSS feed by going to the bottom index of this page.
Explanation of Index:
This Months Postings: Calendar on left displays articles and pages posted on a given day.
Current and Archived Postings: Click on the month you want to view. Most current article for the month will appear at top of screen.
RSS Links : Obtain your RSS feeds.
Subscribe: Subscribe to postings by entering your e-mail address and confirming your e-mail.
Supporting water research and the education program's growth of Save the Water™ is vital to our future generation's health, your funding is needed.
[/four_fifth_last] [/four_fifth] [one_fifth_last]
Topic Categories
Petroleum and Fracking

Water & Your Health
Fracking
What are the ten scariest chemicals used in fracking?
Drinking Water Contamination
Drinking water contamination: Tap water disinfectants linked to birth defects.
Camp Lejeune toxic water investigation. The families and protectors of the United States health in jeopardy .
India,West Mambalam: Overflowing sewage remains a perennial problem
Good News
Bio filters from tree fungi. Students research synthetic variant enzymes that can break down estrogen
Education Program
What are some bottle water facts? [Illustrated ]
Illustrated water cycle: Marine debris bulletin: Identifying high pressure "gas cylinders from Japan debris"
Archived Topics
Drinking Water Fears After Chemical Spill In North Bay

[/one_fifth_last]