News Posting
Vol.III
No.176
July 7
2012
Despite many successful water projects, billions of people still lack adequate water and sanitation

Save the Water™ does not represent nor endorse the postings herein or reliability of any advice, opinion, statement, or other information furnished by the author.

For your surfing
pleasure here
are some links in our revamped web site
Educational All Levels
Current Sponsors
Resources
Join Our Link Exchange
Help fund STW™ laboratory by shopping on line at our store
Become A Sponsor
To Donate A Gift
Please Contact Us



The material posted is
courtesy of
USGS
EPA
Clean Water
Education Partnership
State of CA.Gov
and USPA
Save the Water™
Water Research
Education Dept.
and is shared as
educational material only

Save the Water™
1st Annual
Internet
Sponsorship
Fundraiser
Campaign
June 1st
September 1st
2012
Water
Research
Crisis
Response
Humanitarian
Projects
Education
Daily News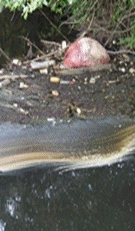 free brochure A Homeowner's Guide to Septic Systems:
[PDF Format]– This 15-page booklet describes how a septic system works and what a homeowner can do to help the system treat their wastewater efficiently.
Free
education material
Homeowner Septic System Checklist
[PDF Format] – This worksheet allows homeowners to keep track of septic system inspections and maintenance. This checklist is included in the booklet above or may also be used separately.
[/one_fifth][four_fifth_last]
Contaminated drinking water
What contaminates it, and how do we learn more.
It may look okay but looks are deceiving. Drinking contaminated water is now becoming a norm that many just ignore. However protecting today's water quality should be important to each and every one of us and can no longer be ignored. It should not become a concern only in times of drought when water is unquestionably in short supply. The essential need and purity of this resource which we take for granted comes to its true light; our planet's water supply is finite and this is a fact that many cannot comprehend.
Each drop of water wasted is a drop less in a wild and scenic river, a drop less in a needed salmon run.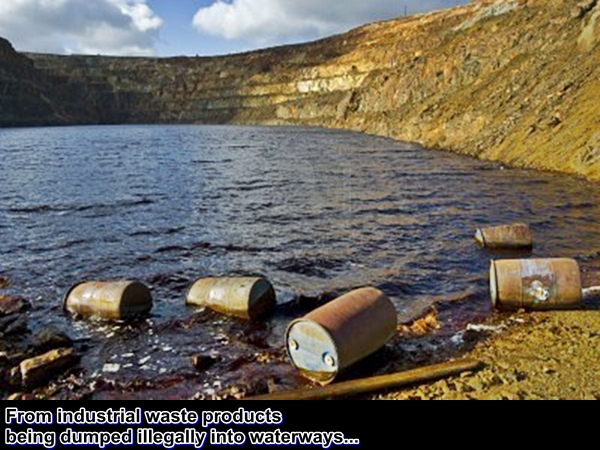 Every drop of water that circles a drain unnecessarily wastes energy through the manufacturing of chemicals in the cycle of sewage treatment. The world water supply is dwindling. Today's water that we use carelessly is only water supply we will ever have. It is the same water that was here since the beginning of time, but now it has become a toxic soup. Further research is needed regarding the chemicals that are entering our drinking water sources and facts from those findings must be taught to our children.
The water that flows from our kitchens tap does not indicate an endless supply of safe, clean water and the photos in this article will substantiate this fact. This water will be treated and eventually returned to us again in a chemically altered state from the previous time we used it.
In this article, Save the Water™ has compiled comprehensive water education information for students, teachers and concerned individuals from the USGS, EPA, Clean Water Education Partnership, State of California Government, and USPA in order to help you educate our next generation about water conservation, pollution prevention and care of this precious resource.
From games and activities to helping choose the appropriate environmental curriculum, there is something for everyone, just click on the headings. As with anything, learning is half the battle.
[toggle title=" Clean Water Education Partnership (CWEP)" height="auto"]
Welcome to our Kids' Pages! Here are five activities designed to educate kids of all ages on stormwater pollution and everybody-needs-to-help solutions!
Have fun and remember… Clean Water Begins with You and Me!
Activities that show what a watershed is and how it works. Learn more…
Find out how much stormwater runoff your school creates! Learn more…
See what's inside your dog! Learn more…
Nobody likes cleaning, but the cleaning products we usually use are worse for the environment than they are for us! Learn more…
Find out how you can make safer cleaning products! Learn more…
Rainbows of oil after rain storms aren't so pretty after all! Learn more…
The Clean Water Education Partnership aims to protect North Carolina's
waterways from stormwater pollution through public education and outreach.
If you have a question or comment regarding the Clean Water Education Partnership or its program areas, please send email to: cwep@tjcog.org or telephone: Sarah Bruce (CWEP staff support) at (919) 558-9343.
[/toggle]
[toggle title=" Water Science for Schools (USGS) Water Basics " height="auto"]
Earth's Water
[one_half]
[/one_half] [one_half_last]
Rainbows (water and light)
[/one_half_last][/toggle] [toggle title=" USGS special topics " height="auto"]
[/toggle] [toggle title=" USGS what is the water cycle?" height="auto"]
What is the water cycle? I can easily answer that—it is "me" all over! The water cycle describes the existence and movement of water on, in, and above the Earth. Earth's water is always in movement and is always changing states, from liquid to vapor to ice and back again. The water cycle has been working for billions of years and all life on Earth depends on it continuing to work; the Earth would be a pretty stale place without it.
Where does all the Earth's water come from? Primordial Earth was an incandescent globe made of magma, but all magmas contain water. Water set free by magma began to cool down the Earth's atmosphere, and eventually the environment became cool enough so water could stay on the surface as a liquid. Volcanic activity kept and still keeps introducing water into the atmosphere, thus increasing the surface- and groundwater volume of the Earth.
A quick summary of the water cycle
Here is a quick summary of the water cycle. The links in this paragraph go to the detailed Web pages in our Web site for each topic. A shorter summary of each topic can be found further down in this page.
The water cycle has no starting point, but we'll begin in the oceans, since that is where most of Earth's water exists. The sun, which drives the water cycle, heats water in the oceans. Some of it evaporates as vapor into the air; a relatively smaller amount of moisture is added as ice and snow sublimate directly from the solid state into vapor. Rising air currents take the vapor up into the atmosphere, along with water from evapotranspiration, which is water transpired from plants and evaporated from the soil. The vapor rises into the air where cooler temperatures cause it to condense into clouds.
Air currents move clouds around the globe, and cloud particles collide, grow, and fall out of the sky as precipitation. Some precipitation falls as snow and can accumulate as ice caps and glaciers, which can store frozen water for thousands of years. Snowpacks in warmer climates often thaw and melt when spring arrives, and the melted water flows overland as snowmelt. Most precipitation falls back into the oceans or onto land, where, due to gravity, the precipitation flows over the ground as surface runoff. A portion of runoff enters rivers in valleys in the landscape, with streamflow moving water towards the oceans. Runoff, and groundwater seepage, accumulate and are stored as freshwater in lakes.
Not all runoff flows into rivers, though. Much of it soaks into the ground as infiltration. Some of the water infiltrates into the ground and replenishes aquifers (saturated subsurface rock), which store huge amounts of freshwater for long periods of time. Some infiltration stays close to the land surface and can seep back into surface-water bodies (and the ocean) as groundwater discharge, and some groundwater finds openings in the land surface and emerges as freshwater springs. Yet more groundwater is absorbed by plant roots to end up as evapotranspiration from the leaves. Over time, though, all of this water keeps moving, some to reenter the ocean, where the water cycle "ends" … oops – I mean, where it "begins."
Main components of the water cycle
[one_half]
[/one_half] [one_half_last]
[/one_half_last]
[/toggle]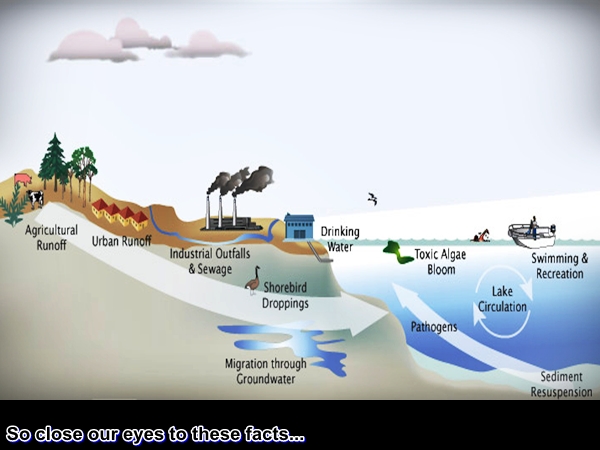 [toggle title=" Teachers and Educators " height="auto"]
Helpful information and material to assist you with water education.
[one_half]
Contests
[/one_half] [one_half_last]
Informational Videos – View videos produced by different organizations on specific water quality related subjects.
Pollution Prevention
Watershed Model
[/one_half_last]
[/toggle] [toggle title=" Tribal outreach water education material " height="auto"]
This information can assist you in developing and administering your own water quality programs that help protect health, and quality of life.
[one_half]
American Indian Environmental Office– Provided by USEPA
Tribal Environmental and Natural Resource Assistance Handbook
Tribal Nonpoint Source Planning Handbook – Provided by USEPA
Working Effectively with Tribal Governments – Tribal Training Materials
Clean Water Indian Program

– Provided by USEPA
Enforcement and Compliance Assurance Tribal Program – Provided by USEPA
[/one_half] [one_half_last]
Ground Water and Drinking Water: Tribal Programs – Provided by USEPA
Informational Videos – View videos produced by different organizations on specific water quality related subjects.
Office of Pollution and Prevention and Toxics (OPPT) Tribal Environmental Network– Provided by USEPA
Indian Programs – Provided by Region 9
Small Communities– Provided by USEPA
[/one_half_last] [/toggle]
[toggle title=" Project wet Education Material" height="auto"] [one_half]
[/one_half] [one_half_last]
[/one_half_last] [/toggle]
[toggle title="EPA water education sites" height="auto"]
Water Education Sites that contain lesson plans or projects.
Information aimed at educators.
[one_half]
Acid Rain
This book published by EPA is for students in grades 4-8 and their teachers. It covers the basic concepts and definitions involved with acid rain. Topics include the effects of acid rain on forests, water and humans, and explores the options of what can be done to diminish these negative effects of acid rain.
A Child's Place in the Environment (ACPE)
ACPE is a series of six environmental education curriculum guides for elementary school teachers that integrates science, English-language arts, and selected children's literature, and culminate with student projects which enhance their environment and provide experiences in service learning.
All Along a River
This site was developed by students in Singapore from the Chinese High School. The site discusses physical aspects of rivers including erosion, volume, and velocity. The site includes case studies about the Singapore River and the River Rhine.
Adopt Your Watershed Students and Teachers
This site has links to material suitable for students and teachers.
Read interesting facts, do experiments, see the demo of the day, and there's an area for teachers as well.
Enchanted Learning
Diverse subjects available from sharks to butterflies.
Give Water A Hand
A youth program for local environmental action.
Life on the Rocky Shore
This site is about ocean tidepools. It has activities, quizes, and information about animals and the tidepool lifestyle.
Educating Young People About Water
Includes a list of more than one hundred curricula for educating youth about water.
Natural Sciences for Educators
Lesson plans, teaching resources, life sciences, physical and earth sciences, and ecosystems
[/one_half] [one_half_last]
Pollution Prevention (P2) Toolbox
The toolbox contains a series of four page lesson plans on various pollution prevention concepts for schools.
Recycle City
This site provides information about recycling for teachers and kids. There is an interactive game that requires a Shockwave plugin to operate but worth the effort.
USGS Water Science for Schools
We offer information on many aspects of water, along with pictures, data, maps, and an interactive center where you can give opinions and test your water knowledge.
Water Sourcebook Series
The Water Sourcebook Series consists of 4 volumes appropriate for Grades K – 2, 3 – 5, 6 – 8, & 9 – 12. The Series explains how the water management cycle affects every aspect of the environment. The curriculum provides strong science and math content, but also links these subject areas to social studies and language arts. Each Water Sourcebook contains hands-on activities and investigations, fact sheets, reference materials, and a glossary of terms.
What's Up With Our Nation's Waters? (HTML, PDF) [migrate_later] This booklet, designed primarily for middle-school-aged youth, presents key findings of the EPA's National Water Quality Report in an easy-to-read fashion and includes projects for school or fun, a water quiz, and a glossary and resources for more information.
World in Our Backyard: A Wetlands Education and Stewardship Program
Suggests ways to study wetland characteristics, why wetlands are important, and how students and teachers can help protect a local wetland.
[/one_half_last] [/toggle] [toggle title="Training Opportunities" height="auto"]
AQUATOX
Learn about AQUATOX, a program that models how nutrients and pollutants affect freshwater ecosystems, by viewing slides from the last AQUATOX training session.
BASINS
BASINS is a multi-purpose environmental analysis system that integrates a geographical information system (GIS), national watershed data, and state-of-the-art environmental assessment and modeling tools into one convenient package.
Clean Water Act Section 404 Regulatory Training
This four-day course provides an introduction to the Clean Water Act Section 404 regulatory program and training in the application of the 404(b)(1) guidelines for review of proposed discharges of fill material into waters of the United States.
Drinking Water Academy
The Drinking Water Academy provides information and online training modules to ensure that water professionals, public officials, and involved citizens have the knowledge and skills necessary to protect our drinking water supply.
Drinking Water Operator Certification
Operator certification helps protect human health and the environment by establishing minimum professional standards for the operation and maintenance of public water systems. A compilation of training materials, tools and guidance to help operators become and remain certified is available.
Long Term 2 Enhanced Surface Water Treatment Rule Training
If you are implementing the Long Term 2 Enhanced Surface Water Treatment Rule (LT2) you may use our on-line module or request a Webcast for training. New Webcasts and other training opportunities will be posted.
NPDES Training Courses and Workshops
The National Pollution Discharge Elimination System (NPDES) permitting program offers training courses, workshops, and webcasts to explain the regulatory framework and technical considerations of the NPDES permit program. These courses are designed for permit writers, dischargers, EPA officials, and other interested parties.
Water Quality Standards Academy
To support water quality standards development, we offer the Water Quality Standards Academy (WQSA), which presents classroom-based and online courses, along with occasional webcasts.
Tribal Training
This site contains a consolidated, centralized listing of training courses offered by EPA that will help Indian tribes develop and implement water quality programs consistent with the Clean Water Act. It will enable Indian tribes to obtain, in one central place, a list of relevant training courses consistent with the goals established for individual reservations.
Watershed Academy
The Watershed Academy is a focal point in EPA's Office of Water for providing training and information on implementing watershed approaches.
Wastewater Operator Training
The Clean Water Act authorizes funding for the Wastewater Treatment Plant Operator On-Site Assistance Training Program. The program addresses non-compliance at small publicly-owned wastewater treatment plants and ensures enough trained personnel are available to operate and maintain existing and future treatment works.
[/toggle]
[toggle title="Help our mission" height="auto"]
How to navigate STW ™ postings:
View monthly posting's calendar, become a subscriber or obtain RSS feed by going to the bottom index of this page.
Explanation of Index:
This Months Postings: Calendar on left displays articles and pages posted on a given day.
Current and Archived Postings: Click on the month you want to view. Most current article for the month will appear at top of screen.
RSS Links : Obtain your RSS feeds.
Subscribe: Subscribe to postings by entering your e-mail address and confirming your e-mail.
Supporting water research and the education program's growth of Save the Water™ is vital to our future generation's health, your funding is needed.
[/four_fifth_last] [/four_fifth] [one_fifth_last]
Topic Categories
Petroleum and Fracking

Water & Your Health
Fracking
What are the ten scariest chemicals used in fracking?
Drinking Water Contamination
Drinking water contamination: Tap water disinfectants linked to birth defects.
Camp Lejeune toxic water investigation. The families and protectors of the United States health in jeopardy .
India,West Mambalam: Overflowing sewage remains a perennial problem
Good News
Bio filters from tree fungi. Students research synthetic variant enzymes that can break down estrogen
Education Program
What are some bottle water facts? [Illustrated ]
Illustrated water cycle: Marine debris bulletin: Identifying high pressure "gas cylinders from Japan debris"
Archived Topics
Drinking Water Fears After Chemical Spill In North Bay
What Are The Facts About (Bisphenol-A) / BPA, Water And Health Risks?
What Are Some Facts About Water? Over 100 Facts You May Not Know.

[/one_fifth_last]