News Posting
Vol.III
No.177
July 8
2012
Despite many successful water projects, billions of people still lack adequate water and sanitation

Save the Water™ does not represent nor endorse the postings herein or reliability of any advice, opinion, statement, or other information furnished by the author.

For your surfing
pleasure here
are some links in our revamped web site
Educational All Levels
Current Sponsors
Resources
Join Our Link Exchange
Help fund STW™ laboratory by shopping on line at our store
Become A Sponsor
To Donate A Gift
Please Contact Us



The material posted is
courtesy of
Mike De Souza,
Postmedia News
Bill Kaufmann,
QMI Agency
London Free Press
Canoe Sun Media
montrealgazette.com
Save the Water™
Water Research
Education Dept.
and is shared as
educational material only

Save the Water™
1st Annual
Internet
Sponsorship
Fundraiser
Campaign
June 1st
September 1st
2012
Water
Research
Crisis
Response
Humanitarian
Projects
Education
Daily News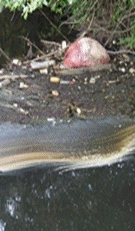 free brochure A Homeowner's Guide to Septic Systems:
[PDF Format]– This 15-page booklet describes how a septic system works and what a homeowner can do to help the system treat their wastewater efficiently.
Free
education material
Homeowner Septic System Checklist
[/one_fifth][four_fifth_last]
Water pollution law meant to assist oil sands.
By Mike De Souza, Postmedia News July 5, 2012
OTTAWA — New laws offering the government more tools to "authorize" water pollution appear to be designed to remove obstacles for expansion of Canada's oilpatch, says a Liberal MP from Montreal who spearheaded a parliamentary investigation into the environmental footprint of the oilsands.
"I just found it curious that they're trying to hide their motive," said Francis Scarpaleggia, the Liberal water critic. "This is all being done for the oil sands. It's not being done for the pulp and paper industry. They have their house in order."
Scarpaleggia made the comments in response to recent Postmedia News reports about a letter signed by Fisheries and Oceans Minister Keith Ashfield that explained the government was amending the Canada's Fisheries Act, previously considered to be the country's strongest environmental protection law, in order to make it easier to "authorize" water pollution. »Read full story
mdesouza@postmedia.com Original source article: Water pollution law meant to assist oil sands: Liberal MP
Timeline article.
Changes to the Fisheries Act will give the government more options to allow industries to pollute fish habitats.
By Mike De Souza, Postmedia News
OTTAWA — Changes to Canada's environmental protection laws in the federal budget implementation bill will offer new tools to "authorize" water pollution, while allowing the government to outsource services to protect the country's waterways, says Fisheries and Oceans Minister Keith Ashfield.
In a newly-released letter, Ashfield said the existing Fisheries Act, considered to be Canada's strongest environmental protection law, has "long played an important role in preventing pollution of Canadian waters." But he suggested it needed to be changed since it doesn't provide enough options allowing industry to disrupt or contaminate fish habitat.
"There are currently few tools to authorize pollution other than by detailed regulations," Ashfield wrote in the June 14 letter to Todd Panas, president of the Union of Environment Workers. "For example, the amended Fisheries Act will provide flexibility and establish new tools to authorize deposits of deleterious substances."
The existing legislation prohibits the harmful alteration, disruption or destruction of fish habitat without a special authorization from the minister that is usually accompanied by requirements to compensate for the damage caused.
While a Toronto-based natural resources company was recently allowed to dump toxic tailings waste from a gold mine into fish habitat near Baker Lake, Nunavut, using a special authorization from the government, another company was forced to go back to the drawing board in November 2010 when former environment minister Jim Prentice refused to authorize its plans to turn Fish Lake in interior B.C. into a tailings dump. read entire article>>
Timeline article.
Feds favour "responsible" growth in oilsands over sustainability: Documents
By Mike De Souza, Postmedia News June 14, 2012
The federal government has turned away from promoting "environmentally sustainable development" of Canada's oilsands sector, newly released internal records obtained by Postmedia News reveal.
OTTAWA — The federal government has turned away from promoting "environmentally sustainable development" of Canada's oil sands sector, newly released internal records obtained by Postmedia News reveal.
Draft and final versions of a communications plan for last February's announcement about improved environmental monitoring of the industrial sector that exploits natural bitumen deposits in Western Canada show someone in Prime Minister Stephen Harper's government wanted to delete a pledge to ensure the "environmentally sustainable development" from a list of key public messages.
"The oil sands represent a significant, long-term economic benefit for all Canadians," said a deleted portion of the communications plan, released through access to information legislation. "That being said, the oil sands must be developed in a sustainable manner." read entire article>>
Related article
Producers find greener way to extract oil from oilsands
By Bill Kaufmann, QMI Agency Last Updated: June 13, 2012 9:53pm
CALGARY — Oilsands operators say they're ready to zap dirty oil accusations with electromagnetic force.
No, they're not targeting environmental activists with incapacitating rays, but instead they're well on their way to using radio waves to more efficiently extract black gold from the oil sands.
A consortium of companies have field-tested the process that heats the oilsands electrically with radio waves, reducing the amount of steam and water needed to extract bitumen from sand.
European governments are weighing slapping a dirty oil label on the oilsands that producers fear could impact their marketability worldwide.
But the new technology could be a way to not only reduce costs, but also environmental damage and the outcry against Alberta's massive resource, said Glen Schmidt, president of Laricina Energy Ltd.
"Canadian oilsands in-situ is already very competitive not only economically, but environmentally," Schmidt said.
"This kind of technology continues to make it more competitive."
In-situ production uses wells instead of mining to extract oilsands bitumen.
Laricina has teamed up with Nexen Inc., Suncor Energy, and Harris Corp. to develop the approach, having tested it in Florida in 2011 and in a Suncor oilsands well last January.
Oilpatch critics often point to the immense amount of water used in oilsands production.
But Schmidt said using the electromagnetic energy — combined with an oil solvent injected to move the bitumen — avoids using fossil fuels to generate steam.
Costs for industry are cut by bypassing the need for water treatment facilities, he said.
"Anytime you can improve operating or capital costs, you reduced the environmental impacts," Schmidt said.
A larger pilot field test is scheduled for 2013 and the companies hope the process can become commercially viable before final testing.
Half of the $33 million cost of the project has been borne by the province, the other half by the consortium.
The three-day Global Petroleum Show in Calgary that's drawn 2,200 exhibitors and about 65,000 visitors abounds with environmental technology.
Even so, environmentalists contend the mere burning of fossil fuels, even those extracted more responsibly, are hastening global warming.
And they argue planned dramatic increases in production will accelerate emissions. Full article and other news.
The above articles are courtesy of:Postmedia News, The London Free Press, Canoe Sun Media, Montreal Gazette, QMI, and Wikipedia.
Related articles:
[toggle title=" Oil sands water environmental issues " height="auto"]
Oil sands water environmental issues
See also: Environmental impact of the petroleum industry
Oil sands extraction is generally held to be more environmentally damaging than conventional crude oil.[47] It can affect the land when the bitumen is initially mined, water by its requirement of large quantities of water during separation of the oil and sand and the air due to the release of carbon dioxide and other emissions.[48] Heavy metals such as vanadium, nickel, lead, cobalt, mercury, chromium, cadmium, arsenic, selenium, copper, manganese, iron and zinc are naturally present in oil sands and may be concentrated by the extraction process.[49] The environmental impact caused by oil sand extraction is frequently criticized by environmental groups such as Greenpeace, Climate Reality Project, 350.org, MoveOn, League of Conservation Voters, Patagonia, Sierra Club, and Energy Action Coalition.[50][51] The European Union has indicated that it may vote to label oil sands oil as "highly polluting". Although oil sands exports to Europe are minimal, the issue has caused friction between the EU and Canada.[52]
Water management
Athabasca River to the tailings pond, which stores contaminated water from processing the oil sands. NASA Earth Observatory image, 2009.
Mining operations in the Athabasca oil sands. Note the close proximity of the
Between 2 to 4.5 volume units of water are used to produce each volume unit of synthetic crude oil in an ex-situ mining operation. According to Greenpeace, the Canadian oil sands operations use 349 million cubic metres per annum (12.3 × 109 cu ft/a) of water, twice the amount of water used by the city of Calgary.[62] Despite recycling, almost all of it ends up in tailings ponds. As of 2007, tailing ponds in Canada covered an area of approximately 50 square kilometres (19 sq mi). However, in SAGD operations, 90–95% of the water is recycled and only about 0.2 volume units of water is used per volume unit of bitumen produced.[63]
For the Athabasca oil sand operations water is supplied from the Athabasca River, the ninth longest river in Canada.[64] The average flow just downstream of Fort McMurray is 633 cubic metres per second (22,400 cu ft/s) with its highest daily average measuring 1,200 cubic metres per second (42,000 cu ft/s).[65][66] Oil sands industries water license allocations totals about 1.8% of the Athabasca river flow. Actual use in 2006 was about 0.4%.[67] In addition, according to the Water Management Framework for the Lower Athabasca River, during periods of low river flow water consumption from the Athabasca River is limited to 1.3% of annual average flow.[68]
In December 2010, the Oil Sands Advisory Panel, commissioned by former environment minister Jim Prentice, found that the system in place for monitoring water quality in the region, including work by the Regional Aquatic Monitoring Program, the Alberta Water Research Institute, the Cumulative Environmental Management Association and others, was piecemeal and should become more comprehensive and coordinated.[69][70] A major hindrance to the monitoring of oil sands produced waters has been the lack of identification of individual compounds present. By better understanding the nature of the highly complex mixture of compounds, including naphthenic acids, it may be possible to monitor rivers for leachate and also to remove toxic components. Such identification of individual acids has for many years proved to be impossible but a recent breakthrough in analysis has begun to reveal what is in the oil sands produced waters.[71]
In October 2009, Suncor announced it was seeking government approval for a new process to recover tailings called Tailings Reduction Operations, which accelerates the settling of fine clay, sand, water, and residual bitumen in ponds after oil sands extraction. The technology involves dredging mature tailings from a pond bottom, mixing the suspension with a polymer flocculent, and spreading the sludge-like mixture over a "beach" with a shallow grade. According to the company, the process could reduce the time for water reclamation from tailings to weeks rather than years, with the recovered water being recycled into the oil sands plant. In addition to reducing the number of tailing ponds, Suncor claims that the process could reduce the time to reclaim a tailing pond from 40 years at present to 7–10 years, with land rehabilitation continuously following 7 to 10 years behind the mining operations.[72]
Public health impacts
Concerns have been raised concerning the negative impacts that the oil sands have on public health, including higher than normal rates of cancer among residents of Fort Chipewyan.[89] In August, 2011, the Alberta government initiated a provincial health study of the link between the higher rates of cancer and the oil sands.[90] It has also been suggested that other wildlife has been negatively affected by the oil sands; for instance, moose were found in a 2006 study to have as high as 453 times the acceptable levels of arsenic in their systems, though later studies lowered this to 17 to 33 times the acceptable level (still causing a danger for human consumption).[91]
[/toggle]
[toggle title="Help our mission" height="auto"]
How to navigate STW ™ postings:
View monthly posting's calendar, become a subscriber or obtain RSS feed by going to the bottom index of this page.
Explanation of Index:
This Months Postings: Calendar on left displays articles and pages posted on a given day.
Current and Archived Postings: Click on the month you want to view. Most current article for the month will appear at top of screen.
RSS Links : Obtain your RSS feeds.
Subscribe: Subscribe to postings by entering your e-mail address and confirming your e-mail.
Supporting water research and the education program's growth of Save the Water™ is vital to our future generation's health, your funding is needed.
[/four_fifth_last] [/four_fifth] [one_fifth_last]
Topic Categories
Petroleum and Fracking

Water & Your Health
Fracking
What are the ten scariest chemicals used in fracking?
Drinking Water Contamination
Drinking water contamination: Tap water disinfectants linked to birth defects.
Camp Lejeune toxic water investigation. The families and protectors of the United States health in jeopardy .
India,West Mambalam: Overflowing sewage remains a perennial problem
Good News
Bio filters from tree fungi. Students research synthetic variant enzymes that can break down estrogen
Education Program
What are some bottle water facts? [Illustrated ]
Illustrated water cycle: Marine debris bulletin: Identifying high pressure "gas cylinders from Japan debris"
Archived Topics
Drinking Water Fears After Chemical Spill In North Bay

[/one_fifth_last]