Contaminated Water
News In Brief
Vol.III
No.180
July 10
2012

The material posted is
courtesy of
Travis Morse
The Journal-Standard
Posted Jul 05, 2012
Stephenson County
Save the Water™
Water Research
Education Dept.
and is shared as
educational material only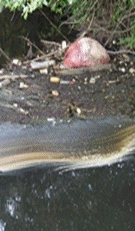 [/one_fifth][four_fifth_last]
Dry weather could impact wells
Water testing is encouraged
By Travis Morse The Journal-Standard Posted Jul 05, 2012
Ed Specht, director of environmental health for the Stephenson County Health Department, looks over a well at Friends Forever Humane Society.
Freeport, Ill. —By Travis Morse The Journal-Standard Posted Jul 05, 2012
Local health officials are urging rural Stephenson County residents to have their wells tested if they notice any difference in their drinking water's taste or clarity.
With the hot, dry weather this summer, experts worry that the lack of precipitation could impact water quality for area wells, said Ed Specht, director of environmental health for the Stephenson County Health Department.
Precipitation serves to replenish a well's water supply and when there is less water in the ground near a well, then the well's pump will pull water from sources farther away, Specht said. In situations like that, there is more of a risk of well water contamination, he said.
"The water that is presented in a well is actually water that is recharged from precipitation in and around the well," Specht said. "Because of the lack of rain and excessive heat, we have seen an unprecedented drop in water tables. … People may potentially find out it will affect their wells."
As the water level in the ground drops, a well will start to pull in water from other layers of soil or from aquifers that are farther away. That is why you should have your well water tested immediately if you notice a change in the water's taste or clarity, Specht said.
"Get it tested if that's the case, because it could be pulling (water) from a different aquifer," Specht said.
Area residents with wells on their property should prioritize their water use, Specht said.
If you get your water tested and there is a problem, you will likely have to contact a licensed well driller or pump installer to address the situation. In some cases, the well's pump may need to be lowered or the well may have to be drilled deeper. Also, an all new well may have to be created in some cases.
Well water testing kits are available at the health department's Environmental Health Office, which is located in the highway building on Lamm Road. The kits are also available at the health department facility at 10 W. Linden St. in Freeport.
For more information, contact Ed Specht at (815) 599-0344.
[toggle title="Help our mission" height="auto"]
How to navigate STW ™ postings:
View monthly posting's calendar, become a subscriber or obtain RSS feed by going to the bottom index of this page.
Explanation of Index:
This Months Postings: Calendar on left displays articles and pages posted on a given day.
Current and Archived Postings: Click on the month you want to view. Most current article for the month will appear at top of screen.
RSS Links : Obtain your RSS feeds.
Subscribe: Subscribe to postings by entering your e-mail address and confirming your e-mail.
Supporting water research and the education program's growth of Save the Water™ is vital to our future generation's health, your funding is needed.
[/four_fifth_last] [/four_fifth] [one_fifth_last]
Topic Categories
Petroleum and Fracking

Water & Your Health
Fracking
Drinking Water Contamination
Drinking water contamination: Tap water disinfectants linked to birth defects.
Education Program
Archived Topics
Drinking Water Fears After Chemical Spill In North Bay
What Are The Facts About (Bisphenol-A) / BPA, Water And Health Risks?

[/one_fifth_last]