News Brief
Vol.III
No.186
July 13
2012

The material posted is
courtesy of
Kevin Spear
Orlando Sentinel
Save the Water™
Water Research
Education Dept.
and is shared as
educational material only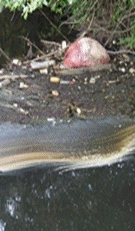 [/one_fifth][four_fifth_last]
Water democracy: Even as supply threatens to run out, public shows little interest
6:14 p.m. EST, July 3, 2012|By Kevin Spear, Orlando Sentinel
[justify] ST. CLOUD — The keepers of Central Florida's water supply, mostly technocrats and utility bosses, have labored for more than a year to identify and divide among themselves the region's last precious drops.
[/justify][justify] Last week, they put their work on public display during an open house that, according to a sign-in sheet, was attended by several dozen people representing various businesses, government agencies and environmental-advocacy groups. Only about a half dozen of those present were simply interested members of the general public.[/justify][justify] Such is democracy when it comes to water in Florida, even as the supply threatens to run dry.
[/justify][justify] Various public-affairs experts and advocates say they worry that people's participation in local or statewide water-policy debates is often muted by complex science, specialized regulations and lack of involvement by elected officials.
[/justify][justify] "Water will never catch the public eye until it stops running out of the faucet," said Bill Segal, a former Orange County commissioner and a former St. Johns River Water Management District board member.
[/justify][justify] Some water watchers think a tipping point might have been reached a little more than a week ago, however, when nearly 1,750 people turned out for a rally at Silver River State Park in Marion County.
[/justify][justify] The event had been organized in response to a ranch owner's quest to pump 13 million gallons of water a day from the state's heavily stressed Floridan Aquifer. Most of that water — as much as the nearby city of Ocala uses each day — would irrigate pastures for high-intensity cattle production at Adena Springs Ranch.
[/justify][justify] The unusually strong backlash to the ranch's water-permit request stems largely from fears that it would reduce and pollute the water flowing from the area's already-ailing Silver Springs, a well-known and popular natural attraction and tourist destination since the 1800s. Backers of the cattle ranch deny that any harm would occur to the springs or the river they create.
[/justify][justify] Where a tipping point might lead is unclear in a state where the options for public involvement in water issues are limited or daunting.
[/justify][justify] A speaker at the June 23 rally — Lee Constantine, a former Republican state senator from Altamonte Springs who's now a candidate for Seminole County commissioner — said he encourages individuals and groups to join the Florida Conservation Coalition, one of the rally's organizers, as a way to have their voices heard.
[one_half]


Water will never catch the public eye until it stops running out of the faucet, Bill Segal stated during interview.
[/one_half] [one_half_last]
[/one_half_last]
[toggle title="read more of the big picture" height="auto"]
Constantine, who as a state lawmaker was among only a few in the Legislature to concentrate on water issues, said turning to a local elected official to talk about water — as routinely happens when people have concerns about schools, taxes or crime — "isn't going to do any good. They can't look at the big picture of water."
In this part of the state, most of the people capable of seeing the big picture are part of the Central Florida Water Initiative.
CFWI members are drawn from the three state agencies, known as water-management districts, that control the region's water supply, and from the city and county utilities that must share the dwindling amount of water left to meet the demands of population growth.
The invitation-only group's inaugural open house Thursday was in St. Cloud, on the edge of the Orlando metropolitan area, overlooking the Osceola County city's scenic waterfront park on East Lake Tohopekaliga. Having done most of their work so far in obscurity, its members enthusiastically described tasks that, they admitted, involve cutting-edge science that often defies easy explanation.
They said they are attempting to: determine how much harm has already been caused to the region's wetlands and waterways by heavy pumping from the Floridan Aquifer; establish whether that harm is of an acceptable degree; and set a limit for how much more water, if any, can be pumped from the aquifer.
Deirdre Macnab, president of the League of Women Voters of Florida, said it's difficult for the average citizen to understand such a discussion, much less respond to it.
This is one of our most precious resources, and we don't really know what's happening below the surface," said Macnab, who didn't attend the open house. "We need an annual, reliable and understandable report on our water."
Robert Knight shares her frustration. Knight, a springs scientist in Gainesville and an opponent of the Adena Springs Ranch proposal, said the state's water-management districts seem intent on blunting public involvement.
"They are usually talking down to people. They give presentations that are frequently unintelligible. They go over things too fast and try to cover too much," Knight said of the districts' regular meetings. "I don't care to go to them myself."
[/toggle]
Help Save the Water™ – Please click here.
How to navigate STW ™ postings:
View monthly posting's calendar, become a subscriber or obtain RSS feed by going to the bottom index of this page.
Explanation of Index:
This Months Postings: Calendar on left displays articles and pages posted on a given day.
Current and Archived Postings: Click on the month you want to view. Most current article for the month will appear at top of screen.
RSS Links : Obtain your RSS feeds.
Subscribe: Subscribe to postings by entering your e-mail address and confirming your e-mail.
Water news archives. Table of contents – 150 articles – April~July 2012
Supporting water research and the education program's growth of Save the Water™ is vital to our future generation's health, your funding is needed.
[/four_fifth_last] [/four_fifth] [one_fifth_last]
Topic Categories
Petroleum and Fracking

Water & Your Health
Fracking
Drinking Water Contamination
Drinking water contamination: Tap water disinfectants linked to birth defects.
Education Program
Archived Topics
Drinking Water Fears After Chemical Spill In North Bay
What Are The Facts About (Bisphenol-A) / BPA, Water And Health Risks?

[/one_fifth_last]