News Brief
Vol.III
No.189
July 14
2012

The material posted is
courtesy of
Sharon Sullivan / gjfreepress.com
Timeline by
David O. Williams
Save the Water™
Water Research
Education Dept.
and is shared as
educational material only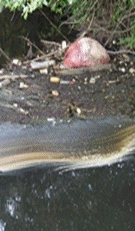 [/one_fifth][four_fifth_last]
Fracking brief: Experts study water needs for oil shale development.
The technology required for a future oil shale industry is uncertain. Thus, water demands for developing the resource is also uncertain, a newly published report said. The study, "Energy Development Water Needs Assessment Phase II — Final Report," was produced for the Colorado River and Yampa/White River Basin Roundtables by an engineering consulting firm, AMEC Earth & Environmental.
The Colorado Water for the 21st Century Act in 2005, established nine Colorado roundtables to study future water needs for the state's cities, agriculture, energy development and recreation. Grand Junction Utility and Streets manager Greg Trainor represented Mesa County municipalities on the Colorado River Basin Roundtable. He met with interested citizens Thursday, July 12, in the Mesa County government building, 544 Rood Ave. to discuss its study regarding future Western Slope water needs.
"Assuming that the state will double in population by 2050, municipalities will be looking for water," Trainor said. "We need to get a handle on water estimates for energy development."
Phase one of the report looked at water uses of all conventional energy sectors — oil shale, natural gas, coal and uranium. Much of the information for the report was collected from the Bureau of Land Management, and oil and gas companies.
"In phase one, we did not get as much coöperation from (the) industry as we wanted — particularly concerning oil shale development," Trainor said. The initial phase of the report found oil shale would require 400,000 acre feet of water per year to support a long-term, high-production scenario that would produce a million-and-a-half barrels of oil shale a day by 2070. That amount of water was based on a Dutch Shell plan that required electrical generation (construction of 12 power plants) to fuel its energy production.
Such an operation would be huge; it would require the construction of power lines, pipelines, roads, additional housing and railroads, resulting in an unrecognizable Western Slope, Trainor said.
After the initial report was published, the commercial oil shale industry said the study's water estimate was too high. The roundtables' energy subcommittee agreed to reëxamine its estimated water demands from oil shale development — this time with industry sharing more of their information.
Phase two of the report showed a dramatically reduced water estimate of 120,000 acre-feet.
The report identified three water projects in the White River Basin that could meet an annual energy industry demand of 110,000 acre feet of water. Most years, the Colorado River could meet an additional demand of 10,000 acre feet,
The state projects a future water gap of between 600,000 and a million acre feet of water as the number of water users increase. Other demands for water — including municipality needs — would likely target agriculture, Trainor said. Small allocations from thousands of farmers could potentially be affected.
Policy makers are urging conservation before taking water from agriculture, Trainor added.
Read report: Water and oil shale don't mix
By David O. Williams Written and published on Tuesday, December 02, 2008
[toggle title=" lack of water: click>>" height="auto"]
Report: Water and oil shale don't mix
The Bush administration and the Bureau of Land Management are pushing relentlessly ahead with plans to fast-track Colorado's long-dormant oil shale industry, but a study released this fall exposes one factor that could put a big damper on the boom: a serious lack of water.
The report, prepared for key government and private water stakeholders in the area, says that northwest Colorado rivers can supply enough water to meet the growing demands of the natural gas, coal and uranium industries, but unproven oil shale production technology would "require tremendous amounts of water" that might not be available.
The practical importance of water to the goal of extracting oil from shale is often overshadowed by the dream of tapping into a vast new source of energy. Studies show the Green River Formation of western Colorado contains between 1.5 trillion and 1.8 trillion barrels of recoverable oil trapped in sedimentary rock and sand. That's more than four times the proven liquid oil reserves in all of Saudi Arabia.
But the process of extracting oil from rock require enormous amounts of water and power, as well as the refining and transportation infrastructure needed to get the oil to market. So far no oil company has been able to efficiently heat kerogen — the organic material that releases oil — in the sedimentary rock on a large enough scale for commercial production.
"A dominant finding is oil shale development, along with its associated power production, could require tremendous amounts of water, up to 378,300 acre-feet annually," concludes the Energy Development Water Needs Assessment, which was funded by grants from the Colorado Department of Natural Resources and the Colorado Water Conservation Board.
An acre-foot is the amount of water needed to cover one acre a foot deep in water, or about 325,851 gallons. If the report's estimate is accurate, oil shale development in Colorado would consume 123 billion gallons of water a year.
Proponents of oil shale production, which was just gearing up on Colorado's western Slope in the early 1980s when the industry went bust, say technology has improved dramatically and requires much less water and power. But incoming Democrats such as newly elected Sen. Mark Udall have vowed to try to reinstitute a commercial leasing ban allowed to expire by Congress this fall.
"In a nutshell, the energy industry in Colorado will need a lot of water, but it's manageable — with the exception of the speculative oil shale part of the equation," said water consultant Caroline Bradford, the former director of the Eagle River Watershed Council, an organization devoted to preserving that tributary of the Colorado.
Besides water consumption issues, the report also concludes that the oil shale industry would also consume an inordinate amount of energy
"In either a moderate or high production scenario in the mid-term or long range, they'll need to build 14 more huge (Craig-sized) power plants to produce the energy needed to produce the energy, but nobody knows if oil shale will really happen or not," said Bradford, referring to the state's largest power plant, Craig Station.
[/toggle]
How to navigate STW ™ postings:
View monthly posting's calendar, become a subscriber or obtain RSS feed by going to the bottom index of this page.
Explanation of Index:
This Months Postings: Calendar on left displays articles and pages posted on a given day.
Current and Archived Postings: Click on the month you want to view. Most current article for the month will appear at top of screen.
RSS Links : Obtain your RSS feeds.
Subscribe: Subscribe to postings by entering your e-mail address and confirming your e-mail.
Help Save the Water™ – click here.
Water news archives. Table of contents – 150 articles – April~July 2012
Supporting water research and the education program's growth of Save the Water™ is vital to our future generation's health, your funding is needed.
[/four_fifth_last] [/four_fifth] [one_fifth_last]
Topic Categories
Petroleum and Fracking

Water & Your Health
Fracking
Drinking Water Contamination
Drinking water contamination: Tap water disinfectants linked to birth defects.
Education Program
Archived Topics
Drinking Water Fears After Chemical Spill In North Bay
What Are The Facts About (Bisphenol-A) / BPA, Water And Health Risks?

[/one_fifth_last]