News Brief
Vol.III
No.188
July 14
2012

The material posted is
courtesy of
www.kcci.com
Save the Water™
Water Research
Education Dept.
and is shared as
educational material only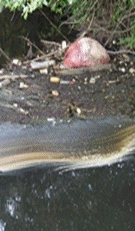 [/one_fifth][four_fifth_last]
Drinking water contamination news: The city of Perry issued a drinking water warning Friday.
Officials said water samples showed elevated levels of nitrite in the water.
Drinking water contamination
Nitrite in drinking water is a serious health concern for infants less than six months old, officials said.
Children below six months should not have water, juice or formula prepared using tap water. Instead bottled water should be used, officials said.
Adults and children older than six months can drink the tap water.
City officials said they plan to adjust clorine levels and drain and clean an elevated water tower next Wednesday to help reduce nitrite levels.
People with questions can contact the Perry Water Department at 515-465-2562. Read more:
How to navigate STW ™ postings:
View monthly posting's calendar, become a subscriber or obtain RSS feed by going to the bottom index of this page.
Explanation of Index:
This Months Postings: Calendar on left displays articles and pages posted on a given day.
Current and Archived Postings: Click on the month you want to view. Most current article for the month will appear at top of screen.
RSS Links : Obtain your RSS feeds.
Subscribe: Subscribe to postings by entering your e-mail address and confirming your e-mail.
Help Save the Water™ – click here.
Water news archives. Table of contents – 150 articles – April~July 2012
Supporting water research and the education program's growth of Save the Water™ is vital to our future generation's health, your funding is needed.
[/four_fifth_last] [/four_fifth] [one_fifth_last]
Topic Categories
Petroleum and Fracking

Water & Your Health
Fracking
Drinking Water Contamination
Drinking water contamination: Tap water disinfectants linked to birth defects.
Education Program
Archived Topics
Drinking Water Fears After Chemical Spill In North Bay
What Are The Facts About (Bisphenol-A) / BPA, Water And Health Risks?

[/one_fifth_last]