News Posting
Vol.III
No.191
July 16
2012
Despite many successful water projects, billions of people still lack adequate water and sanitation

Save the Water™ does not represent nor endorse the postings herein or reliability of any advice, opinion, statement, or other information furnished by the author.

For your surfing
pleasure here
are some links in our revamped web site
Educational All Levels
Current Sponsors
Resources
Join Our Link Exchange
Help fund STW™ laboratory by shopping on line at our store
Become A Sponsor
To Donate A Gift
Please Contact Us



The material posted is
courtesy of
Barbara McNamara,
Aberdeen
The Baltimore Sun
NEELA BANERJEE
Tribune Washington Bureau
Header Graphic
Al Granberg
Save the Water™
Water Research
Education Dept.
and is shared as
educational material only

Save the Water™
1st Annual
Internet
Sponsorship
Fundraiser
Campaign
June 1st
September 1st
2012
Water
Research
Crisis
Response
Humanitarian
Projects
Education
Daily News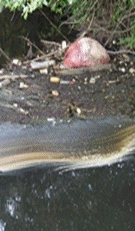 free brochure A Homeowner's Guide to Septic Systems:
[PDF Format]– This 15-page booklet describes how a septic system works and what a homeowner can do to help the system treat their wastewater efficiently.
Free
education material
Homeowner Septic System Checklist
[PDF Format] – This worksheet allows homeowners to keep track of septic system inspections and maintenance. This checklist is included in the booklet above or may also be used separately.
[/one_fifth][four_fifth_last]
Fracking is neither safe nor harmless to the environment.
Barbara McNamara, Aberdeen/The Baltimore Sun / 1:30 p.m. EDT, July 16, 2012 /
I take objection to letter writer David Vanko's claims about the use hydraulic fracturing to drill for oil and gas ("Fracking hasn't caused a spike in earthquakes," July 11).
If Mr. Vanko had actually looked at the reporting by the U.S. National Resource Council cited in his commentary, he would have drawn very different conclusions.
In a report entitled "Induced Seismicity Potential in Energy Technologies," the council noted that in January of 2011, hydraulic fracturing in a well in Eola, Okla., caused 50 earthquakes within a two-mile radius of the drilling site during the first 24 hours of drilling.
These earthquakes ranged in intensity from 1. 0 to 2.8 on the Richter scale and were large enough to be felt.
I personally experienced the same thing in eastern Ohio between 2011 and early 2012. Residents noted no fewer than 11 earthquakes following hydraulic fracturing in their area, all within a radius of about 2 miles. And residents of western Pennsylvania have also reported contaminated wells near drilling sites as well as seismic activity.
This is no coincidence. Normally, these are areas that do not have seismic activity. They are places where people never worried about earthquakes.
It's easy to turn a blind eye to things that don't happen in one's own back yard. But it is quite different when you live in areas of increased hydraulic fracturing. And more such sites are being planned because the companies engaged in fracking say it's safe and harmless to the environment.
It is not. The U.S. National Research Council stresses the need for more research to "advance the understanding of induced seismicity … [and] identify gaps in induced seismic hazard assessment methodologies." But considering the data that is already out there, hydraulic fracturing should be ended immediately. We all have a great deal to lose if this continues.
Barbara McNamara, Aberdeen
Marcellus shale: What took millions of years to create merits a few years of study
Our view: O'Malley right to seek to avoid repeating Pennsylvania's mistakes on hydraulic fracturing
The reaction from the petroleum industry to the notion that Maryland ought to look before it leaps into natural gas drilling was swift and predictable: Maryland is in danger of falling behind the pace set by other states in tapping the lucrative Marcellus Shale deposits.
To that one can only reply, "Good."
A great deal of caution is in order when it comes to the controversial hydraulic fracturing, or fracking, process and the long list of possible adverse impacts from toxic ground water pollution to well blowouts and methane leaks. The executive order signed by Gov. Martin O'Malley this week seeks not to ban natural gas drilling but to fully assess its impact, both positive and negative.
How often have states and local governments been lured by the siren's song of resource exploitation and the jobs and economic opportunities that come with it only to discover — too late — the disastrous strings attached? The nation has no shortage of Superfund toxic waste sites to give testament to the perils of unregulated industry.
What the governor has authorized is essentially the same mandate that passed the House of Delegates earlier this year but on which the Senate failed to act: A thorough investigation of what natural gas production in Western Maryland might mean for the region and the state.
Make no mistake, the extensive Marcellus Shale deposit could prove extraordinarily helpful in providing the nation with natural gas, a cleaner burning alternative to other fossil fuels. And Western Maryland could certainly use the potential economic boost.
But there are numerous red flags to consider. Pennsylvania's recent experience, chronicled in the Academy Award-nominated documentary "Gasland," ought to give pause. Gov. Tom Corbett is pushing for tougher environmental regulation to monitor drilling more closely, increase the penalties given companies that violate the law, and protect drinking water supplies.
It's clear, however, that some damage has been done by the more than 3,000 wells in that state alone. Toxic runoff may already be headed to Maryland's waters by way of the Susquehanna River, which flows into the Chesapeake Bay.
Maryland has much to learn from Pennsylvania's apparent missteps — assuming that they are corrected. Maryland Attorney General Douglas F. Gansler's decision last month to pursue a lawsuit against Chesapeake Energy, one of the natural gas drilling companies operating in the state, over a fracking fluid spill in a Susquehanna tributary was entirely appropriate given the environmental threat posed to the nation's largest estuary.
Certainly, this will cause some delay. But Pennsylvania has already amply demonstrated the dangers of rushing into gas drilling without a sufficient understanding of the risks to human health and safety involved.
Even so, the presence of a study provides no guarantee that Maryland is not destined to make the same mistakes as its neighbors to the north. One of the first areas of study under Gov. O'Malley's order is to look at what taxes might be applied to the industry. The resulting proposal is expected to go before the General Assembly by early next year.
Given the state's fiscal challenges of recent years, a new source of tax revenue will no doubt look enticing. But much of the remainder of the study is not expected to be completed for several years, a far more realistic timetable for determining the industry's fate.
[toggle title=" Maryland: fracking study loses ground " height="auto"]
Our view: Industry has only itself to blame for delays in approving use of the controversial drilling technique
Last year, when Gov.Martin O'Malley signed an executive order establishing a commission to study the impact of drilling for natural gas in Western Maryland's Marcellus Shale deposit, he promised the state would be guided by "scientific knowledge." Yet gathering that much-needed information costs money, something the state doesn't have at the moment.
That lack of funds will likely mean many months of delay for the fact-finding efforts of the governor's advisory commission. The alternative — to simply not do a thorough study of such issues as the potential economic effects of fracking, the disposal of toxic waste water, and the impact on local ground water — would be wholly unacceptable.
The effort was supposed to be financed by a $15 per acre charge to those companies that hold gas interest to the land. The Maryland Department of the Environment was counting on collecting as much as $2.3 million from the study fee to pay for research. That includes the $138,950 the agency has already spent (and expected to be reimbursed for) on its soon-to-be-released review of industry best practices — essentially the second phase of the agency's 3-part review.
While legislation establishing the fee was approved by the House of Delegates in mid-March, it never made it out of the Senate's Education, Health and Environmental Affairs Committee. The bill may have gotten caught up in the budgetary battle between the two chambers, the same standoff that caused the adoption of a "doomsday" budget and will likely lead to a special session to reconsider matters of taxes and spending next month.
The bill's supporters say the gas industry lobbied heavily against the fee, claiming it was anti-business. But it's hardly uncommon for government to expect potential polluters to pay for environmental impact studies, and given the industry's track record in neighboring Pennsylvania, it would seem foolhardy not to conduct one. Certainly, it makes more sense than the only alternative available — to charge state taxpayers for the enterprise.
Make no mistake, U.S. natural gas resources are considerable and could prove extremely helpful in gaining greater energy independence. But that doesn't mean hurtling headlong into whatever the gas and petroleum industry wants to do. Maryland should be no quicker to do that than to give carte blanche to strip mining or off-shore oil drilling.
Regulating hydraulic fracturing or "fracking" is not anti-business, it's a sound way to protect health and public safety while enabling responsible use of a valuable natural resource. Last week, the U.S. Environmental Protection Agency issued rules restricting harmful emissions from such natural gas wells in a classic regulatory win-win. The new rules require drilling companies to capture gases that are often allowed to escape into the atmosphere. That not only protects the environment but provides revenue for the producers and is not expected to slow production.
States have a role to play in this regulatory process as well, and the potential adverse impact of fracking on water supplies is troubling. Opponents have raised legitimate questions about the chemicals used in the process and the possibility that not only groundwater but underground aquifers might be put at risk by large-scale drilling.
Perhaps that danger can be easily managed, as industry officials claim. But that's not a decision that should be made purely on the advice of those private companies that stand to make huge profits from gas drilling in Maryland and elsewhere.
Granted, that cautious approach may put Maryland at a competitive disadvantage to those states that have chosen not to closely regulate gas drilling, particularly as falling natural gas prices are likely to slow new drilling anyway. But that's a choice Marylanders ought to be comfortable making as the value of clean water and air is not something to be taken lightly either.
Maryland's natural gas study was supposed to be wrapped up by Aug. 1, 2014. That seemed a reasonable timetable — until the effort lost its funding source. Now, a completion in 2015 seems more reasonable assuming lawmakers agree on a plan to pay for the research next year. And if industry officials express displeasure with that? Well, they only have themselves to blame.
[/toggle]
Neighboring state fracking news:
Pennsylvania law on fracking worries doctors
NEELA BANERJEE Tribune Washington Bureau / Apr 25
AVELLA — About two years ago, Dr. Amy Pare began treating members of the Moten family and their neighbors from a working-class neighborhood less than half a mile from a natural gas well here.
A plastic surgeon whose specialty includes skin cancer, Pare removed and biopsied quarter-size skin lesions from Jeannie Moten, 53, and her niece, only to find that the sores recurred. "The good news is that it wasn't cancer, and the bad news is that we have no idea what it is," Pare said.
Determined to understand the illnesses, Pare went last May to the Motens' neighborhood to collect urine samples from a dozen people. To her dismay, she found chemicals not normally present in the human body: hippuric acid, phenol, mandelic acid.
The Motens and their neighbors suspect their ailments could be tied to the natural gas well. Pare says she is not sure what is causing their problems. But she worries that she may have a hard time determining the exact cause because of a provision in a new Pennsylvania law regulating natural gas production.
The law compels natural gas companies to give inquiring health care professionals information about the chemicals used in their drilling and production processes — but only after the doctors or nurses sign a confidentiality agreement.
Some physicians complain that the law is vague and lacks specific guidelines about how they can use and share the information with patients, colleagues and public health officials, putting them at risk of violating the measure. But refusing to sign the confidentiality agreement denies them access to information that could help treat patients.
"I just want to make my patients healthy," Pare said, adding that she might sign an agreement. "And I can't do that if I don't know what it is that's making them sick."
The possibility that increased natural gas development could threaten public heath lies at the core of resistance to a controversial process known as hydraulic fracturing, or fracking. The technique involves high-pressure injection of water and sand laced with chemicals deep underground to break shale formations and unlock oil and gas deposits.
Some people living near well sites have complained that their well water has been contaminated by fracking. The industry asserts that tiny amounts of chemicals are used in fracking and that the water problems are unrelated to the procedure.
Supporters of the Pennsylvania law — including the gas industry, Republican Gov. Tom Corbett and many legislators — said it was designed to help health care providers. Environmental groups and opposing lawmakers said the provision was not in the natural gas law's original version and was slipped in behind closed doors at the last minute by industry-friendly legislators.
Patrick Henderson, the governor's energy executive, said the new law would increase disclosure. Companies would have to share the chemical composition of fluids they use in natural gas production, including proprietary mixes. The confidentiality agreement would not prevent doctors from sharing information with colleagues or patients, only with the company's competitors, he said.
Dr. Marilyn Heine, president of the Pennsylvania Medical Society, said her group had been assured by the state that as regulations are developed to implement the law, state officials "will clarify the provisions so that physicians will know what they can do."
Some doctors, however, want the details in writing before they sign any confidentiality agreements.
"Right now, any physician reading the law would not go anywhere near the issue, because the language of the law has a very chilling effect," said Dr. Bernard Goldstein, former dean of the University of Pittsburgh Graduate School of Public Health and an expert on possible health effects of natural gas development. "I very much hope that the regulations permit" information sharing, he added.
So far, there are no comprehensive, independent studies of the possible health effects of natural gas development.
Dr. Sean Porbin, a family practitioner in Avella, thinks natural gas development could revive many struggling towns in Pennsylvania. "We need to ask questions," he said. "It's not about shutting down industry, but fixing it. And if the data show what they're doing is safe, then we need to defend them."
Pennsylvania's new law is not unprecedented, according to the state's Republican leadership, the natural gas industry and at least two prominent environmental groups. The measure is based on a new rule in Colorado and on two decades-old federal laws from the Environmental Protection Agency and the Occupational Health and Safety Administration.
The comparisons between Pennsylvania's provision and the federal laws, however, are inexact, experts said. According to a statement from OSHA, what doctors can disclose and to whom would come down to "the terms of the agreement between the employer and the health care provider."
Help Save the Water™ – Please click here.
How to navigate STW ™ postings:
View monthly posting's calendar, become a subscriber or obtain RSS feed by going to the bottom index of this page.
Explanation of Index:
This Months Postings: Calendar on left displays articles and pages posted on a given day.
Current and Archived Postings: Click on the month you want to view. Most current article for the month will appear at top of screen.
RSS Links : Obtain your RSS feeds.
Subscribe: Subscribe to postings by entering your e-mail address and confirming your e-mail.
Supporting water research and the education program's growth of Save the Water™ is vital to our future generation's health, your funding is needed.
[/four_fifth_last] [/four_fifth] [one_fifth_last]
Topic Categories
Petroleum and Fracking

Water & Your Health
Fracking
What are the ten scariest chemicals used in fracking?
Drinking Water Contamination
Drinking water contamination: Tap water disinfectants linked to birth defects.
Camp Lejeune toxic water investigation. The families and protectors of the United States health in jeopardy .
India,West Mambalam: Overflowing sewage remains a perennial problem
Good News
Bio filters from tree fungi. Students research synthetic variant enzymes that can break down estrogen
Education Program
What are some bottle water facts? [Illustrated ]
Illustrated water cycle: Marine debris bulletin: Identifying high pressure "gas cylinders from Japan debris"
Archived Topics
Drinking Water Fears After Chemical Spill In North Bay
What Are The Facts About (Bisphenol-A) / BPA, Water And Health Risks?
What Are Some Facts About Water? Over 100 Facts You May Not Know.

[/one_fifth_last]