News Brief
Vol.III
No.192
July 16
2012

The material posted is
courtesy of
David Falchek
(Staff Writer)
July 16, 2012
Scranton Times Tribune
Main Header
Photo
Sue Heavenrich
Save the Water™
Water Research
Education Dept.
and is shared as
educational material only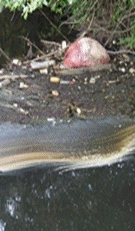 [/one_fifth][four_fifth_last]
Commission suspends water withdrawals on low river levels
By David Falchek (Staff Writer) / The Scranton Times Tribune/ Published: July 16, 2012 / Photo by Sue Heavenrich
The Susquehanna River Basin Commission Monday expanded the list of suspended water withdrawals from 37 to 64, affecting natural gas exploration companies, golf courses and other businesses with permits to take water from rivers or streams.
Low river and stream levels in the watershed triggered the suspensions.
Under SRBC regulations, when streams drop to predetermined protected low flow levels, operators who are required to meet the agency's passby requirement must stop taking water until streams recover, which typically happens after a return to normal rainfall.
"We want people to know that this is not a static list and that it can expand and contract with river levels," said commission spokesperson Susan Obleski.
The suspension is not a ban on water withdrawals, she noted. Water-related activities will continue, even among some companies on the suspension list. Ms. Obleski said often a company will have several withdrawal permits for different locations on a stream or river. This is particularly common among natural gas companies. Also, withdrawals of less than 100,000 gallons per day and not associated with natural gas development are not subject to commission regulation.
A total of 33 companies in 14 counties are affected by the suspension, including Lackawanna, Luzerne, Susquehanna and Wyoming counties.
According to the National Weather Service, rainfall from June 1 to July 15 was 2.5 inches below normal.
Contact the writer: dfalchek@timesshamrock.com
How to navigate STW ™ postings:
View monthly posting's calendar, become a subscriber or obtain RSS feed by going to the bottom index of this page.
Explanation of Index:
This Months Postings: Calendar on left displays articles and pages posted on a given day.
Current and Archived Postings: Click on the month you want to view. Most current article for the month will appear at top of screen.
RSS Links : Obtain your RSS feeds.
Subscribe: Subscribe to postings by entering your e-mail address and confirming your e-mail.
Help Save the Water™ – click here.
Water news archives. Table of contents – 150 articles – April~July 2012
Supporting water research and the education program's growth of Save the Water™ is vital to our future generation's health, your funding is needed.
[/four_fifth_last] [/four_fifth] [one_fifth_last]
Topic Categories
Petroleum and Fracking

Water & Your Health
Fracking
Drinking Water Contamination
Drinking water contamination: Tap water disinfectants linked to birth defects.
Education Program
Archived Topics
Drinking Water Fears After Chemical Spill In North Bay
What Are The Facts About (Bisphenol-A) / BPA, Water And Health Risks?

[/one_fifth_last]