[four_fifth][one_fifth]

News Brief
Vol.III
No.193
July 16
2012

The material posted is
courtesy of
OnEarth.org
Save the Water™
Water Research
Education Dept.
and is shared as
educational material only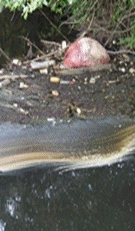 [/one_fifth][four_fifth_last]
Water pollution news: Local water utilities win Atrazine legal battle.
Article by : OnEarth.org
Atrazine concentration in the U.S. water supply, via U.S. Geological Survey
After nearly eight years of litigation, Syngenta, the maker of atrazine, the most widely used weed killer in the world, has settled a lawsuit filed by water utilities in a half-dozen Midwestern states.
The utilities' beef? They were paying tens of thousands of dollars a year to remove the chemical atrazine from drinking water. Regulated by the Environmental Protection Agency, atrazine has been linked with low birth weight, birth defects, and other reproductive problems when consumed at levels below the federal standard. The EPA is currently reviewing atrazine's safety. (Read NRDC's take on the contaminant and Andrew Wetzler's (of the Land and Wildlife Program) take on the legal decision.)
If approved by a federal judge in southern Illinois, the settlement will disburse $105 million — minus attorneys' fees — to nearly 1,900 utilities: the exact amount for each utility will be based on its past atrazine levels, the frequency of contamination and the population served with drinking water. Syngenta admits no liability in the case and will continue to sell its product in the U.S. (The European Union has banned its use.)
The settlement, which generated 10 million pages of documents, will help utilities cover their past expenses — a significant portion of the budgets of small utilities in agricultural areas where atrazine is in heavy use. (Utilities remove atrazine by adding to their water either powdered carbon or granulated activated carbon, which absorbs the chemical and is then removed through filtration or sedimentation.)
But if farmers continue to use the herbicide, which runs off fields and contaminates both groundwater and surface water, utilities will be stuck paying to remove it long into the future. Sure, the utilities won a rhetorical point — polluter pays — but the biggest winners here are the attorneys representing the utilities. Their cut of the deal: $34.9 million.
How to navigate STW ™ postings:
View monthly posting's calendar, become a subscriber or obtain RSS feed by going to the bottom index of this page.
Explanation of Index:
This Months Postings: Calendar on left displays articles and pages posted on a given day.
Current and Archived Postings: Click on the month you want to view. Most current article for the month will appear at top of screen.
RSS Links : Obtain your RSS feeds.
Subscribe: Subscribe to postings by entering your e-mail address and confirming your e-mail.
Help Save the Water™ – click here.
Water news archives. Table of contents – 150 articles – April~July 2012
Supporting water research and the education program's growth of Save the Water™ is vital to our future generation's health, your funding is needed.
[/four_fifth_last] [/four_fifth] [one_fifth_last]
Topic Categories
Petroleum and Fracking

Water & Your Health
Fracking
Drinking Water Contamination
Drinking water contamination: Tap water disinfectants linked to birth defects.

[/one_fifth_last]