News Posting
Vol.III
No.192
July 17
2012
Despite many successful water projects, billions of people still lack adequate water and sanitation
Save the Water™ does not represent nor endorse the postings herein or reliability of any advice, opinion, statement, or other information furnished by the author.


For your surfing
pleasure here
are some links in our revamped web site
Educational All Levels
Current Sponsors
Resources
Join Our Link Exchange
Help fund STW™ laboratory by shopping on line at our store
Become A Sponsor
To Donate A Gift
Please Contact Us


The material posted is
courtesy of
Lyndon Valicenti
Save the Water™
Water Research
Education Dept.
and is shared as
educational material only
Save the Water™ 1st Annual
Internet
Sponsorship
Fundraiser
Campaign
June 1st
September 1st
2012
Water
Research
Crisis
Response
Humanitarian
Projects
Education
Daily News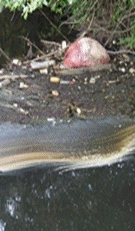 A Homeowner's Guide to Septic Systems:free brochure
[PDF Format]– This 15-page booklet describes how a septic system works and what a homeowner can do to help the system treat their wastewater efficiently.
Free education material
Homeowner Septic System Checklist
[PDF Format] – This worksheet allows homeowners to keep track of septic system inspections and maintenance. This checklist is included in the booklet above or may also be used separately.
[/one_fifth][four_fifth_last]
Chicago's environmental vision: A vision that will save the water focusing on infrastructures – in water and energy conservation.
Chicago Lakeside, Chicago, Illinois
A new vision of the future has taken hold in the 20 years since U.S. Steel's South Works closed – a vision that focuses ingenuity on living in harmony with nature and having the smallest possible negative impact on the environment. Once, the largest steel mill in America that forged the structural bones of downtown's world-renowned skyline; tomorrow, a bold idea in environmentally sustainable city living. This is the Lakeside Idea, bridging from a brownfield industrial past to a green lifestyle future, from steel mill to innovation mill.
The nearly 600-acre site is a blank canvas on which McCaffery Interests Inc. will paint a new community portrait of the Southeast lakefront, to which Lakeside will restore the surrounding neighborhoods' way to an open green lakefront and job-creating economic transformation.
To advance McCaffery's ambitious, environmentenhancing vision, SOM has assembled an international leadership team in the design of future-focused infrastructures – in water and energy conservation, transportation and personal mobility, renewable energy and digital connectivity.
Project Facts
Completion Year: Ongoing
Site Area: 589 acres
Project Area: 589 acres
Project Awards
2009 • AIA • Regional and Urban Design Award
2009 • AIA – Boston Society of Architects • Citation for Excellence in Urban Design
2009 • Chicago Athenaeum • International Architecture Award
2007 • AIA – Chicago Chapter • Sustainable Design Award: Citation of Merit
By Lyndon Valicenti/ Monday, July 16, 2012 8:00 am
Lyndon Valicenti is the Environmental Strategist for SOM's City Design Studio, where she contributes to the Great Lakes Century initiative.
In 1969 Ohio's Cuyahoga River, a tributary of Lake Erie that meanders through Akron and Cleveland, combusted into flames after years of pollution and waste accumulated along its shorelines. While this was not the first time the river caught on fire, it ignited the nation's attention and inspired significant environmental action, including the creation of our Clean Water Act, the Great Lakes Water Quality Agreement, and the U.S. Environmental Protection Agency.
Nearly forty years later, Lake Tai, China's third largest freshwater lake, was engulfed in a mat of blue-green algae large enough to be seen from space. The toxic bloom left 2 million people without drinking water for a week. Within the last decade, Lake Tai has been overwhelmed by pollution from rapid development, harmful industry, and chemical-heavy agriculture practices.
In the wake of these infamous events, the U.S. federal government and China's central government have invested billions of dollars to clean up and redevelop their lakefronts. While the cost of a second chance to create a healthy balance between economic development and environmental integrity is steep, it also leaves an invaluable legacy of hope.
Cities along Lake Tai have agreed upon a bold ecological framework that sets back future development and wraps the lake in a thick band of reconstructed wetlands to filter runoff. In the U.S., Great Lakes cities are reclaiming industrial land, lot-by-lot along the shore, to remediate soils and build a foundation for future growth. We at SOM have had the privilege of working with forward-thinking municipalities in master planning these "second chances" from Wuxi, China to Chicago, Illinois.
In Chicago, on 470 acres formally occupied by one of the country's largest steel mills, we are providing a vision for revitalizing this brownfield into a model community for truly sustainable living. The site, known as Lakeside, will reuse all potable water on site and return every drop of rain to the lake, restoring the natural water balance and treating water as a resource not as waste. The design will require an update to the state plumbing code to allow for greywater and rainwater reuse within buildings – a hurdle indicative of our often laggard policy frameworks.
We have a rare opportunity in redeveloping the shores of our precious lakes to realize our best ideas and policies in building 21st Century communities. Today, the City of Waukegan, which lies 40 miles north of Chicago, on the coast of Lake Michigan, is relishing in its waterfront reinvestment. After bringing to life SOM's downtown master plan, Waukegan made real the great vision of its late Mayor Dan Drew who once said, "We will make our Lakefront the polished gem that we all know it can be. And that polished gem will create more jobs, generate more revenue, and be the source of more civic pride than any (industrial development) would have allowed for."

Wuxi's water edge is paralleled by a cement levee that was originally constructed to keep harmful runoff out of the lake. Today municipal leaders are determined to create a new city center that provides the highest quality of life derived from a renewed relationship to the lake. Close to 75% of the land area is dedicated to green space dominated by restored wetlands. As wetlands are reconstructed and nonpoint source pollution is reduced, the levees may soon be unnecessary and a city in harmonious balance with the lake may emerge as a model for all freshwater basins.
Despite past degradation, our global great lakes are undergoing an exciting rebirth as a result of the bold municipal leaders, visionary planners, and hopeful residents that, together, are transforming our urban lakefronts into the treasured gems we all know they can be.
Check out other Metropolis posts on the Great Lakes Century initiative.
Articles by Lyndon Valicenti
Great news for the Great Lakes the GLSLCI
The Great Lakes and St. Lawrence Cities Initiative (GLSLCI) is a binational coalition of mayors and other local officials that works actively with federal, state, and provincial governments to advance the protection and restoration of the Great Lakes and the St. Lawrence River. GLSLCI is an independent 501(c)(3) headquartered in Chicago. David Ullrich is the Executive Director and point of contact for the Initiative. Before heading the Initiative, Mr.Ullrich was deputy regional administrator for the Great Lakes region of the U.S.Environment Protection Agency from 1992 until 2003. During his 30 years with EPA, he had been acting regional counsel, and chief of Air Enforcement.
The latest Great Lake news:
Help Save the Water™ – Please click here.
How to navigate STW ™ postings:
View monthly posting's calendar, become a subscriber or obtain RSS feed by going to the bottom index of this page.
Explanation of Index:
This Months Postings: Calendar on left displays articles and pages posted on a given day.
Current and Archived Postings: Click on the month you want to view. Most current article for the month will appear at top of screen.
RSS Links : Obtain your RSS feeds.
Subscribe: Subscribe to postings by entering your e-mail address and confirming your e-mail.
Supporting water research and the education program's growth of Save the Water™ is vital to our future generation's health, your funding is needed.
[/four_fifth_last] [/four_fifth] [one_fifth_last]
Topic Categories
Petroleum and Fracking
Water & Your Health
Fracking
What are the ten scariest chemicals used in fracking?
Drinking Water Contamination
Drinking water contamination: Tap water disinfectants linked to birth defects.
Camp Lejeune toxic water investigation. The families and protectors of the United States health in jeopardy .
India,West Mambalam: Overflowing sewage remains a perennial problem
Good News
Bio filters from tree fungi. Students research synthetic variant enzymes that can break down estrogen
Education Program
Illustrated water cycle: Marine debris bulletin: Identifying high pressure "gas cylinders from Japan debris"
Archived Topics
Drinking Water Fears After Chemical Spill In North Bay

[/one_fifth_last]