News Brief
Vol.III
No.194
July 18
2012

The material posted is
courtesy of
WDBJ7-TV
Tim Saunders
Lynchburg Bureau Chief
UC Davis
Health System
Save the Water™
Water Research
Education Dept.
and is shared as
educational material only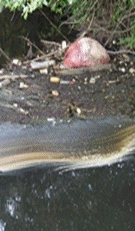 [/one_fifth][four_fifth_last]
Water pollution news: Polychlorinated biphenyls "PCB" – Groundbreaking research could help Altavista clean up a polluted pond
Virginia's Department of Environmental Quality has given town leaders a deadline of 2014 to get PCB's out of a pond near the Staunton River.
July 17, 2012|WDBJ7-TV |Tim Saunders | Reporter/Lynchburg Bureau Chief |
ALTAVISTA, Va. — Some of Altavista's biggest factories have been closed for years, but those old employers left behind a problem that still exists.
For decades, industries dumped polychlorinated biphenyls "PCB's" into a pond near the Staunton River. The chemicals have formed a toxic sludge in the water, and Altavista leaders are being forced to clean it up.
"I think it's very important the PCB issue be addressed," said Altavista Town Manager, Waverly Coggsdale. "It has been an ongoing issue for many years."
Virginia's Department of Environmental Quality has given town leaders a deadline of 2014 to get the PCB's out of the water. The fastest solution involves digging the chemical up and moving it to a toxic dump, but that could cost around $5-million dollars. Instead of going that route, town council is trying a cheaper alternative.
"It's an effort on the town's part to be proactive, but to explore all of our options," Coggsdale said.
Researchers are doing two different experiments. They've planted trees and put tiny microbes in the water. The experiments, which have never been tried before on PCB's, are supposed to wipe the chemicals out of the pond.
"The research that is being done here in Altavista could have an impact nationwide, worldwide," Coggsdale said.
The research, which is being done through the University of Maryland, could cost thousands of dollars. Coggsdale says that's a lot cheaper than the millions it would cost to dig up and haul off the PCB's, but it may not work by the 2014 deadline.
"I would guess you would probably be looking at a five to 15 year time frame, using the methods we're exploring now."
The research is only preliminary. Altavista leaders haven't committed to a final solution for cleaning up the PCB's. They want to find the most efficient way to solve the problem, and that could still involve digging up the chemicals and hauling it off.
WDBJ7-TV |Tim Saunders | Reporter/Lynchburg Bureau Chief
Health affects of water pollution in drinking water report:
[toggle title=" Research shows how PCBs promote dendrite growth, may increase autism risk " height="auto"]
April 24, 2012 / (SACRAMENTO, Calif.) —
New research from UC Davis and Washington State University shows that PCBs, or polychlorinated biphenyls, launch a cellular chain of events that leads to an overabundance of dendrites — the filament-like projections that conduct electrochemical signals between neurons — and disrupts normal patterns of neuronal connections in the brain.
"Dendrite grow
th and branching during early development is a finely orchestrated process, and the presence of certain PCBs confuses the conductor of that process," said Pamela Lein, a developmental neurobiologist and professor of molecular biosciences in the UC Davis School of Veterinary Medicine. "Impaired neuronal connectivity is a common feature of a number of conditions, including autism spectrum disorders."
Reported today in two related studies in the journal Environmental Health Perspectives, the findings underscore the developing brain's vulnerability to environmental exposures and demonstrate how PCBs could add to autism risk.
"We don't think PCB exposure causes autism," Lein said, "but it may increase the likelihood of autism in children whose genetic makeup already compromises the processes by which neurons form connections."
The senior authors of the studies were Lein and Isaac Pessah, chair of molecular biosciences in the School of Veterinary Medicine and director of the Center for Children's Environmental Health at UC Davis. Both are researchers with the UC Davis MIND Institute, which is dedicated to finding answers to autism and other neurodevelopmental disorders. The lead author was Gary Wayman of Washington State University's Program in Neuroscience, who first described the molecular pathway that controls the calcium signaling in the brain that guides normal dendrite growth.
Wayman found that key cellular players, called calcium and calmodulin kinases, are activated by increased calcium levels. Activated calmodulin kinase then turns on the protein known as CREB that regulates genes that produce Wnt2, a potent molecule and the final arbiter of whether and how dendrites grow. Wnt2 directs structural proteins to construct scaffolding that supports dendrite growth and branching.
"Orderly choreography of the calmodulin kinase-to-Wnt2 pathway translates normal increases in calcium levels into normal levels of dendrite production," said Wayman. "The wiring of billions of neurons is dependent on the health of this cellular process and is crucial to proper development of virtually all complex behaviors, learning, memories and language."
For the current studies, the team set out to determine if that pathway was altered by exposure to PCBs, focusing on neurons of the hippocampus — the brain region linked with learning and memory and known to suffer impaired connectivity in many neurodevelopmental disorders.
The scientists also focused on the effects of an understudied PCB subset known as non-dioxin-like PCBs, which have been shown to increase calcium levels in neurons. Both non-dioxin-like PCBs and the more familiar dioxin-like subset were widely used in electrical equipment in the 1950s and 1960s. Banned in the 1970s because of the potential for dioxin-like PCBs to cause cancer, all PCBs are stable compounds that persist throughout the environment today.
One of the current UC Davis studies examined dendrite growth in rat pups born to and nursed by PCB-exposed mothers. Another study analyzed how PCBs affect rat neurons in cell cultures at developmental stages similar to those in the third trimester of pregnancy in humans. In both studies, PCB exposure levels were similar to those found in the human diet and in human tissues, including the placenta and breast milk.
Evaluation of the brains of the rats exposed to PCBs early in life showed significant overproduction of dendrites. The cellular studies showed that PCBs triggered the calcium pathway that led to the aberrant brain architecture, and that dendrite production was normal when that cellular pathway was blocked.
"We are the first to show that non-dioxin-like PCBs alter how the developing brain gets wired by hijacking the calcium signaling pathway and greatly expanding dendrite growth," said Lein.
The experiments also helped identify for the first time the specific trigger for this cellular chain of events as the ryanodine receptor (RyR) calcium channel. Pessah, a recognized leader in calcium-channel dysfunction and neurodevelopment, previously showed that RyR is selectively activated by non-dioxin-like PCBs. The new studies prove that RyR is a necessary component in the pathway that controls dendritic growth.
"These same calcium pathways are implicated in some forms of autism and, while environmental exposures alone do not cause autism, these new findings provide good evidence that PCBs could add to autism risk in genetically predisposed children," said Pessah. "Understanding the fundamental mechanisms by which PCBs alter neural networks sets the stage for research on environmental contaminants that are structurally related to PCBs, including flame retardants, and their risks to susceptible populations."
In addition to Lein, Pessah and Wayman, coauthors on the papers were Dongren Yang, Diptiman Bose and Donald Bruun of UC Davis; Adam Lesiak of Washington State University; and Soren Impey and Veronica Ledoux of the Oregon Health & Science University.
Funding for the studies was provided by the National Institutes of Health (grants R01 ES014901, R01 ES017425, P42 ES04699, R01 MH086032, P01 ES011269 and T32 ES007060), the U.S. Environmental Protection Agency (grants R833292 and R829388), the Hope for Depression Research Foundation and the J.B. Johnson Foundation.
The studies — "PCB 95 Promotes Dendritic Growth via Ryanodine Receptor-Dependent Mechanisms" and "PCB 95 Modulates Calcium-Dependent Signaling Pathway Responsible for Activity-Dependent Dendritic Growth" — will be published in a future print issue of the journal with several other investigations focused on autism , neurodevelopmental disorders and the environment. Copies of the UC Davis-Washington State University studies are available online now at http://dx.doi.org/10.1289/ehp.1104832 and http://dx.doi.org/10.1289/ehp.1104833.
At the UC Davis MIND Institute, world-renowned scientists engage in research to find improved treatments as well as the causes and cures for autism, attention-deficit/hyperactivity disorder, fragile X syndrome, Tourette syndrome and other neurodevelopmental disorders. Advances in neuroscience, molecular biology, genetics, pharmacology and behavioral sciences are making inroads into a better understanding of brain function. The UC Davis MIND Institute draws from these and other disciplines to conduct collaborative, multidisciplinary research. For more information, visit mindinstitute.ucdavis.edu.
Washington State University's Program in Neuroscience is housed in the Department of Veterinary and Comparative Anatomy, Pharmacology and Physiology in the College of Veterinary Medicine. The program will be moving to a new state-of-the-art neuroscience research building in spring 2013. Research in the program focuses on how cellular and molecular events integrate to control organismal physiology (e.g., cardiac function, autonomics) and behavior (e.g., sleep, feeding, addiction, emotion). For more information, visit vetmed.wsu.edu/neuroscience.
Effects of dinking contaminated water: Related Stories
---
Researchers Identify Signals Triggering Dendrite Growth (Sep. 20, 2011) — A study in worms that are less than a millimeter long has yielded clues that may be important for understanding how nerves grow. A team of researchers in Australia has probed the molecular mechanisms … > read more
Sensory Experience Influences the Shape of Neurons (June 14, 2011) — A new discovery is a significant advance in understanding the mechanisms involved in the development of the cerebral … > read more
Getting Wired: How The Brain Does It (Aug. 26, 2009) — Scientists have found an important mechanism involved in setting up the vast communications network of connections in the … > read more
Rare Genetic Disorder Gives Clues To Autism, Epilepsy, Mental Retardation (Sep. 23, 2008) — Studying a rare genetic disorder called tuberous sclerosis complex, researchers have uncovered a possible cause of some neurodevelopmental disorders: structural abnormalities in neurons. The growth … > read more
Women Exposed To High Levels of Pollutant PCB More Likely To Give Birth To Female Children (July 15, 2008) — Women exposed to high levels of PCBs (polychlorinated biphenyls — a group of banned environmental pollutants) are less likely to give birth to male children. A new study found that among women from … > read more
Fetal Exposure To PCBs Impacts Reproductive Markers Of Children And Grandchildren Of Exposed Animals (May 24, 2008) — Since the 1962 publication of Silent Spring by Rachel Carson, awareness of how environmental toxicants can impact fertility has increased. Researchers now provide evidence that adverse reproductive … > read more
[/toggle]
How to navigate STW ™ postings:
View monthly posting's calendar, become a subscriber or obtain RSS feed by going to the bottom index of this page.
Explanation of Index:
This Months Postings: Calendar on left displays articles and pages posted on a given day.
Current and Archived Postings: Click on the month you want to view. Most current article for the month will appear at top of screen.
RSS Links : Obtain your RSS feeds.
Subscribe: Subscribe to postings by entering your e-mail address and confirming your e-mail.
Help Save the Water™ – click here.
Water news archives. Table of contents – 150 articles – April~July 2012
Supporting water research and the education program's growth of Save the Water™ is vital to our future generation's health, your funding is needed.
[/four_fifth_last] [/four_fifth] [one_fifth_last]
Topic Categories
Petroleum and Fracking

Water & Your Health
Fracking
Drinking Water Contamination
Drinking water contamination: Tap water disinfectants linked to birth defects.
Education Program
Archived Topics
Drinking Water Fears After Chemical Spill In North Bay
What Are The Facts About (Bisphenol-A) / BPA, Water And Health Risks?

[/one_fifth_last]