News Brief
Vol.III
No.195
July 20
2012

The material posted is
courtesy of
Christina Hall
Detroit Free
Press Staff Writer
Save the Water™
Water Research
Education Dept.
and is shared as
educational material only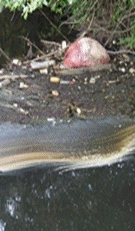 [/one_fifth][four_fifth_last]
Great Lakes water pollution news:
Boom in place to collect spilled fuel from dredge that sank in Lake Huron.
Top photo from left, a piping dredge, the boats Tamy and Madison immediately behind the barge Arthur J and then the tow boat Drummond Island II. The dredge Arthur J and tug Madison sank about 4:35 a.m. July 19, 2012, two miles southeast of Lakeport in lower Lake Huron in about 22 feet of water. The cause is under investigation. / U.S. Coast Guard
By Christina Hall / Detroit Free Press Staff Writer
Work was continuing to contain a diesel fuel spill from a dredge that sank in choppy waters Thursday in Lake Huron, shutting down beaches in St. Clair County, sending fuel odors into the air and causing officials to organize a shoreline monitoring system.
A timeline on the cleanup was not available, and the cause of the dredge's sinking about is under investigation, U.S. Coast Guard Lt. Justin Westmiller said.
Westmiller said the sheen of fuel from the dredge stretched 1 mile wide by 2 miles long but had not reached the shore by early Thursday evening. Calls were coming in about the smell and a public information number – 810-982-3910 – was established.
He said teams were to be dispatched on foot to monitor the shoreline from Lakeport south to Port Huron. The incident happened about 2 miles southeast of Lakeport.
Westmiller said there were no real health concerns with the odor, but people were encouraged to stay indoors and keep windows and doors shut. He said no one was reporting illness from the odor.
Drinking water was not expected to be impacted, but officials at the Detroit Water and Sewerage Department – which have an intake about three miles east of the site – were notified. Water plants along the St. Clair River also were notified but there were no reports of any of the plants shutting down, Westmiller said.
About 800 feet of absorbent boom were taken out to collect the marine grade No. 2 diesel fuel. An additional 1,200 feet of boom was expected to arrive in case it was needed for the shoreline.
The owner of the dredge reported 1,500 to 2,000 gallons of fuel on board but it was unknown how much vented into the lake, Westmiller said. He said a better estimate is expected later by Marine Pollution Control, the company hired to clean up the fuel.
[toggle title=" Our biggest threat…" height="auto"] "Our biggest threat is if it starts impacting the beach," he said.
He said the dredge had six vents on its fuel tank. Four of the vents were closed prior to 1 p.m. by the St. Clair County dive team. Marine Pollution Control was working to close the other two vents, Westmiller said.
The St. Clair County Health Department closed a dozen beaches to swimming from Lakeport to the St. Clair River and even in the river, said Lowell Cameron, coordinator for onsite programs for environmental health services.
He said six inland beaches were not affected. There was no word how long the closures would be in place.
Westmiller said the dredge Arthur J and tug Madison sank about 4:35 a.m. in about 22 feet of water.
The bow of the dredge was sticking out of the water. The tug was upside down with its hull facing up, he said.
He said another tug and the Drummond Islander II, a converted car ferry with a tow line to the dredge, did not sink. The Drummond Islander II removed twenty-four 1,000-foot-long pieces of dredge pipe and moored in Marysville. Westmiller said six people were aboard the Drummond Islander II. They were not hurt.
The dredge is owned by MCM Marine of Sault Ste. Marie. Westmiller said salvage operations would begin after the fuel was contained.
Macomb County Commissioner Roland Fraschetti, who was at a nearby cottage, came to Lakeport State Park to check out the situation.
"I'm concerned about the environment. If there is a spill, I'm concerned about the quality of our water, the ability to contain this spill," he said.
The vessel is out of the shipping lane, so no commercial traffic is affected, Westmiller said.
Pat and Tony Grzyb of Algonac drove to the state park after hearing about the incident on the radio. They said they have a sailboat and are interested in nautical issues.
"The lakes are important to everybody in Michigan not only the boaters," Pat Grzyb, 66, said.
As long as the fuel remains in the lake, it will be under the Coast Guard's jurisdiction. Any part of it that touches land will fall under the Michigan Department of Environmental Quality or the U.S. Environmental Protection Agency.
U.S. Sen. Carl Levin said in a statement that he was concerned about any environmental impact the fuel may have and said he has been in contact with the Coast Guard and Gov. Rick Snyder's office.
Staff writer Peggy Walsh-Sarnecki contributed to this report.
[/toggle]
How to navigate STW ™ postings:
View monthly posting's calendar, become a subscriber or obtain RSS feed by going to the bottom index of this page.
Explanation of Index:
This Months Postings: Calendar on left displays articles and pages posted on a given day.
Current and Archived Postings: Click on the month you want to view. Most current article for the month will appear at top of screen.
RSS Links : Obtain your RSS feeds.
Subscribe: Subscribe to postings by entering your e-mail address and confirming your e-mail.
Help Save the Water™ – click here.
Water news archives. Table of contents – 150 articles – April~July 2012
Supporting water research and the education program's growth of Save the Water™ is vital to our future generation's health, your funding is needed.
[/four_fifth_last] [/four_fifth] [one_fifth_last]
Topic Categories
Petroleum and Fracking

Water & Your Health
Fracking
Drinking Water Contamination
Drinking water contamination: Tap water disinfectants linked to birth defects.
Education Program
Archived Topics
Drinking Water Fears After Chemical Spill In North Bay
What Are The Facts About (Bisphenol-A) / BPA, Water And Health Risks?

[/one_fifth_last]