News Brief
Vol.III
No.198
July 20
2012

The material posted is
courtesy of
Leah Zerbe
RODALE NEWS
Save the Water™
Water Research
Education Dept.
and is shared as
educational material only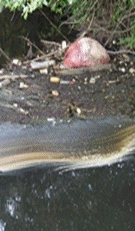 [/one_fifth][four_fifth_last]
What is fracking? 5 Facts about fracking every family needs to know.
More and more science is starting to call out the practice of natural gas fracking for what it is—dirty, and a threat to everybody's health.
—Fracking may not be a household word yet, but we've been talking about this form of natural gas drilling—and its potential effects on your family's health—for some time. Now it seems more voices are about to join the conversation.
On Saturday, a ranking congressman on the House Committee on Natural Resources questioned the U.S. Environmental Protection Agency's competence in protecting Americans from toxic exposures, after a New York Times exposé on hydraulic fracturing, a.k.a fracking, uncovered major threats to human health.
As previously reported on Rodale.com, fracking releases uranium and other radioactive material and brings them to the surface in wastewater laced with carcinogenic industrial chemicals, heavy salts, and other contaminants. Because this toxic wastewater is often trucked to other municipalities for treatment, fracking affects not just families in the immediate drilling zones, but in surrounding states, too. Inadequately treated water from fracking often contains dangerous levels of radioactive materials and other hazardous waste, and is routinely released into rivers that supply drinking water to people, according to the NYT article.
"These disturbing revelations raise the prospect that natural gas production has turned our rivers and streams into this generation's Love Canals," Rep. Edward Markey (D-Mass.) said in a statement. "The natural gas industry has repeatedly claimed that fracking can be done safely. We now know we need a full investigation into exactly how fracking is done and what it does to our drinking water and our environment."
Other unpleasant consequences of drilling for natural gas in shale formations around the country are front and center in the documentary Gasland, a documentary that was nominated for top honors in Sunday's Academy Awards (but didn't win). According to recent reports, including one on Salon.com, the natural gas industry actually urged the American Academy of Motion Picture Arts and Sciences to withdraw its nomination of Gasland.
While the film is full of compelling, but mostly anecdotal, evidence of families falling ill and animals dying after the big drilling rigs, chemical cocktails, and compressor stations move into town, it's important to note that a growing body of scientific evidence is finding that yes, fracking is harmful to not just the environment, but to us, too. Don't live near a fracking site? Keep reading anyway: This still concerns you.
[toggle title=" Here are five important natural gas facts to share with your friends and family." height="auto"] by: Leah Zerbe
1. Natural gas is not clean. Natural gas burns more cleanly than other fossil fuels, but in the course of its entire life cycle, it's actually worse than coal, long touted as the dirtiest of our fossil fuels. Because fracking involves mixing millions of gallons of water laced with chemicals into the ground at high pressure, it creates fissures in the shale that release the natural gas. Life cycle analysis expert Robert Howarth, PhD, professor of ecology and environmental biology at Cornell University, discovered that anywhere from 3.6 to nearly 8 percent of the methane from shale gas drilling escapes through venting and leaks. Methane is a greenhouse gas about 23 times more potent than carbon dioxide.
Howarth's latest life cycle calculations updated in January 2011 find that when considering the burning of natural gas, and the methane leaks that fracking creates, shale gas produces 1.20- to 2.1-fold more greenhouse gas emissions when compared to coal during a 20-year time period. Methane leaks are worse during the actual fracking process, but they continue to slowly seep over long periods of time. When considering this, natural gas is on par with coal when looking at greenhouse gas production over a 100-year period, the Cornell research shows.
2. Fracking chemicals are extremely dangerous. Since most natural gas drilling companies will not disclose all of the products they use in the drilling process, Theo Colborn, PhD, founder and president of The Endocrine Disruption Exchange, set out to figure out what's in the chemical cocktails used to drill wells and frack. She and her team found 649 different chemicals, more than half of which are known to disrupt the endocrine system. Exposure to these types of chemicals has been linked to certain cancers, diabetes, obesity, and metabolic syndrome (the name for a group of risk factors that occur together and increase the risk for heart disease, stroke, and type 2 diabetes). Fifty-five percent of the chemicals cause brain and nervous system damage, and many are linked to cancer and organ damage. The threat of exposure to these chemicals occurs via contaminated air, water, and soil. "They're getting away with absolute murder; it's criminal, the things they're doing," says award-winning scientist Colborn. "If you destroy an aquifer, you've lost it. You've destroyed your drinking water supply."
3. Natural gas drilling turns clean country air to smog. Even if drilling and the fracking process run completely according to plan with no leaks, no methane migration into drinking water wells, no explosions, and no issues dealing with wastewater, air pollution from fracking is inevitable. It's part of the process, as huge condensate tanks and compressor stations release toxic hydrocarbons like benzene, toluene, xylenes, and ethylbenzene (BTEX) into surrounding communities. At high levels, exposure to BTEX vapors may cause irreversible damage. That, paired with chemicals used in the initial drilling process, make it very harmful to live in the vicinity of a drilling operation, Colborn says. Her study in the International Journal of Human and Ecological Risk Assessment found that 36 percent of the identifiable chemicals used are volatile, meaning they become airborne. Among those, 93 percent have been shown to harm the eyes, skin, sensory organs, respiratory tract, gastrointestinal tract, or liver.
4. Fracking releases uranium. That's right, the radioactive stuff. The 2005 Energy Act included what is known as the Halliburton Loophole, which exempts the natural gas drilling industry from many safeguards, such as the Clean Water Act, intended to protect citizens from industrial corporate activities that pollute. While the chemical cocktail used in fracking has been of much concern, new research is pointing to another fact: Contaminants and dangerous substances trapped deep underground become mobilized when fracking creates mini-earthquake-like explosions underground. A 2010 study out of the University of Buffalo found that natural gas drilling using the fracking method could potentially contaminate water supplies with uranium.
5. Fracking affects everyone. A natural gas survey released in December 2010 found that regardless of political leanings, most people are concerned about fracking. Even if you don't live atop a major shale deposit, the pollution generated in fracking could affect you. Conrad Dan Volz, DrPH, MPH, director of the Center for Healthy Environments and Communities and the GSPH Environmental Health Risk Assessment Certificate Program at the University of Pittsburgh, notes that as more wells are installed in various states, there's more toxic wastewater to deal with. Wastewater from fracking operations is often sent to municipal treatment plants that are not properly equipped to handle contamination by more than 600 chemicals, and possibly radioactive material. This wastewater is often shipped to locations where fracking isn't even taking place, threatening rivers and drinking water supplies in those towns.
Aside from the toxic wastewater issue, fracking could also blemish your nature vacation. Drilling is allowed on public lands, and it's particularly on display in the now not-so-picturesque parks of Colorado and Wyoming.
[/toggle]
How to navigate STW ™ postings:
View monthly posting's calendar, become a subscriber or obtain RSS feed by going to the bottom index of this page.
Explanation of Index:
This Months Postings: Calendar on left displays articles and pages posted on a given day.
Current and Archived Postings: Click on the month you want to view. Most current article for the month will appear at top of screen.
RSS Links : Obtain your RSS feeds.
Subscribe: Subscribe to postings by entering your e-mail address and confirming your e-mail.
Help Save the Water™ – click here.
Water news archives. Table of contents – 150 articles – April~July 2012
Supporting water research and the education program's growth of Save the Water™ is vital to our future generation's health, your funding is needed.
[/four_fifth_last] [/four_fifth] [one_fifth_last]
Topic Categories
Petroleum and Fracking

Water & Your Health
Fracking
Drinking Water Contamination
Drinking water contamination: Tap water disinfectants linked to birth defects.
Education Program
Archived Topics
Drinking Water Fears After Chemical Spill In North Bay
What Are The Facts About (Bisphenol-A) / BPA, Water And Health Risks?

[/one_fifth_last]