News Brief
Vol.III
No.200
July 22
2012

The material posted is
courtesy of
economictimes.
indiatimes
Rituraj Tiwari
Himangshu Watts
ET Bureau
Save the Water™
Water Research
Education Dept.
and is shared as
educational material only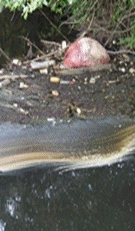 [/one_fifth][four_fifth_last]
India stares at drinking water crisis.
23 Jul, 2012, 12.53AM IST, Rituraj Tiwari & Himangshu Watts,ET Bureau
NEW DELHI: This year's frail monsoon has depleted India reservoirs to alarming levels last seen during the devastating drought of 2009, threatening even winter-sown crops and making the country vulnerable to drinking water scarcity by February as India's grossly inadequate storage capacity magnifies the impact of weak rainfall.
The situation is precarious because the monsoon has delivered normal rainfall to only one-third of the country. The total deficit so far this season is 22%, but rainfall has been 40% below average in key crop-growing areas in the north and northwest. India's 84 important reservoirs are filled only to 19% capacity, which is 41% lower than last year.
Officials said the situation can rapidly improve if the monsoon revives as forecast by the weather office, but the El Nino phenomenon, which is expected to set in after a month, can make things worse.
"The reservoir situation is similar to conditions in 2009 when the country faced one of the worst droughts in 100 years. It will definitely have adverse impact on agriculture, not only on summer crops but also on rabi crops that need irrigation from reservoirs. The power scenario will also take a hit," RC Jha, chairman of the Central Water Commission, told ET.
The commission is the central government's top body for coordinating schemes for water resources, irrigation, drinking water and flood forecasting.
The reservoir level is "dangerous" and needs urgent action, said Ashok Gulati, chairman of the Commission for Agricultural Costs and Prices and former director of the markets, trade and institutions division of Washington-based International Food Policy Research Institute. "The waiting period is over now. It's time to take action. Reservoirs are at dangerous levels as rains have been scanty. We should not wait for August first week to announce contingency plans in the affected areas," he said.
But Agriculture Secretary Ashish Bahuguna said reservoirs were filling up and the situation would improve further in the weeks ahead.
The reservoirs are filled by monsoon rains from June to September. The storage in the Bhakra dam, which irrigates the bread basket states of Punjab and Haryana, is barely 22% of capacity, down from 48% at the same time last year, forcing the Bhakra Beas Management Board to cut drinking water supply by 10%. This will hit paddy and coarse cereals sown in these two states. Depleted reservoirs and weak rainfall can hurt winter planting because fields would have inadequate moisture and crops sown after the monsoon depend almost entirely on water flowing out of reservoirs.
[toggle title=" New norms on anvil to make groundwater public property " height="auto"]
New norms on anvil to make groundwater public property
18 Jul, 2012, 09.13AM IST, Nitin Sethi,TNN
NEW DELHI: Groundwater, a precious natural resource, is for all practical purposes a private property in India. Anyone can bore and extract drinking water from the land he owns with few rules to restrict over-exploitation.
But all this could soon change. Plans are afoot to alter laws and regulations to make groundwater a common property resource to ensure better regulation by government as a public trustee with the involvement of communities in the management of underground aquifers. That would mean that nobody can withdraw water even from the land that he owns without a sanction from community-controlled authorities like panchayat.
The move would radically rewrite management of groundwater in India – giving community rights over underground aquifers instead of restricting these to landowners who can simply drill and exploit the resource.
To change groundwater management rules, the government aims to pass a framework law under Article 252 of the Constitution. This can be done with two states required to pass a similar law before the central initiative. The particular provision helps the Centre make a law that impinges on federal concerns but not override state governments' powers. Once approved by Parliament it makes it necessary for states to align their regulations in keeping with the principles of the central law.
This, the government believes, would prevent the need to alter the constitutional position of 'water' as a state subject while penal provisions would be placed within states' powers.
Radical changes emerging from the Planning Commission envision Panchayati Raj institutions will become the real-time custodians of the common resource and help regulate the use of aquifers in their domains. Such a practice is in vogue in some states like Andhra Pradesh, but the implementation of a framework law could ensure other states too devolve power and assume control.
India is the largest user of groundwater in the world. Almost a third of groundwater aquifers are semi-critical, critical and over-exploited and some estimates suggest that at current rate of extraction 60% of the groundwater blocks could turn critical by 2025. Some 60% of irrigated agriculture and over 80% of the rural and urban water supply is now being met from groundwater.
The unchecked depletion of aquifers has led to a public health crisis across the country, besides leaving agriculture precariously placed in several states.
Bringing water into the concurrent list of the Constitution is seen within government circles as a politically difficult shot with concerns over federalism bound to play a spoiler. The framework law, the government hopes, will leave the powers of the state untouched.
The government intends to substantially increase financial support to states to also ensure a clear demarcation of aquifers – a task that remains incomplete so far — and so allow communities to gain information of the volume under their control.
The law would bring legislation in tune with Supreme Court rulings, including the Public Trust Doctrine, which can end the common law doctrine that has regulated groundwater use since the colonial era in India. The Indian Easements Act of 1882 and other regulations, including the various model bills legislated from time to time, still give landowners complete rights to draw as much water as they want without a liability or responsibility towards neighbouring landowners.
[/toggle]
How to navigate STW ™ postings:
View monthly posting's calendar, become a subscriber or obtain RSS feed by going to the bottom index of this page.
Explanation of Index:
This Months Postings: Calendar on left displays articles and pages posted on a given day.
Current and Archived Postings: Click on the month you want to view. Most current article for the month will appear at top of screen.
RSS Links : Obtain your RSS feeds.
Subscribe: Subscribe to postings by entering your e-mail address and confirming your e-mail.
Help Save the Water™ – click here.
Water news archives. Table of contents – 150 articles – April~July 2012
Supporting water research and the education program's growth of Save the Water™ is vital to our future generation's health, your funding is needed.
[/four_fifth_last] [/four_fifth] [one_fifth_last]
Topic Categories
Petroleum and Fracking

Water & Your Health
Fracking
Drinking Water Contamination
Drinking water contamination: Tap water disinfectants linked to birth defects.
Education Program
Archived Topics
Drinking Water Fears After Chemical Spill In North Bay
What Are The Facts About (Bisphenol-A) / BPA, Water And Health Risks?

[/one_fifth_last]