News Brief
Vol.III
No.201
July 22
2012

The material posted is
courtesy of
Deborah Bloom,
The Oregonian
Save the Water™
Water Research
Education Dept.
and is shared as
educational material only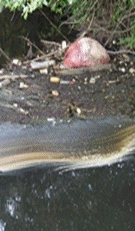 [/one_fifth][four_fifth_last]
Contaminated drinking water news: Portland's westside tap water is safe to drink, officials say.
Published: Sunday, July 22, 2012, 8:24 AM Updated: Sunday, July 22, 2012, 7:43 PM
The Oregonian PORTLAND, OREGON – JULY 22, 2012 – Reservoir 3 at Washington Park is drained due to contaminated water problem, although the ban on drinking the water was removed at 8am Sunday. On Monday they will be cleaning the Reservoir 3. Benjamin Brink/The Oregonian Washington Park Reservoir 3 gallery (9 photos)
A boil water notice issued yesterday for west side Portland residents and businesses was rescinded Sunday morning after water tests came back negative for bacterial infection, officials said.
The Portland Water Bureau recommends customers flush their tap water for two minutes, or until the water runs cold before consuming it again.
"This will flush any potentially
contaminated water
from the plumbing," the bureau wrote in a
press release.
Water officials took samples from twelve different sites, both upstream and downstream from Washington Park's Reservoir 3 distribution system.
"They all came back clear," said Tim Hall, spokesperson for the bureau. "The drinking water's clear."
So far, nine people have called the bureau to complain of illness, though officials have yet to determine if the reports are connected to the contamination.
The time from exposure to actual sickness can take anywhere from one to seven days, says Dr. Gary Oxman of Multnomah County Health Department.
"We'll certainly be alert to illness," Oxman said. "But we're not anticipating anything significant."
The alert is the second in the city's history. In 2009, the bureau issued a boil water notice for Portland's west side due to E. coli found in that same reservoir 3, affecting over 50,000 customers in four water districts.
This time around, customers in an area almost twice as large were told to boil water used for drinking, cooking, teeth brushing, and ice making after the bureau returned a second positive test for bacterial contamination.
The scare prompted an immediate response from both residents and businesses. People rushed to buy bottled water for their homes. Some restaurants closed down. And Benson Bubblers throughout downtown were turned off.
The source of the bacteria is still under investigation, and Reservoir 3 is still being drained and inspected.
"We'll put it back on line once we're satisfied with the result," Hall said.
Bureau workers will be looking at the reservoir 3's surveillance tape to see whether or not any tampering occurred. However, Hall added, there's no reason to speculate that anyone did anything on purpose.
As far as whether this recent incident will have any impact on the city's open reservoirs, Hall said, that conversation is for City Hall.
How to navigate STW ™ postings:
View monthly posting's calendar, become a subscriber or obtain RSS feed by going to the bottom index of this page.
Explanation of Index:
This Months Postings: Calendar on left displays articles and pages posted on a given day.
Current and Archived Postings: Click on the month you want to view. Most current article for the month will appear at top of screen.
RSS Links : Obtain your RSS feeds.
Subscribe: Subscribe to postings by entering your e-mail address and confirming your e-mail.
Help Save the Water™ – click here.
Water news archives. Table of contents – 150 articles – April~July 2012
Supporting water research and the education program's growth of Save the Water™ is vital to our future generation's health, your funding is needed.
[/four_fifth_last] [/four_fifth] [one_fifth_last]
Topic Categories
Petroleum and Fracking

Water & Your Health
Fracking
Drinking Water Contamination
Drinking water contamination: Tap water disinfectants linked to birth defects.
Education Program
Archived Topics
Drinking Water Fears After Chemical Spill In North Bay
What Are The Facts About (Bisphenol-A) / BPA, Water And Health Risks?



[/one_fifth_last]