News Brief
Vol.III
No.206
July 24
2012

The material posted is
courtesy of
GORDON BLOCK
JAEGUN LEE
TIMES STAFF WRITERS
Save the Water™
Water Research
Education Dept.
and is shared as
educational material only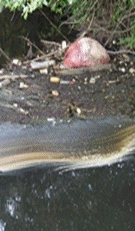 [/one_fifth][four_fifth_last]
Canada / USA Fresh water news: State says Lake Ontario safe after brief rise in bacteria.
By GORDON BLOCK & JAEGUN LEE / TIMES STAFF WRITERS / 23/07/2012
HENDERSON — State officials say waters near the eastern shore of Lake Ontario are safe to swim in after water quality tests last week showed a brief increase in bacteria.
Peter M. Constantakes, a state Department of Health spokesman, said the increase was found as a part of routine sampling last week. He attributed the brief spike to hot weather, stagnant waters and area bird droppings.
A follow-up test of affected areas showed that the water quality had returned to safe levels.
"It doesn't look like something that would be a long-term problem," Mr. Constantakes said.
He explained that while high bacteria levels aren't common, they can come up in the summer months.
"That's why we do continual testing," Mr. Constantakes said.
Kevin A. Kieff, regional director of the state Office of Parks, Recreation and Historic Preservation, said there was one high bacteria reading in water samples last week at Westcott Beach. A second testing determined the beach to be safe.
"The testing did not reveal problems at Westcott," he said, adding that the state parks crew conducts site-specific tests at its beaches every week to make sure the water is not contaminated.
Save the River, a Clayton-based environmental group which conducts its own weekly tests of public beaches, also confirmed that area swimming waters seemed to be safe as of July 16.
"In the past three weeks E. coli has been minimal and there has not been any reason for concern," the group said in its most recent report.
Even Wilson Bay, which for years was plagued by high bacteria counts, passed Save the River's water tests.
Every year, the nonprofit organizes a group of volunteers to monitor area beaches — including Wilson Bay, Frink Dock in Clayton, Potter's Beach on Grindstone Island, Round Island, Lake of the Isles near Wellesley Island and Scenic View Park in Alexandria Bay.
What's New on GLIN
What is the greatest pollutant in the Great Lakes?
Every week, Great Lakes Echo asks people questions that experts believe environmentally literate citizens should understand. In the last clip an expert explains the correct answers. This week's question is "What is the greatest pollutant in the Great Lakes?"
How to navigate STW ™ postings:
Monthly posting's calendar, become a subscriber or obtain RSS feed by going to the bottom index of this page.
Explanation of Index:
This Months Postings: Calendar on left displays articles and pages posted on a given day.
Current and Archived Postings: Click on the month you want to view. Most current article for the month will appear at top of screen.
RSS Links : Obtain your RSS feeds.
Subscribe: Subscribe to postings by entering your e-mail address and confirming your e-mail.
Help Save the Water™ – click here.
Water news archives. Table of contents – 150 articles – April~July 2012
Supporting water research and the education program's growth of Save the Water™ is vital to our future generation's health, your funding is needed.
[/four_fifth_last] [/four_fifth] [one_fifth_last]
Topic Categories
Petroleum and Fracking

Water & Your Health
Fracking
Drinking Water Contamination
Drinking water contamination: Tap water disinfectants linked to birth defects.
Education Program
Archived Topics
Drinking Water Fears After Chemical Spill In North Bay
What Are The Facts About (Bisphenol-A) / BPA, Water And Health Risks?

[/one_fifth_last]