News Brief
Vol.III
No.205
July 24
2012

The material posted is
courtesy of
Mike McBride
Save the Water™
Water Research
Education Dept.
and is shared as
educational material only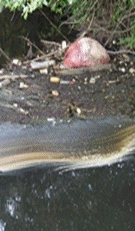 [/one_fifth][four_fifth_last]
Drinking water pollution news:
Ohio begins testing of arsenic levels in drinking water.
Press release date: July 18, 2012
ITS supports the state's new initiative and urges all private well owners to regularly test their water.
Rock Hill, South Carolina – The state of Ohio is determining regions with elevated Arsenic levels in groundwater by collecting water samples from homes and public water systems. State health officials are using workshops to educate the public about the dangers of ingesting Arsenic and offering tests for Arsenic confirmation in well water. The USEPA regulates public water systems but it does not have the authority to regulate private drinking water wells. Some state and local governments have rules to protect these supplies; ultimately private owners are responsible for the safety and maintenance of their drinking water.
Arsenic is an element that occurs naturally in soil in many parts of the world that leaks into groundwater. Long-term exposure to the inorganic forms causes multiple health issues. Inorganic arsenic is toxic and carcinogenic (cancer causing) that harms the central and peripheral nervous systems. It can also cause birth defects and reproductive problems. It is also a hazardous byproduct of copper smelting, mining and coal burning. Arsenic has no smell, taste, or color when dissolved in water, even in high concentrations. Frequent water testing is imperative to verify its presence and concentration.
ITS has developed smaller versions of the popular USEPA/ETV verified Quick(TM) Arsenic Test Kits to help private well owners test the presence of inorganic arsenic (As +3 / As +5) quickly without waiting for lab results. These 5-kits provide accurate results at affordable prices and require no technical expertise. Testing can be done in less than 15 minutes at home using our safe patented chemistry.
Order now and receive a 10% off discount on Quick(TM) Arsenic Test Kits through August 31. Call 1-800-861-9712 ext. 1 or online www.arsenickits.com. Use coupon code "Ohio" on the web order checkout screen.
For more information contact:
Mike McBride
803.329.9712
mmcbride@sensafe.com
About Industrial Test Systems, Inc.:
Industrial Test Systems, Inc., (ITS) established in 1989, is a leading manufacturer of instruments and chemistries designed to test water quality parameters. ITS services industries such as municipal water treatment, food & beverage, trucking & automotive, pond & aquarium, pool & spa, educational, and medical diagnostics. ITS developed over 70 tests and proprietary chemistries many covered by our U.S. Patents and ETV/USEPA performance verified tests. ITS developed the first and only USEPA approved test strip.
For additional information on ITS water quality testing products, visit http://www.sensafe.com or call 1-800-861-9712. Information about the Quick(TM) Inorganic Arsenic Test kits is online at www.arsenickits.com
Mike McBride
Marketing / I.T. / Social Media Manager
Industrial Test Systems, Inc. – Innovators of Water Quality Testing
1875 Langston Street | Rock Hill, SC 29730 | PH 803.329.9712
www.sensafe.com www.poolcheckonline.com www.sensafe.com/blog/
How to navigate STW ™ postings:
View monthly posting's calendar, become a subscriber or obtain RSS feed by going to the bottom index of this page.
Explanation of Index:
This Months Postings: Calendar on left displays articles and pages posted on a given day.
Current and Archived Postings: Click on the month you want to view. Most current article for the month will appear at top of screen.
RSS Links : Obtain your RSS feeds.
Subscribe: Subscribe to postings by entering your e-mail address and confirming your e-mail.
Help Save the Water™ – click here.
Water news archives. Table of contents – 150 articles – April~July 2012
Supporting water research and the education program's growth of Save the Water™ is vital to our future generation's health, your funding is needed.
[/four_fifth_last] [/four_fifth] [one_fifth_last]
Topic Categories
Petroleum and Fracking

Water & Your Health
Fracking
Drinking Water Contamination
Drinking water contamination: Tap water disinfectants linked to birth defects.
Education Program
Archived Topics
Drinking Water Fears After Chemical Spill In North Bay
What Are The Facts About (Bisphenol-A) / BPA, Water And Health Risks?

[/one_fifth_last]