News Brief
Vol.III
No.207
July 24
2012

The material posted is
courtesy of
By Jim Bloch / Voice Reporter
Save the Water™
Water Research
Education Dept.
and is shared as
educational material only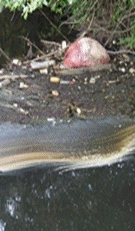 [/one_fifth][four_fifth_last]
Canada water contamination news: Lake Huron – Impact of diesel spill on water, environment: 'Time will tell'
Published: Monday, July 23, 2012/ By Jim Bloch / Voice Reporter
Lt. Justin Westmiller, of Marysville, public affairs officer of the U.S. Coast Guard, with a section of absorbent boom used to collect spill product. Containment booms, on the other hand, are generally yellow and much thicker; they're used to keep a spill corralled.
How will Thursday's diesel fuel spill into lower Lake Huron impact drinking water and the environment? The bad news is that diesel fuel is one of the most toxic forms of oil to marine life. The good news is that it evaporates quickly and is relatively easily dispersed in open water.
That's the word from the National Oceanic and Atmospheric Administration, in a fact sheet on small diesel spills – 500-5,000 gallons – into natural water systems.
When the dredge barge Arthur J and the tug Madison capsized in Lake Huron, about two miles east of Lakeport State Park in rough water in the pre-dawn hours of July 19, the barge carried between 1,500-2,000 gallons of diesel fuel. Lt. Justin Westmiller, public affairs officer for the U.S. Coast Guard, did not want to classify the severity of the spill.
"At this point, we're working on determining how much product made it into the water," Westmiller said on Friday. He said it would be a couple of days before the amount of the release is known. Marine Pollution Control of Detroit, hired by the owner of the downed craft, MCM Marine of Sault Ste, arrived on the scene late Thursday. Divers from the company managed to the shut the remaining vents and all the valves on the Arthur J.
"We believe the leak is secure," Westmiller said. "We're continually assessing that. The situation is fluid out there."
"Diesel fuel is light and volatile," said Patty Troy, who runs the laboratory for the Port Huron Wastewater Treatment Plant and is the U.S. co-chair of the Binational Public Advisory Committee on the St. Clair River Area of Concern, charged with working to clean up the river. "It should dissipate without much action. Time will tell."
"Two days ago, with 100 degree temperatures and the sun out, it would have dissipated quickly," said Jeff Friedland, director of St. Clair County Emergency Management. The cleanup is occurring on a number of levels. One of the functions of the county hazmat team, Friedland explained, was decontaminating boats, personal floatation devices and other equipment exposed to the diesel fuel. Westmiller expected Marine Pollution Control to be on the scene until the salvage operation is complete.
By Thursday evening, the sheen of diesel fuel had expanded to a mile by two miles and reached the beach at the day use area of Lakeport State Park.
"We did have some diesel fuel sheening come ashore, but no heavy product," said Westmiller. "That's an important distinction. Sheen is normally unrecoverable."
In other words, absorbent booms and other techniques would be unable to collect it. As of Friday morning, the public beaches at Metcalf Road, Fort Gratiot County Park and the beach at the day use area of Lakeport State Park, all on Lake Huron, were closed, said Kristine Morris, public information officer for St. Clair County. All other public beaches on the lake and the St. Clair River were open – with the exception of Chrysler Beach in Marysville, which the county health department closed at 4:30 p.m. on July 19 due to high e coli counts, unrelated to the diesel spill.
"Diesel oil is not very sticky or viscous, compared to black oils," the NOAA fact sheet stated. "When small spills do strand on the shoreline, the oil tends to penetrate porous sediments quickly, but also to be washed off by waves and tidal flushing. Thus, shoreline cleanup is usually not needed. Diesel oil is readily and completely degraded by naturally occurring microbes, under timeframes of one to two months."
NOAA reported that fish, invertebrates and seaweed can die if they come into contact with diesel. But because of the rapid dilution of small diesel spills in open water, no fish kills have ever been reported.
Why did the boats sink?
"It's all under investigation," said Westmiller, adding that it would probably be months before a final conclusion is reached.
"A lot of this is still unfolding," said Troy. "As of (Thursday) afternoon, the water intake in Lambton, Ontario, remained closed. I'm confident that the water system was safe. All of the water plants were notified and all of the plants have many hours of capacity – they can shut down their intakes and still serve their customers for many hours. The fortunate thing was that officials learned of the spill and could respond to it before something bad happened. I'm grateful for that."
Jim Bloch is a freelance writer. Contact him at bloch.jim@gmail.com.
How to navigate STW ™ postings:
Monthly posting's calendar, become a subscriber or obtain RSS feed by going to the bottom index of this page.
Explanation of Index:
This Months Postings: Calendar on left displays articles and pages posted on a given day.
Current and Archived Postings: Click on the month you want to view. Most current article for the month will appear at top of screen.
RSS Links : Obtain your RSS feeds.
Subscribe: Subscribe to postings by entering your e-mail address and confirming your e-mail.
Help Save the Water™ – click here.
Water news archives. Table of contents – 150 articles – April~July 2012
Supporting water research and the education program's growth of Save the Water™ is vital to our future generation's health, your funding is needed.
[/four_fifth_last] [/four_fifth] [one_fifth_last]
Topic Categories
Petroleum and Fracking

Water & Your Health
Fracking
Drinking Water Contamination
Drinking water contamination: Tap water disinfectants linked to birth defects.
Education Program
Archived Topics
Drinking Water Fears After Chemical Spill In North Bay
What Are The Facts About (Bisphenol-A) / BPA, Water And Health Risks?

[/one_fifth_last]