News Brief
Vol.III
No.207
July 24
2012

The material posted is
courtesy of
Katherine Heerbrandt,
Staff Writer


www.gazette.net


Save the Water™
Water Research
Education Dept.
and is shared as
educational material only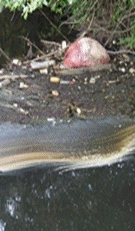 [/one_fifth][four_fifth_last]
USA military contaminated drinking water news:
High level of cancer-causing agent found at Fort Detrick in Frederick.
Thursday, July 19, 2012 / byKatherine Heerbrandt, Staff Writer
Water flowing into Carroll Creek is less contaminated:
Water testing in and around Fort Detrick in Frederick has revealed levels of a cancer-causing agent 3,000 times federal safe drinking-water standards, a consultant hired by the U.S. Army said Wednesday night.
The discovery was made by Arcadis, a consultant hired to test groundwater contamination on the base as part of cleanup efforts mandated by the U.S. Environmental Protection Agency in 2009.
"The good news is we're honing in on the problem," said John Cherry of Arcadis, who presented the preliminary findings to the Restoration Advisory Board at the Hampton Inn in Frederick. "The bad news is there's a problem."
The consultants identified tetracholoroethene, or PCE, trichloroethene, or TCE, and chloroform as having the highest levels of concentration in and around Area B.
PCE was found in the highest concentrations, at 3,000 times the EPA's safe drinking-water standards. EPA lists PCE's maximum safe-contaminant level at 0.005 micrograms per liter, or five parts per billion. Arcadis found PCE at 14,000 to 15,000 parts per billion.
Area B, a 399-acre site, was previously used as a dumping ground for solvents and other biological waste.
The highest concentrations of PCE, used commonly as a dry-cleaning solvent, were found on the border of Area B. PCE, TCE and chloroform were all found in shallow groundwater and surface water outside of the base along Carroll Creek, but at lower levels.
The consultant found no contamination in private wells.
"Is it higher than anyone wants it to be? Yes," said Cherry. "But no one's drinking the water."
Residents along Area B have been connected to Frederick city water and provided with bottled water for more than a decade.
Arcadis drilled 29 new wells up to 325 feet deep, sampled 13,000 feet of stream bed and identified 58 spring and surface water locations to sample. The drilling and sampling identified a portion of Area B, once used as a dumping ground, as the principal source of groundwater contamination.
Arcadis plans to study water flow, and further assess the extent of the contamination, including a wider range of chemicals in the fall.
The Restoration Advisory Board is an oversight group composed of members of the community, Army officials and regulators established by the military post to keep the public informed of its environmental cleanup efforts.
kheerbrandt@gazette.net
How to navigate STW ™ postings:
Monthly posting's calendar, become a subscriber or obtain RSS feed by going to the bottom index of this page.
Explanation of Index:
This Months Postings: Calendar on left displays articles and pages posted on a given day.
Current and Archived Postings: Click on the month you want to view. Most current article for the month will appear at top of screen.
RSS Links : Obtain your RSS feeds.
Subscribe: Subscribe to postings by entering your e-mail address and confirming your e-mail.
Help Save the Water™ – click here.
Water news archives. Table of contents – 150 articles – April~July 2012
Supporting water research and the education program's growth of Save the Water™ is vital to our future generation's health, your funding is needed.
[/four_fifth_last] [/four_fifth] [one_fifth_last]
Topic Categories
Petroleum and Fracking

Water & Your Health
Fracking
Drinking Water Contamination
Drinking water contamination: Tap water disinfectants linked to birth defects.
Education Program
Archived Topics
Drinking Water Fears After Chemical Spill In North Bay
What Are The Facts About (Bisphenol-A) / BPA, Water And Health Risks?

[/one_fifth_last]