News Brief
Vol.III
No.210
July 26
2012

The material posted is
courtesy of
Courtney Mabeus:
News-Post Staff
Originally published
July 21, 2012
FrederickNewsPost
Save the Water™
Water Research
Education Dept.
and is shared as
educational material only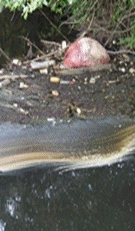 [/one_fifth][four_fifth_last]
Drinking water contamination:
No Carroll Creek warning signs.
News comes after chemicals were found in surface water.
By Courtney Mabeus: News-Post Staff / Originally published July 21, 2012 / FrederickNewsPost.com
Fort Detrick has no plans to post signs along Carroll Creek warning of potential contamination after news this week that chemicals were found in surface water and in the creek's tributaries, the Army post's chief environmental officer said Friday. Arcadis, an Army contractor hired to handle remediation efforts at Area B, tested groundwater from more than 100 wells made in and around the 399-acre tract this past spring. It also tested surface water and took samples from seeps and springs along 13,000 feet of Carroll Creek and its tributaries.
A leaking dump site under a small tract on Area B has long been suspected as the source of high levels of TCE and PCE — chemicals used in cleaning supplies — found in groundwater. Several residents have blamed the contamination as having caused cancers and other health problems. Robert Craig, chief environmental officer at Fort Detrick, said in an email through a spokesman that the post will discuss the idea of posting signs with Dr. Barbara Brookmyer, Frederick County health officer, but "there are no plans to put any up at this time."
The signs would warn residents that chemicals have been found in Carroll Creek and the streams that feed it.
Groundwater samples taken from some wells earlier in the spring revealed levels of TCE and PCE, as well as chloroform, exceeded those acceptable under federal drinking water standards. The Environmental Protection Agency prohibits both TCE and PCE at levels higher than five parts per billion in drinking water and at 80 parts per billion for chloroform, a disinfectant.
Army and Arcadis representatives have maintained that the contamination is not cause for concern because people are not drinking the water and the public does not use the creek around Area B, where the contamination has been found. Arcadis also tested seeps and springs identified in about 40 places along the creek and its tributaries. Several of those tests returned results indicating contamination for TCE, PCE and chloroform, with TCE levels exceeding federal drinking standards.
Seep and spring samples differ from surface samples because they are taken "as the water is leaving the ground and seeing daylight for the first time," Craig said in the email. It then "rapidly mixes with the rest of the receiving water body." Surface water samples are taken from the middle of the creek, he added.
"Although the concentrations in some of the springs and seeps are slightly above drinking water standards, the public does not contact nor drink water from those seeps and springs," Craig said. Separate tests of surface water revealed contamination in Carroll Creek for the three chemicals that fell below federal levels for drinking, fish consumption and recreation, Arcadis representatives said when they presented its findings to the Detrick's Restoration Advisory Board on Wednesday.
Arcadis Vice President Tim Llewellyn told the RAB that evening that he was surprised to find the surface water contamination because he thought the chemicals would have diluted. The RAB was formed several years ago to advise on the cleanup of sites at the post. During Wednesday's meeting, Craig suggested that signs be posted along Carroll Creek to warn the public to avoid contact with the water.
[toggle title="How far did tests go?" height="auto"]
Arcadis' tests of Carroll Creek went as far downstream as the U.S. 15 bridges off Rosemont Avenue. There are no plans for testing farther downstream, Craig said in the email. The contractor plans to begin a campaign later this month to contact landowners in and surrounding Area B to perform more tests and to identify additional private wells. Brookmyer could not be reached Friday, but on Thursday, she told The Frederick News-Post in a phone interview that she would support Fort Detrick putting signs along the creek if it wanted to do so.
On Friday, some people who live or work near Carroll Creek or streams that feed it questioned whether signs would be useful. Some also said they weren't overly concerned about the reports of contamination.
"You could put a sign on any river in the country warning that something's coming down the river," Karen Harbaugh said, adding she would like to see how other Superfund sites have been handled.
Karen and Cliff Harbaugh are both on the Restoration Advisory Board. They own Clustered Spires Pastries on Montevue Avenue, not far from some of the worst offending seeps and springs found by Arcadis. Their shop is on city water. Arcadis put a well behind their shop, Karen Harbaugh said. Cliff Harbaugh said he worried that signs might cause unnecessary alarm, though he added, "I think there's already concern in the community that it (signs) might address or alleviate."
Richard Robinson has lived for 30 years along a stream that feeds Carroll Creek off Shookstown Road near where Rosemont Avenue intersects with U.S. 15. Putting signs downstream in Baker Park might make a difference where the public uses it, he said, adding he doesn't use the stream near his house. "The place to worry about is in a public area," Robinson said. John Hartman has lived in a house he built on Shookstown Road for 47 years. He said he gave permission for Arcadis to drill two wells on his property several months ago and sample a residential private well that he stopped using in the 1960s.
Though a stream that flows into Carroll Creek sits about 500 meters behind his house, he said he was not overly worried about contamination. He said he's more concerned over what comes down the Monocacy River than what flows behind his property. "You're concerned for the fact that you've got contamination in the area, but how much it affects you is hard to say," Hartman said.
[/toggle] To read more about TCE – PCE – Chloroform:
How to navigate STW ™ postings:
Monthly posting's calendar, become a subscriber or obtain RSS feed by going to the bottom index of this page.
Explanation of Index:
This Months Postings: Calendar on left displays articles and pages posted on a given day.
Current and Archived Postings: Click on the month you want to view. Most current article for the month will appear at top of screen.
RSS Links : Obtain your RSS feeds.
Subscribe: Subscribe to postings by entering your e-mail address and confirming your e-mail.
Help Save the Water™ – click here.
Water news archives. Table of contents – 150 articles – April~July 2012
Supporting water research and the education program's growth of Save the Water™ is vital to our future generation's health, your funding is needed.
[/four_fifth_last] [/four_fifth] [one_fifth_last]
Topic Categories
Petroleum and Fracking

Water & Your Health
Fracking
Drinking Water Contamination
Drinking water contamination: Tap water disinfectants linked to birth defects.
Education Program
Archived Topics
Drinking Water Fears After Chemical Spill In North Bay
What Are The Facts About (Bisphenol-A) / BPA, Water And Health Risks?

[/one_fifth_last]