News Brief
Vol.III
No.214
July 27


The material posted is
courtesy of
Linah Baliga
THE
TIMES OF INDIA
Save the Water™
Water Research
Education Dept.
and is shared as
educational material only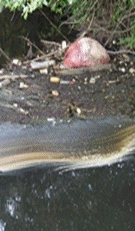 [/one_fifth][four_fifth_last]
Drinking water crisis:
Child 'water monitors' to help BMC in conservation.
Linah Baliga, TNN | Jul 25, 2012, 02.03AM IST
MUMBAI: Uncertainty over lake levels and the civic body's decision to continue with the 10% water cut till August 1 have prompted the BMC officials to rope in unusual soldiers for the cause of water management – children. Towards that end, the city's kids will function as 'water monitors' and tap water wastage monitors in housing societies.
"The BMC conducted studies and found that in every household, a tap left open for a minute leads to 12 litres of water loss, which equals 12 bottles of water; this is a humungous amount. This wastage can only be curbed by roping in students to monitor the wastage not just in their housing societies but individual homes," said Suprabha Marathe, executive engineer, rainwater harvesting and water conservation cell.
The water monitors can voluntarily register with the BMC and inform the civic body about water wastage, theft and tanker mafia, and register their complaints on the website – bmc.watermonitor@gmail.com.
"We will felicitate and give awards to children who help conserve water through any method," said Marathe.
In a bid to conserve water till the lake levels overflow, the civic body will also launch a Jal Mela Campaign at the ward level. It will be aimed at sensitizing citizens to use water in an intelligent manner with the aim to improve water management.
"One day would be dedicated exclusively to water in each ward, as well as 10 major hospitals and Byculla zoo. It will focus on apprising citizens about the water situation, lake levels, conservation and methods to set up rainwater harvesting plants in their society," said Marathe.
She further said this will also be an informal platform for citizens to discuss all water-related issues in their wards.
The campaign would be launched in each ward by a assistant commissioner, assistant engineer (waterworks), complaints officer and a pest control officer.
Movies would be shown and presentations made, to be followed by a question and answer session for citizens. Pest control officers would also talk about ways to curb malaria.
Hoardings on BEST buses, pamphlets, posters and working models of rain water-harvesting will be on display. On August 15, NSS students and kids will be roped in to do prabhat pheri on conservation. The BMC will make it mandatory to print awareness messages on school books.
How to navigate STW ™ postings:
Monthly posting's calendar, become a subscriber or obtain RSS feed by going to the bottom index of this page.
Explanation of Index:
This Months Postings: Calendar on left displays articles and pages posted on a given day.
Current and Archived Postings: Click on the month you want to view. Most current article for the month will appear at top of screen.
RSS Links : Obtain your RSS feeds.
Subscribe: Subscribe to postings by entering your e-mail address and confirming your e-mail.
Help Save the Water™ – click here.
Water news archives. Table of contents – 150 articles – April~July 2012
Supporting water research and the education program's growth of Save the Water™ is vital to our future generation's health, your funding is needed.
[/four_fifth_last] [/four_fifth] [one_fifth_last]
Topic Categories
Petroleum and Fracking

Water & Your Health
Fracking
Drinking Water Contamination
Drinking water contamination: Tap water disinfectants linked to birth defects.
Education Program

[/one_fifth_last]