News Brief
Vol.IV
266
Sept 2
2012

The material posted is
courtesy of


Roy Bigham


Save the Water™
Water Research
Education Dept.
and is shared as
educational material only.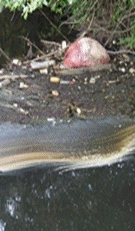 Water
Research
Crisis
Response
Humanitarian
Projects
Education
Daily News
[/one_fifth][four_fifth_last]
Water contamination news:
New water contaminants.
by
Roy Bigham
/ September 1, 2012/
pollutionengineering.com
Studies have convinced the EPA that additional chemicals need to be added to the list that should be controlled.
Universities and the U.S. Geological Survey have noticed that some fish and other aquatic creatures have been developing rather unusual characteristics. For example, the National Geographic News reported in 2004 that a statistically significant study by the USGS found that some bass in the Potomac River had developed testicular as well as ovarian tissues. Yes, the boys could make eggs.
Other studies identified similar problems existing in other rivers around the country. The EPA and other researchers are convinced that chemicals that are not normally sampled or treated are able to pass through our municipal treatment systems and are having the documented impacts. The EPA is expected to develop testing methods and recommend treatment to remove such contamination from drinking water. The agency will identify chemicals as time goes by. These chemicals are called emerging contaminants (ECs). While scientists are still not in agreement of an exact list, there are plenty of suspicious compounds. Think of naturally produced hormones that are excreted from humans and other animals. There are also synthetic chemicals such as tanning lotion, sun blockers, perfumes, birth control pills, pharmaceuticals, etc. that could be contributing factors.
The EPA has defined an EC as a chemical or material characterized by a perceived, potential or real threat to human health or the environment, or by a lack of published health standards. A contaminant also may be emerging because of the discovery of a new source or a new pathway to humans. The EPA's Federal Facilities Restoration and Reuse Office (FFRRO) has published emerging contaminant fact sheets for nanomaterials and perfluorooctane sulfonate (PFOS) and perfluorooctanoic acid (PFOA), which provide brief summaries of the contaminants that present unique issues and challenges to the environmental community. Each fact sheet provides a brief summary of the contaminant, including physical and chemical properties, environmental and health impacts, existing federal and state guidelines, and detection and treatment methods. These fact sheets are intended for use by project managers and field personnel in addressing specific contaminants at cleanup sites and are updated annually to ensure they include timely information.
Some states are also developing their own lists of emerging contaminants. For example, California's Science Advisory Panel released a report in June 2010 entitled, Monitoring Strategies for Chemicals of Emerging Concern (CECs) in Recycled Water to the Department of Public Health. The report lists a number of chemical compounds that are not currently regulated by the federal government. The report can be viewed by clicking here.
[toggle title=" Emerging treatment technologies " height="auto"] < Current wastewater and drinking water treatment systems are not designed to remove the chemicals thought to be potential causes of the disruptions noted by researchers. For example, birth control pills, or hormonal contraceptives, are discharged in bodily fluids. They can work their way into the water where treatment systems are not designed to mitigate them. How much is getting through? How long do they survive in nature? Do they change in nature over time? These and other questions will have to be answered. At this point, water is not even analyzed on a regular basis for such compounds. Regulators do not have enough information to include discussion of such chemicals in permit negotiations.
The same argument is made for pharmaceuticals. While our bodies absorb most of the compounds, some of them wash right through us. I would expect that the volume of drug therapy should continue to grow for the foreseeable future, which means even more chemical compounds added to the mix.
We can expect that new analytical methods may eventually be added to our test laboratories to identify these compounds or at least a method to find a family of compounds. Once that is established, we can fully expect that a change in treatment methods will be needed to control such chemical discharges. After all, our current treatment systems appear to have no impact on such chemicals moving through our systems.
Getting prepared
The EPA has begun the process of listing chemicals to track and many more are coming. At this point, the agency has provided two fact sheets for the industry to begin studying. Below is a brief description for each.
Nanomaterials
Nanomaterials are a relatively new classification of chemicals. The tag refers to materials that are smaller than 1 micrometer (1,000 nanometers) in one direction. The classification includes nanoparticles, which are particles with at least two dimensions measuring between 1 to 100 nm. Researchers are finding that the characteristics of nanoparticles can change with size. Characteristics such as melting temperature, conductivity or even color can change. There are unanswered questions as to what might happen in nature if concentrations of such particles are spread in a given environment. The fact sheet divides nanomaterials into types of materials and then provides a lot of information about current observations that answer many questions. The paper can be found here, through the smart tag or by Googling EPA Publication Number: EPA 505-F-11-009.
PFOS and PFOA
PFOS and PFOA are fluorinated, man-made compounds that are not formed in nature. The compounds are used in making various products such as fire-fighting foams and non-stick coatings in cookware. The industry claims the compounds do not exist in the final products.
The agency paper provides a detailed description of the compounds and their impacts on the environment and human health. PFOS and PFOA have been found in a number of locations, particularly downstream of present and former manufacturing sites that use the compounds. That data suggests that they are extremely persistent in the environment when released. Additional studies show the compounds also have a potential to bioaccumulate and biomagnify in wildlife. They are readily adsorbed after ingestion or oral exposure and mainly accumulate in the blood, kidneys and liver organs.
As of this writing, the EPA did not have minimal risk levels established. The agency said that the data was insufficient at this time. In January 2009, the agency did establish a provisional health advisory of 0.2 µg/l for PFOS and 0.4 µg/l for PFOA in drinking water. EPA Region 4 recommended a residential soil screening level of 6 mg/kg for PFOS and 16 mg/kg for PFOA. Minnesota, New Jersey and North Carolina have established drinking water levels for the two compounds. The EPA said they expect to propose additional actions in 2012 under the Toxic Substances Control Act to address potential risks stemming from long-chained perfluorinated chemicals, which would include PFOS and PFOA. The agency said it planned to use Section 6 of the act, which provides authority for the agency to prohibit or restrict the manufacture, importation, processing and use of chemicals.
Download this six-page report by clicking here or Google EPA Publication Number: EPA 505-F-11-011. PE
[/toggle]
Top ten current articles:
How to navigate STW ™ postings:
Monthly posting's calendar, become a subscriber or obtain RSS feed by going to the bottom index of this page.
Explanation of Index:
This Months Postings: Calendar on left displays articles and pages posted on a given day.
Current and Archived Postings: Click on the month you want to view. Most current article for the month will appear at top of screen.
RSS Links : Obtain your RSS feeds.
Subscribe: Subscribe to postings by entering your e-mail address and confirming your e-mail.
Help Save the Water™ – click here.
Water news archives. Table of contents – 320 articles – March~September 2012: click here
Supporting water research and the education program's growth of Save the Water™ is vital to our future generation's health, your funding is needed.
[/four_fifth_last] [/four_fifth] [one_fifth_last]
Topic Categories
Petroleum and Fracking

Water & Your Health
New Translation Feature

Water Contamination
Truth about Bisphenol: Fast Company featured report – BPA research material included.
Portland, USA – Fluoride – Don't contaminate our world-class water.
Arsenic – Information by: University of Arizona Superfund Research Program.
Tap water in 42 states contaminated by chemicals – 141 unregulated chemicals flowing into U.S. homes.
Pennsylvania – Toxic wastewater dumped in streets and rivers at night. shocking environmental crimes
California – 31 million people exposed to cancer-causing "Erin Brockovich" chemical. Hexavalent chromium facts included.

[/one_fifth_last]