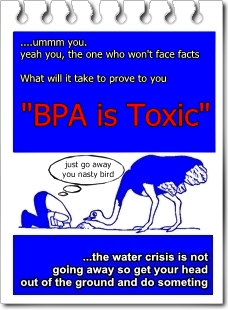 Article courtesy of Ethan A. Huff | October 29, 2012 | NaturalNews | Shared as educational material only
(NaturalNews) Keeping up with the latest science regarding chemical safety is apparently of little or no concern to the Canadian government, which recently declared the highly-toxic plastics chemical bisphenol-A (BPA) to be safe just two years after declaring it to be a toxin. In a report issued by Health Canada's Food Directorate, the agency has iterated its unfounded position that exposure to BPA in food packaging "is not expected to pose a health risk to the general population, including newborns and young children."> Learn more >
The announcement is curious as Canada was one of the first countries to question the safety of BPA back in 2008, right around the time that emerging science began to show that the chemical leeches out of containers and into food and drinks. A Canadian government panel at that time had determined that BPA is potentially linked to hyperactivity in children, breast and prostate cancers in adults, and birth defects in newborn babies, among other conditions, which led many product manufacturers to voluntarily phase out the use of BPA.
"Our science indicated that bisphenol-A may be harmful to both human health and the environment and we were the first country to take bold action in the interest of Canadians," said Canadian Health Minister Leona Aglukkaq in a statement back in 2010.
But in typical wishy-washy fashion, these same corporate-backed bureaucrats are now back-peddling by trying to claim that BPA is just fine, even for infants and babies. In complete denial of copious amounts of evidence showing that even low levels of exposure to BPA can cause organ damage, developmental disorders, reproductive damage and infertility, digestive dysfunction, DNA damage, endocrine disruption and many other conditions, Health Canada is attempting to pull the wool over the eyes of the public by blatantly kowtowing to the chemical industry.
Th U.S. Food and Drug Administration (FDA) has also flip-flopped several times on the BPA issue, having recently banned BPA from children's drinking cups after vehemently denying a few years earlier that BPA was at all dangerous (http://www.nytimes.com). The positions on BPA held by both the Canadian and U.S. governments are dubious at best, and have led to much public confusion about the chemical.
But the science is clear — or at least clear enough for those that have eyes to see and ears to hear the truth. The simple fact that BPA can bio-accumulate in the body over time is reason enough to be leery of perpetual exposure to this known hormone disruptor, not to mention the many other health conditions linked to BPA exposure. (http://www.environmentalhealthnews.org)

[toggle title=" Contaminated drinking water articles by NaturalNews related to article" height="auto"]
Sources for this article include:
Contaminated drinking water articles by (NaturalNews) related to this article:
Six Baby Bottle Manufacturers Quietly Agree to Remove Bisphenol-A (BPA) from Baby Bottles
Toxic BPA levels increase by a shocking 1,200 percent after eating canned food
Understand what BPA is 
Study Verifies that BPA Causes Sexual Dysfunction in Men
BPA exposure before birth linked to breast cancer
BPA plastics chemical found to feminize males
To learn more about the dangers of BPA, visit: 
http://www.naturalnews.com/BPA.html
 [/toggle][toggle title="6 Health Dangers of BPA" height="auto"]
Bisphenol-A, or BPA, is an industrial chemical used in plastics and canned food linings. It is an organic compound that acts similarly to estrogen when ingested into the body. A growing number of health experts and consumers are becoming concerned about the adverse health effects that can be caused from high-dose or long-term exposure to BPA.
1. Heart Disease: health dangers of BPA
The most recent study regarding BPA has shown a confirmed link to heart disease. Researchers from England reviewed data from the National Health and Nutrition Examination Surveys and found that men with the highest levels of BPA exposure, as determined from urinary samples, were 10% more likely to develop heart disease. BPA is thought to suppress a hormone that protects people from having heart attacks, oxidative stress, and damages to the endothelial cells of blood vessels.
2. Intestinal Damage: health dangers of BPA
French researchers published data recently that links BPA with the functioning ability of the intestines, as this is the first organ to come in contact with the chemical after it is ingested from food and beverage containers. The study was conducted on animals, using a level that was 10 times below a level currently thought to be safe for humans. The mucosal lining of the intestinal wall failed, causing a condition called "leaky gut syndrome." Damage to the lining can cause failure of the blockage of toxins and bacteria, which can then enter the body and cause damage to tissues and organs.
3. Infertility & Reproductive Issues: health dangers of BPA
Another animal study found that chronic exposure to even low-doses of BPA can impair the growth and function of female antral follicles, the egg cell which is involved in ovulation. Because the chemical structure of BPA is similar to estrogen, it binds with receptors in the cells, causing a decrease in other important female hormones, such as progesterone.
4. Erectile Dysfunction: health dangers of BPA
Another recent study focused on the hormonal effect on men. The journal Human Reproduction published research on over 200 Chinese men who were exposed to BPA in their workplace. Those men were four times more likely to have erectile dysfunction and seven times more likely to have ejaculation difficulties. The level of chemical exposure in the study was more than 50 times a level that the average American would be exposed to, but the study points out the effect that a hormonal compound can have on the male reproductive system in high doses.
5. Diabetes & Obesity: health dangers of BPA
BPA is also linked to diabetes and metabolic syndrome, two conditions caused by a decrease in the body's ability to effectively use insulin. BPA causes an increase in insulin output from the beta cells of the pancreas. High levels of circulating insulin causes a reduction in the body's ability to break down fat, which leads to a greater risk of obesity.
6. Behavioral Changes in Children: health dangers of BPA
A study from the University of Chapel Hill highlighted the dangers of children exposed to BPA from baby bottles and baby food containers. Toddler girls exposed to BPA were considered more aggressive and hyperactive than those with less exposure. Other research in children has shown that BPA is present in the umbilical cords of newborns, suggesting that the mother's exposure can affect her offspring.
The Future of BPA
The US. Food and Drug Administration is reviewing the data on BPA and is expected to release an assessment in the coming months. Until then, the National Institute of Environmental Health Sciences (NIEHS) is recommending that consumers reduce their current exposure levels by decreasing the use of certain plastic containers that use BPA and opt for glass, porcelain or stainless steel instead.
Related posts:
[/toggle]