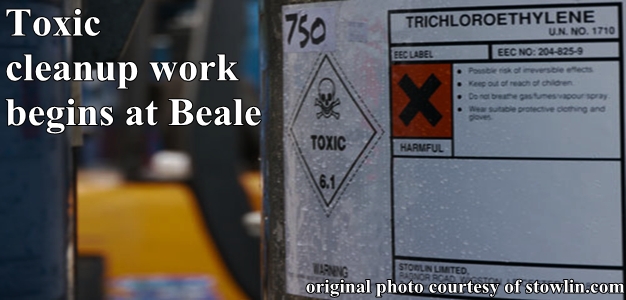 Work has begun to clean a hazardous substance in the water and soil near Beale Air Force Base, but just as it took years to become a problem, it will be years before it's fixed.
Charlotte Fadipe, a spokeswoman for the state Department of Toxic Substances Control, said in an email the cleanup of chlorinated hydrocarbons and petroleum hydrocarbons could take 30 years to finish.
"The Air Force has awarded an eight-year Performance-Based Remediation contract to allow for Beale AFB to continue the cleanup and implement its final cleanup agreements," Fadipe said in the email.
State officials have previously said one substance in need of cleanup is a solvent called tricholoroethylene, which was in common use on the base during World War II and the 1950s, but mostly fallen out of favor since then.
The solvent is dangerous mostly if inhaled, and Fadipe noted three homes near the base where the solvent has been detected have levels below what is considered a maximum safe standard.
However, one former resident said he is worried the contamination is worse than state officials believe.
Carl Richardson, a Folsom resident whose mother, Nancy Kipp, still lives near the base and has had ovarian cancer, said he was surprised when he recently visited her and she mentioned several of her neighbors had died of cancer.
"The water in the whole area, I'm sure, is just saturated with jet fuel and ammunition waste," said Richardson, who lived near the base from 1997 to 2002. "It's a big water table down there."
He said for a while, the base supplied his mother with drinking water, but she has been buying it herself more recently. And he said a pump on his mother's property has not been serviced in sometime.
Richardson said he has not had any health issues related to the contamination that he is aware of, though something could develop.
"I drank the water; I swam in the pool," he said.
Most of the groundwater where the solvent is found is being treated by injecting it with chemicals while still in the ground to neutralize the contamination, while at one site, workers are pumping the water out to treat it before putting it back into the table.
The department is using various methods, including soil vapor extraction and off-site disposal, for treating contaminated dirt, Fadipe said.
"The in-site groundwater treatment technologies and soil treatment technologies have all proven to be very effective at Beale AFB," she said.
Studies have found 18 sites in and around the base where solvents and other toxic substances were found in water and soil. Beale officials continue to test to determine levels and how far the contamination has spread, a base spokesman said.
Fadipe did not provide a cost estimate for the cleanup. Previous estimates have suggested it will be about $700,000, with Beale responsible for payment.
CONTACT Ben van der Meer at bvandermeer@appealdemocrat.com or 749-4786. Find him on Facebook at /ADbvandermeer or on Twitter at @ADbvandermeer.
© Copyright 2012 Freedom Communications. All Rights Reserved.