A day in the life of a scientist (DILOS™) Program
Check out our 2013 field trip.
The U.S. ranks 26th compared to other countries in the number of students inclined towards pursuing a career in math and science. A day in the life of a scientist (DILOS™) program is designed to arise the interest of young children and adolescents towards science. The program consists of a field trip that will instruct and excite young minds. During the trip, the students will be given a presentation on the water cycle, the scientific method, and facts about water contamination. This will open their minds to why we should protect this valuable resource.
DILOS™ program: youth education principles.
Save the Water™ youth educational principles apply water education through hands-on schooling, environmental education, stewardship teaching, and practical science literature research. Each of these perspectives will emphasize decisive philosophy, management, and commitment to help solve water crisis situations. With proper corporate sponsorship we will be in the fortunate position to apply much of our knowledge and advice to the next generation youth through the DILOS™ program.
The hands-on, real-life, and outdoor nature of the innovative youth program will provide: (see our first field trip photos)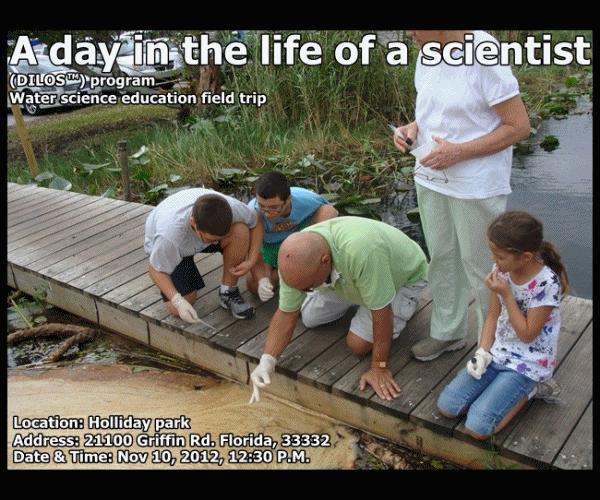 Curiosity to ask questions that will have an impact on our present and future water problems.
Have a direct experience analyzing the contaminants that exist in our drinking water sources.
Address the real problems and offer insight on what they think should be done… thus opening their minds for future alternatives that you and I may not even be thinking of today.
Develop solutions and put them into daily practice.
Have fun, learning something new for creating changes for future generations.
Young people today need to know they're needed. They need to experience the power of making a difference about something they care about. They need to feel hope that something can be done about the many problems they see around them. Young people have much to offer when asked. They have unique and powerful capacities for creativity, enthusiasm, energy, humor, intelligence and caring. In the past decade, the grass roots youth service movement has shown that kids can address the great issues facing our world: violence, hunger, illiteracy, disease and environmental problems. (Cairn et al, 1995)
.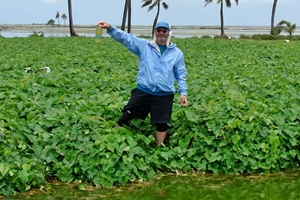 Young people are eager to help. In a 1993 survey, 80% of youth grades 4-12 identified water pollution as a "big problem." 81% said they would like to do more to "help animals, fish or plants which are hurt by pollution" (Harris, 1993). The key to successful youth service projects is involving young people in developing, planning, organizing and evaluating the projects. Through such involvement, they learn more and work better.
DILOS™ program: youth education instructional ingredients
DILOS™ offers project-based instruction and personal support to each participant. Field trip limit is maintained between 20 and 30 participants.
A high probability of obtaining rewards by the students from people they admire in their own communities
Hands-on learning
Intrinsically interesting curriculum and tasks, studied in informal settings
Build a team of young people and adults.
Involve youth in setting realistic goals.
Arrange opportunities for young people to reflect on, learn from and apply lessons from their experience.
Acknowledge the skills, knowledge and experiences young people already have.
Give specific skills training and information needed to help your group move a project ahead.
Involve older students or program veterans (including college students) for help.
Promote leadership and model behavior.
Set clear responsibilities and expectations.
DILOS™ program: A day in the life of a scientist
DILOS provides a fun way to motivate children to participate in science programs.
The program is mostly performed outdoors breaking the routine of the school year. An outing to a wetland, river, or lake to collect and analyze water samples is always fun, interesting, and instructive. Making science fun is a primary purpose of this program. Inspiring children to become the scientists of the future is a primary goal of Save the Water™.
The children will first make observations about their surroundings, noting the condition of the plants and trees, looking for birds and animals and noticing lack or abundance. Then form a hypothesis about the conditions of the water and the environment.
The experimental part is hands on for the students using field laboratory equipment to test for parameters such as: pH, temperature, turbidity, and conductivity. The readings are then compared with published standards along with previous observations to test the hypothesis.
A point in decision making arrives when the students have to accept or reject the hypothesis they had previously made and come to a scientific conclusion of the experiment.
Each participant will have the opportunity to become a member of the AquaSquad™, and receive a certificate of completion for the DILOS™ Program.
Videos and still photographs are permitted by staff and accompanying parents. STW™ will take videos and photos to post on our website available to all.
STEM water science education.
The students will use the scientific method during the program:
1. Ask a question
2. Make observation and do research
3. Form a hypothesis
4. Perform experiments
5. Test hypothesis
6. Accept or reject hypothesis
Experimental:
1. What is the condition of the environment at this location? Poor, fair, or good?
2. Observations and photos of the flora and fauna and its conditions will be noted.
3. Students will form a hypothesis.
4. The students will test their hypothesis with hands-on water and sediment collection, and measurement of various parameters such as: pH, temp, turbidity, and conductivity for water. For sediment, the students will look through a microscope to inspect microbial growth. The parameters measured will be compared with the normal range values and differences noted. The students will test their hypothesis based on the observations and test results.
5. Students will accept or reject their hypothesis.
Students will learn what a typical day in the life of a scientist is like and have a clear understanding of the scientific method. They will also acquire a greater appreciation for the value of water and the environment. Regularly scheduled field trips will keep students excited about learning while noting and recording changes in the environment. Students will experience a fun field trip while learning field water testing techniques.
DILOS™ program includes the following:
1. Present a lesson called "A day in the life of a scientist" that includes a field trip to the Florida Everglades.
2. The program is divided into 3 levels, 1st to 4th, 5th to 8th, 9th to 12th grades.
3. Each level will meet twice per year.
4. Final video for the school and individual participation certificate.
5. Exchange logos on web page with link.
6. Recognition of participation on the STW™ website and membership in the AquaSquad™.
Field equipment:
This equipment will be provided by STW™.
1. Microscope, temp, pH, conductivity, turbidity, lab-ware, lab notebook, camera, video, etc.
2. Field materials: Gloves, boots, safety glasses, sample collection and transport, etc.
3. One Instructor from STW™.
School will provide:
1. Transportation and insurance coverage. Transportation of the students to and from the field trip must be provided by the school and covered under the school's insurance policy.
2. Additional teachers. STW™ assumes no liability or responsibility for the safety and well being of the children, that must be covered by the school and accompanying teachers.
3. Drinking water and snacks.